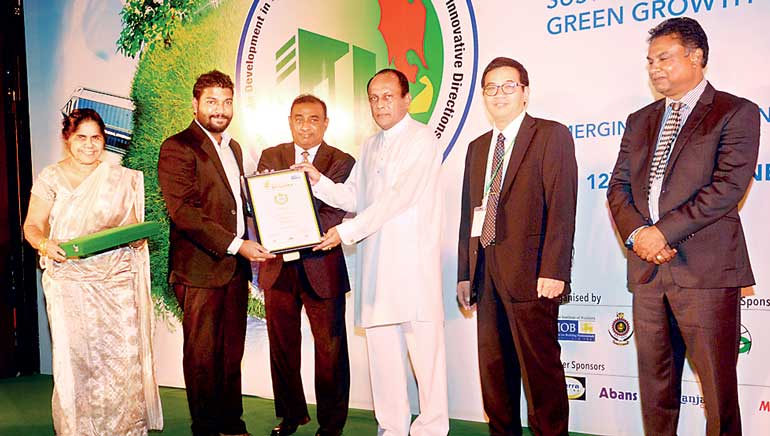 JLanka Technologies Director Operations G. Jayasoma receiving the Green Mark award Plaque from Cabinet Minister of Parliamentary Affairs and Deputy Minister of Civil Aviation Lakshman Yapa Abeywardena whilst other officials look on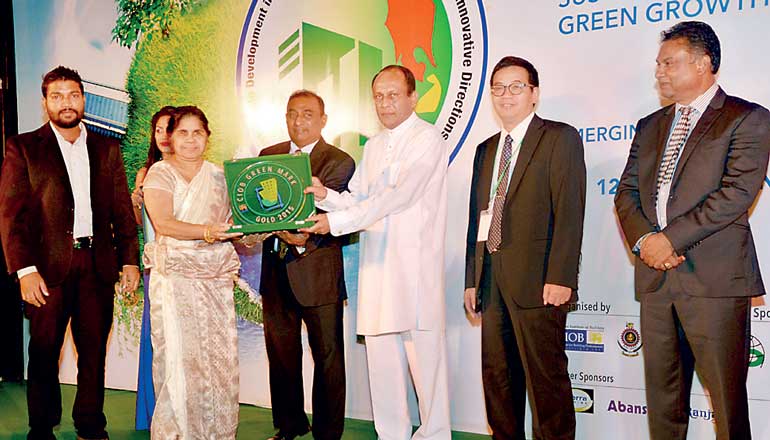 JLanka Technologies Head of Project Management Division Isuru Kasthurirathne receiving the Green Mark award certification from Cabinet Minister of Parliamentary Affairs and Deputy Minister of Civil Aviation Lakshman Yapa Abeywardena whilst other officials look on
Sri Lanka's pioneering next generation Solar Power solutions provider, JLanka Technologies was recently adjudged with Gold certification at the Green Mark Awards. The event was held parallel to the World Construction Symposium – 2015 at Hotel Galadari, Colombo.

It was for the first time in Sri Lanka that world renowned 'Green Mark' product labelling system was introduced to recognise green products in local Industrial and Construction sector. The 'Green Mark' is Singapore product label, accredited internationally by Building Construction Authority of Singapore, Green Building Council of Singapore), Chartered Institute of Builders of the United Kingdom and locally by Ceylon Institute of Builders, Ministry of Environment, Ministry of Construction and Central Environment Authority.

JLanka Technologies Director Operations G. Jayasoma said: "With this unique recognition of 'Green Mark', we are empowered to introduce our pioneer technology to the community who are passionate to grasp the 'green concept', and our vision and efforts have been recognised and encouraged."

She added that the Green Mark Scheme "has given JLanka a boost to enhance the green environmental standards and to provide benchmark on environmental performance of products and services provided by the company. World revolution for green energy and sustainability has begun and JLanka is paving the path and invites the 'green friendly' nation to join our company's vision 'Towards Greener Sri Lanka'."

JLanka officials further pointed out that this Gold certification has revealed the strength between world's number one solar PV module provider, TrinaSolar and Sri Lanka's number one solar electricity solution provider, JLanka Technologies.

This prestigious 'Green certification' also endorses JLanka's vision towards 'Greener Sri Lanka' and acknowledges the company's valiant effort to create a sustainable nation for the future generation.

JLanka believe in the concept, 'the best strategy to change is empower people to take action'. By providing sustainable solar electricity systems, JLanka has created 'green ownership' to more than 750 residential customers and well-known brands in the commercial sector by collaborating with its international partners, Trina Solar and SolarEdge.

JLanka's journey towards a 'greener and sustainable future' is proven in facts and figures. Since inception to date, JLanka's total installed solar electricity capacity has now exceeded over 3.75MW and it will soon reach the 4MW bench mark. The installed solar electricity systems so far has reduced over 3,521 tons of CO2 (Carbon Dioxide) emissions which is equivalent to saving 6,550 trees or over 1.352 million litres of hydrocarbon fuels burned or 2,380 tons worth of coal used for power generation.

JLanka is the number one solar energy supplier to the National Grid in Sri Lanka with 15,000 kWh per day power generation. These systems are empowered with over 17,000 TrinaSolar modules which save 11,000 kg of greenhouse gas emission per day.