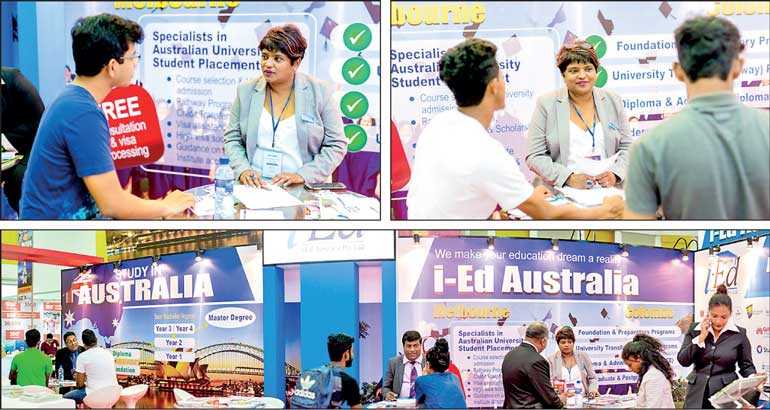 For a nation like Sri Lanka where literacy rates are at the highest in the region, education is of imperative importance. Many therefore not only pursue primary and secondary education, but also have a keen interest in tertiary education. Sri Lanka has many local universities that provide high quality courses, but limited space means only a handful benefit.

The advent of private education institutions and the ability to travel abroad to complete your education means Sri Lankan youth now have a world of opportunities before them. Creating a stepping stone to education in Australia, i-Ed commenced operations more than a decade ago and has successfully made the dreams of a large number of aspiring students come true.

i-Ed Australia, specialists in international student placement,has itshead office in Melbourne, Australia and branch offices in Colombo and Kandy. Partnering with a large number of prestigious Australian universities, TAFEs and institutes to represent and recruit prospective students on behalf of them, i-Ed provides a range of services free of charge that are not limited to student placements alone.

i-Ed Australia provides expert guidance for the studentsabout Australia and different cities, universities, institutes and colleges in different cities and study opportunities they offer, overview of courses, assistance in selection of right course and the right university based on your academic qualification and financial capability, pathway programs, credit transfers, scholarships, consultation on tuition fees, living expenses and insurance requirements, visa information and legal requirements, accommodation assistance and flight bookings, etc.

Founded by ChinthicaWijekulasuriya, a qualified trainer with over 25 years of international education industry experience, i-Ed offers personalised service to both the students and universities. They maintain a very close relationship with partner universities and other institutes by frequently visiting and communicating with them.

One of the other key differentiators at i-Ed is their end-to-end guidance to students that even includes information on legal requirements for part time work, accommodation settlement advice and society integration tips from the Melbourne office.

For more information on the services offered by i-Ed Australia please contact ChinthicaWijekulasuriya on +61430 830 325 or +613 98883790in Australia or via email on [email protected]. At the Colombo office please call SudithMarageon +94 772 916 294 or +94 112 058 028 or email [email protected] or visit 2nd Floor, 77 Thimbirigasyaya Road Colombo 05. Information can also be obtained via the website www.iedaus.com.au.