Says manufacturing is 83% Lankan ind. value addition
INCO 15 concludes successfully in Colombo
Sri Lanka ranked 105 in Global Innovation Index
Despite economies such as Sri Lanka taking the knowledge economy path to drive growth, heavy industries are still important and the manufacturing sub sector is the biggest contributor to Lankan industrial value addition.

"Since the knowledge economy is seen as being mostly digital, some people think that heavy industries are not relevant to the knowledge economy. In fact I stress that it is at a time like this that the heavy industry sector plays the most critical role. 83% of Sri Lankan industry value addition came from the manufacturing sub sector," said former Minister of Industry and Commerce Rishad Bathiudeen on 27 June.

Bathiudeen was addressing the inauguration event of the 13th INCO exhibition at the BMICH. The premier industrial expo event in Sri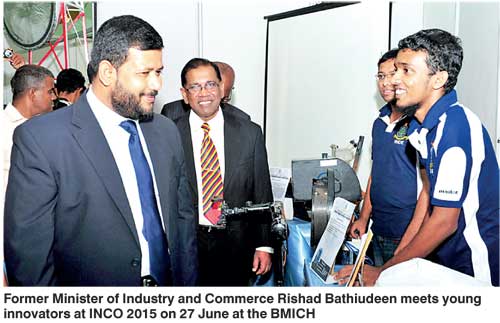 Lanka, it is organised by the Institution of Incorporated Engineers, Sri Lanka (IIESL) and endorsed by the Ministry of Industry and Commerce. INCO 2015 concluded successfully on Sunday 29 June.

"We are opening the 13th INCO exhibition today having successfully completed the previous 12 events. I congratulate the Institution of Incorporated Engineers Sri Lanka for its contribution to our society and to the development of the country. As we plan to advance towards a knowledge economy under the vision of President Maithripala Sirisena, the heavy industry sector becomes more and more important," said Bathiudeen.

Change towards a knowledge economy requires innovative value additions and in that it is the heavy industry sector that will bring in the needed industrial value additions that are used for the innovation processes of the new knowledge economy, he noted.

In terms of Sri Lanka's industry value addition, three industry sub sectors are usually considered. They are manufacturing sub sector, electricity gas and water supply sub sector and mining. In 2011-2012, 83% of Sri Lankan industry value addition came from the manufacturing sub sector at $ 5.89 billion. Second largest value addition is 16% from the electricity gas and water supply sub sector at $1.11 billion. The final sub sector is mining with less than 1% of industry value addition. When registered industrial establishments of Sri Lanka are considered, 88% belong to the manufacturing sub sector and 11% belong to electricity gas and water supply sub sector.

"The INCO series of exhibitions provide a common platform to our industries and especially the manufacturing sub-sector to develop their processes further and prepare for the knowledge economy. That is why we should be pleased that many exhibitors who are not only from Sri Lanka but even the regional countries are showcasing their products and services in Colombo at this session. They represent stakeholder segments such as manufacturers, distributors, traders and engineering service providers. Realising this, the Ministry of Industry and Commerce under the development vision President Maithripala Sirisena aims at enhancing the competitiveness of Lankan industries to compete in the global market," said Bathiudeen.

The Ministry does this through initiatives such as environment friendly industrialisation, regional industrial estate development projects and Sri Lankan productivity improvement, and also clearly acknowledges the significant contributions made by exhibitions such as INCO.

"An interesting contribution is INCO's Young Innovator Competition and I praise the efforts to uplift Lankan creativity through this competition while being assured the Lankan industries and supporting sectors would reap benefits of this initiative as well. As for innovation, Sri Lanka is ranked 105th in the 2014 Global Innovation Index. We ranked just above the Czech Republic. Among Central and South Asian countries, we ranked at the fourth place in the same index."

The annual INCO Exhibition is considered as one of the most customer-focused premier trade fairs in Sri Lanka.