'KPMG has already advised us on admin streamlining' - Bathiudeen
Revived Lak Satosa to be re-launched in July
Rs 7.5 bn to be spent for revival - Bathiudeen50 new outlets opening this year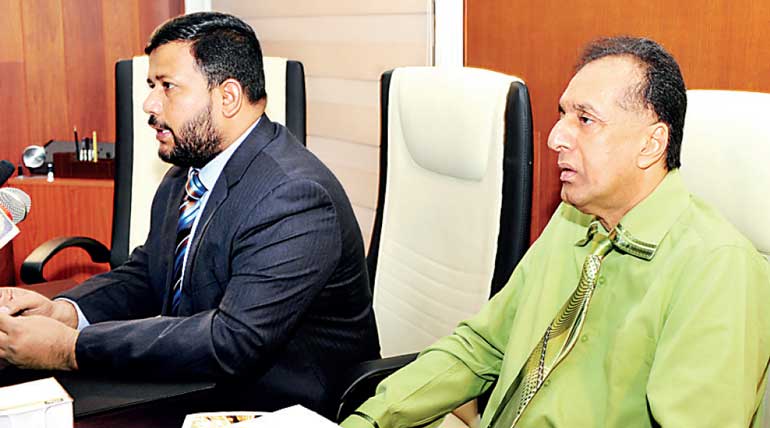 Industry and Commerce Minister Rishad Bathiudeen (left) addresses the media briefing. Lak Sathosa Chairman Kiran Atapattu was also present
The Government has tasked the Colombo branch of global consultancy firm KPMG with restructuring state FMCG giant Lak Sathosa.

"President Maithripala Sirisena and Prime Minister Ranil Wickremesinghe, following discussions with Finance Minister Ravi Karunanayake, have decided to enlist the services of global consultancy firm KPMG to restructure it (Lak Sathosa). KPMG is expected to find ways to sustain Lak Sathosa in a profitable manner while offering the best market prices to Lankan consumers," said Industry and Commerce Minister Rishad Bathiudeen.

Minister Bathiudeen was addressing a special media briefing held at the Finance Ministry on 24 June. Joining Minister Bathiudeen was Lak Sathosa Chairman Kiran Atapattu.

"Rs. 10 billion is owed by Lak Sathosa to two banks and another Rs. 3 billion to suppliers. Lak Sathosa is the only national institution which reveals the exact price of consumer goods in the Sri Lankan market, especially in rural areas. We don't charge the public VAT. Lak Sathosa sells the goods through 305 outlets across the country," said Minister Bathiudeen.

"President Maithripala Sirisena's Government aims to add another 50 outlets to this network this year. KPMG has already advised the Government on streamlining and regularising the Lak Sathosa administration. The Government will foot Rs 7.5 billion worth of pending bills of Lak Sathosa and the newly-revived Lak Sathosa will be re-launched on 7 July. This Rs 7.5 billion is an investment by the

Government to make it competitive and on par with private supermarket chains in Sri Lanka. Goods worth Rs. 1 billion and rice worth Rs. 8 billion, both unsellable, are lying in Lak Sathosa at the moment. Also Rs. 600 million has been overspent to computerise 80 shops and 16 stores and we now learn that it could have been completed with only Rs. 300 million. I thank both the President and Finance Minister for their great efforts to revive Lak Sathosa," Bathiudeen added.

This April, Lak Sathosa, a fully government-owned company incorporated under Act No.17 of 1982, reported a monthly turnover of Rs 3.2 billion, a record in its recent sales history.