Reiterates commitment to optimise 10-Point Action Plan of WIPO
Minister Bathiudeen says SL will accede to Madrid Protocol by end of the year
Acknowledges invaluable support of G15 Secretariat and WIPO
By Charumini de Silva

The Government yesterday confirmed that the drafting of a National Policy on Intellectual Property (IP) Rights on Traditional Knowledge (TK) and Traditional Cultural Expressions (TECs) will wcommence on Thursday, while reiterating its commitment to optimising the 10-Point Action Plan of the World Intellectual Property Organisation (WIPO).

"Sri Lanka will witness the biggest milestone in its IP history after years of intense background work, where the country accedes to the Madrid Protocol by the end of this year," Industry and Commerce Minister Rishad Bathiudeen said at the inauguration seminar of G15 Countries on Developing National Policies and Legislation IP and Protection of TK and TECs in Colombo.

He asserted that the National Policy on IP of TK and TEC will lead to legislation which will further protect and promote these invaluable resources at a time when global intellectual property and patent registrations are increasing and exceeding 2.5 million annually.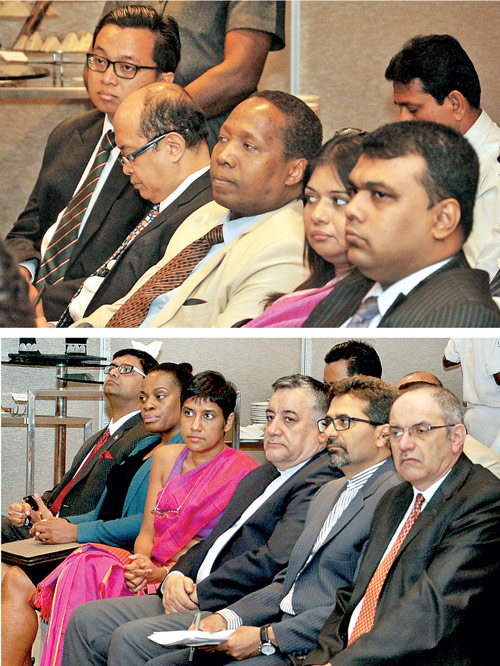 "I am pleased that many of the elements required to make a successful policy have been brought together. During this week our local stakeholders will have a unique opportunity to gather experiences from other countries and get assistance from the expertise of WIPO to embark on drafting the National Policy on IP of TK and TCEs," he said.

The extensive discussions of the G15 two-day session will feed into the national workshop later this week, which is scheduled to take place on 27 and 28 April where an ambitious quest to develop a National Policy on TK and TCEs will commence.

"Concepts such as IP often contain financial values that can be practically calculated. However, indigenous cultural heritage is a priceless historic reward found within the country. It is not an easy task to financially calculate the values of such heritages since these are aspects which are deeply integrated in the cultures of people. Therefore we clearly understand that creating a national policy on such aspects is a daunting task ahead of us," he added.

The Minister said that the 10-Point Action Plan was developed with the objective of upgrading the IP regime in Sri Lanka and to enable it to move beyond the traditional domains of copyright and patents into new areas, including innovation and branding and to bring it in line with international standards.

Apart from the progress on the 10-Point Action Plan, he stressed that Sri Lanka's own patent and IP segment too had recorded increased registrations over the years.

Citing an example, he said: "In 2015, around 2,500 Vienna Classifications were reported by the National Intellectual Property Office (NIPO) under my ministry, while 1,700 Registration Certificates were issued and 1,085 Renewals of Certificates and more than 5,600 public searches too were reported by NIPO."

The Minister acknowledged that the support of WIPO during the past three and a half years has helped Sri Lanka to reap significant tangible benefits under the 10-Point Action Plan.

"We appreciate the invaluable support of the G15 Secretariat and WIPO extended to us. I am also given to understand that it has been an uphill battle, but one that is of great importance to developing countries like Sri Lanka," Bathiudeen noted.

WIPO Director Minelik Getahun outlined how the Colombo sessions will foster IP tradition among participant countries.

"This seminar will not result in any final conclusion or a formal report but will prepare a platform based on exchange of experiences by the member countries," he explained.

Getahun said the broad concepts outlined during the two-day Colombo session will lead to policy formulation and implementation as well as the exchange of national experiences.

Permanent Representative of Sri Lanka to the UN in Geneva Ambassador Ravinatha Aryasinha pointed out that G15 countries represented here also had much to gain through a regime that recognises IP right and value to the knowledge passed down to generations in their respective countries, while at the same time standing to lose the most by failing to do so.

"Protection of IP related to TK and TCE is of paramount importance to G15 members. All countries present here today share unique traditional knowledge and expressions such as genetic resources, traditional knowledge and expressions in the form of folklore, dances, music and art which needs to be recognised and protected," he said.

The two-day G15 seminar in Colombo was a culmination of years of close consultancy and cooperation between the G15, WIPO and Sri Lankan Government.

Sri Lanka took over the Chair of G15 in 2010 and during the chairmanship the group has made strategic reorientation. The G15 has evolved into an organisation which is also thriving to achieve greater south- south cooperation and build capacities among its members.

- Pix by Ruwan Walpola