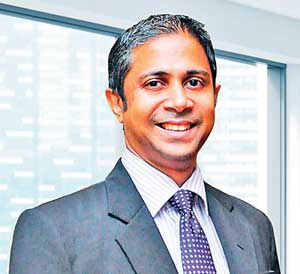 In an effort to strengthen the Group's dynamic expansion and consolidation program with the industry's outstanding young professionals joining the top management, George Steuarts and Company Ltd., one of the fastest growing conglomerates in Sri Lanka, recently announced the appointment of Paddy Weerasekera as the Chief Executive Officer of the Group's Consumer sector.

Weerasekera brings a wealth of experience to the company from his previous roles and is a veteran marketing and communications specialist counting over 24 years of experience at both local and multinational companies.

Prior to this assignment he was attached to Expolanka Holdings Plc as a member of the Corporate Management team overlooking the Group's marketing, corporate communications and sustainability activities.

He was instrumental in developing the Group's corporate positioning and orchestrating the relaunch of key global brands like Expo Freight (EFL), Akquasun, ACR, Baraka and Norfolk Crescent.

He also served in the insurance industry as the Head of Marketing at Janashakthi Insurance Plc and led the Brand Management, Customer Relationship Management and Research and Telemarketing teams. Furthermore, he was the General Manager of the multinational communications agency Bates Asia/141 (part of global communications giant WPP Group) and served as a Board Director of the Urban Development Authority

He is a fellow member of the Charted Institute of Marketing (FCIM UK), a Certified Management Accountant (CMA Australia) and holds a MBA from the University of Wales (UK). He was a product of Royal College, Colombo and studied further at Stafford International School.

He has served the marketing and communications industry over the years as a Board Director/Vice President 4A's (Accredited Advertising Agencies Association) from 2006-2009, a member of a panel of judges for the Effies Awards 2012/2013/2016, a member of the Chillies Advertising Awards Steering Committee 2007/2008, a member of the panel of judges for the SLIM Advertising Awards (2004) and was a visiting lecturer at the Academy of Design from 2006-2008. He was bestowed with the Brand Leadership Award at the World Brand Congress in 2011, the CMO Asia Award in 2012 and Asia's Best Marketer Award in 2016 by the World Brand Congress.

His leadership and work have been rewarded with many awards over the years namely the World Brand Congress Awards, Asia Entrepreneurship Awards, ARC Awards (USA), LACP Awards (USA), Galaxy Awards (USA), Brand Excellence Awards, National Business Excellence Awards, ACCA Awards, Sri Lanka Institute of Marketing Advertising Awards and Chillies.