Asia Responsible Entrepreneurship Awards program 2014 (AREA) held in Macau on 19 June honoured Expolanka Holdings PLC for the Group's involvement in the entrepreneurship development program, 'Venture Engine'. This is the second time that the Group received recognition at the prestigious AREA awards designed to honour Asian businesses for championing sustainable and responsible entrepreneurship in several categories, including Green Leadership, Investment in People, Health Promotion, Social Empowerment, SME CSR and Responsible Business Leadership.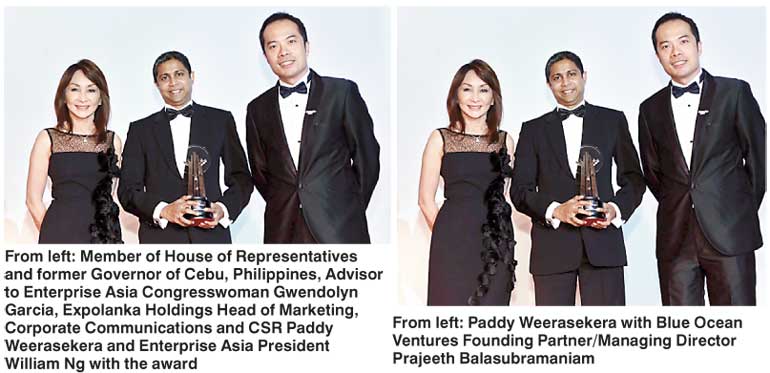 In 2013, Expolanka won an AREA award in the category of Health Promotion for its services to the less-privileged communities through the CSR program 'Expo Medix'.

Expolanka Holdings PLC Head of Marketing, Corporate Communications and CSR Paddy Weerasekera commented on the award, "We are privileged to win a prestigious award for the second consecutive year. This recognition is a tribute to our tireless and sincere efforts in extending our support to budding entrepreneurs who bring with them the dare-to-do spirit. We feel it's our Corporate Social Responsibility to empower the community and contribute to the development of the Sri Lankan economy."

This year's entry, Venture Engine has been providing entrepreneurs opportunities required to launch their businesses specifically through, funding, development of stronger business plans aided by mentoring sessions and informative workshops with some of the region's top entrepreneurs and business leaders for the past three years. Conceptualised by Blue Ocean Ventures and the Indian Angel Network, and backed by Expolanka as the Platinum Sponsor, the project creates a platform for entrepreneurs to pitch directly to potential investors while also providing comprehensive mentoring for the selected businesses.

"Over the past three years, Venture Engine has had a considerable impact on the start-up ecosystem in Sri Lanka. We have been able to raise over $ 5 million and 20 start ups in three years promising entrepreneurs who have ability and talent, but lack the financial resources and contacts. Our focus is on providing tangible benefits to Sri Lankan entrepreneurs. Being recognised for all the hard work we've put in throughout the years is a tremendous honour," commented Blue Ocean Ventures Co-Founder Prajeeth Balasubramanium.

The funded start-ups include 24x7 Techies, Ridgecrest, Takas.lk, Saraii, Healthy Living, Omak, Extrogene, Katha, Zig Zag, Zacki, My Wish, BPO Academy, Wild Trails,Trekurious, Intellocut, Endemic, Push, Glitteray, House of Lonali and Nithya. The invested areas include IT/BPO, Travel and tourism, E-commerce and Design building up of the local start-up Ecosystem. As a result of Venture Engine, the Lankan Angel Network was launched to further support and build the start-up eco system. Today LAN has over 60 members including top CEOs of Blue Chip companies.

AREA awards cover businesses in East Asia, South Asia, Southeast Asia, and the Middle Eastern regions. A large number of business and government leaders, diplomatic representatives, social and community leaders, local and international media takes part in this annual event. In choosing the winners, AREA awards examine stringent criteria including the company's commitment, integrity and leadership in incorporating responsible and ethical values in their businesses, investing in stakeholders, empowering the community, taking care of their well-being and legal compliance. This year, over 300 companies, representing nine countries in five categories submitted their applications to AREA awards.