The design and construction of Kapparatota Jetty undertaken by Access Engineering PLC has been gaining momentum. The project will bring significant benefits to the local fishing industry with the increased anchoring facilities for the boats and the development of a new market place to trade the yields of the local fishermen.

The Government of Sri Lanka has accorded and funded the project with the forward vision to revitalise the fishery based livelihood of the communities in and around Weligama. The project which is scheduled to be completed in July is being executed under the guidance of Ministry of Fisheries and Aquatic Resources Development.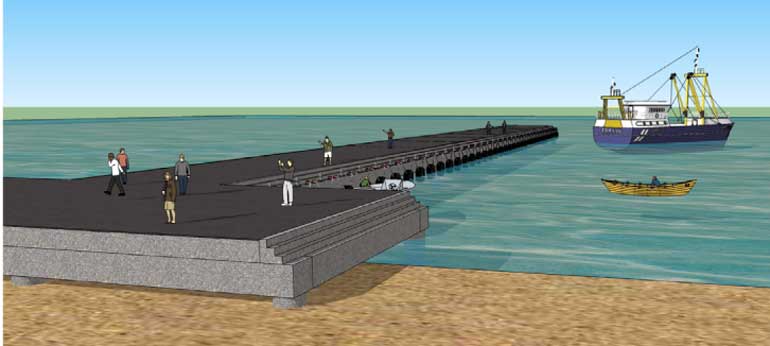 Artistic view of the proposed Kapparatota Jetty


The scope of the project entrusted to Access Engineering PLC includes design and construction of the 128 m long jetty on a pile foundation which extends from the land into sea enabling the local fishermen to anchor their boats within the sea area without having trouble of bringing the boats to the shore. With the work in progress, the piers of the jetty will be furnished with new fenders and bollards to facilitate safe docking at the jetty.

"The landing and anchoring of boats have been a tough task for the fishermen. And this construction work affords us the opportunity to help improve an industry which is vital to the individual livelihoods of the surrounding communities," said Project Manager Chandimal Kumara.

"A part of this project involved piling beside the irregular sea water levels which make underwater concreting and welding and concreting extremely challenging to progress," he further added.

Complementing the increased anchoring facility at the jetty, the bays on the jetty will also provide an improvised large space for the fish market which is otherwise stretched along the Colombo-Matara Main Road (A002) causing severe traffic snarls on the road.