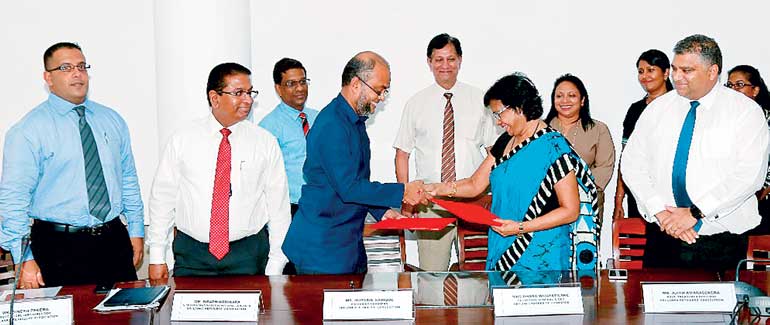 From left: Dinesh Perera – Deputy Director, Abans Plc, Sidath Kodikara - CEO Cargills Foods Company, Leonard Perera, Retailers-Connect of SLRA, A.H.M. Haroos – Consultant Hameedia, Hussain Sadique – Deputy MD of Hameedia/SLRA Chairman, Dhara Wijayatilake – CEO of the Ceylon Chamber of Commerce, Alikie Perera – Deputy Secretary General and Gillian Nugara – Asst. Secretary General of CCC and Ajith Amarasekera – CEO of Swarnamahal Jewellers
The Sri Lanka Retailers' Association (SLRA) entered into an MoU with the Ceylon Chamber of Commerce (CCC) recently, which will result in the Chamber providing the association with secretarial and other required support to achieve the association's objectives and goals.

The MoU was signed by Ceylon Chamber of Commerce CEO Dhara Wijayatilake and Sri Lanka Retailer's Association Chairman Hussain Sadique on behalf of the respective parties.

The Sri Lanka Retailer's Association was incorporated during June 2016, as a Company Limited by Guarantee. The association's objective is to harness the resources of the organised retail industry to a common platform to promote and facilitate futuristic innovation, growth and global outreach. SLRA has an ambitious vision to 'Achieve Retail Excellence' in Sri Lanka. To achieve this vision, it strives to be the 'Voice of the Retail industry in Sri Lanka'.

Founder stakeholder members of the association currently include prominent retailers such as Abans, the Bata Shoe Company, the Cargill's Foods Company, Cool Planet, Cotton Collection, Ceylon Leather products DI, DSI, Damro, Healthguard Pharmacy Ltd., Fashion Bug, Kandy selection, Keells Super, Laugfs Supermarkets, Mydeal.lk, No Limit, Singer Sri Lanka, Swarnamahal Jewellers, Softlogic Retail, Thilakawardhana Textiles and Hameedia as the Lead Convener.

SLRA currently represents nine retail sectors which are FMCG, Clothing, Fashion and Jewelry, Shelter and Housing Household and Consumer Durables, Footwear and Accessories, E-Commerce, Mobility, Entertainment and Healthcare and Wellness.

"The SLRA hopes to engage with retailers in multiple formats to further increase and scale its membership. Our aim is to improve the standards of retailing in the country by being inclusive in our approach," said Association Chairman Hussain Sadique.

"We expect to give leadership and the much-needed focus, thus the ultimate vision of the country to make Sri Lanka a retail hub will be realised," he added.

The Executive Committee of SLRA comprising Sidath Kodikara, Murali Prakash, Infiyaz Ali, Charitha Subasinghe, Dinesh Perera and Ajith Amarasekera were also present for the MoU signing ceremony. Leonard Michael Perera, Retailers-Connect of SLRA and Alikie Perera - Deputy Secretary General of CCC witnessed the signing of the MoU.

The Ceylon Chamber of Commerce will play the role of the Secretariat and immediate contact point for the SLRA.

The retail industry is inviting retailers to enroll as members of the association. For more information please contact the Sri Lanka Retailers' Association Secretariat: Gillian Nugara, the Assistant Secretary General of the Ceylon Chamber of Commerce, No. 50, Nawam Mawatha Colombo 2. Telephone No. 0115588881.