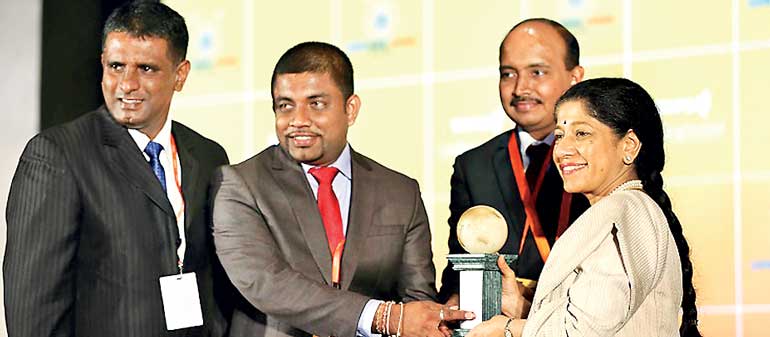 TAFE Chairman and CEO Mallika Srinivasan awarding the trophy to Browns Agriculture AGM Sanjaya Nissanka while Browns Group Chief Financial Officer Thamotharampillai Sanakan looks on
Browns Agri Division retained the President's Trophy at the recently held TAFE International Distributors Business Conference in Chennai India. The conference also plays as a platform to recognise star players in the agriculture industry. The Chairman's Trophy takes a holistic view of the overall performance of a distributor; marketing, systems, customer service, distributorship, team strength, after sales service, to name a few.

The TAFE organisation is in partnership with reputed organisations in about 75 countries worldwide. Among these, 40 dealer organisations were shortlisted for the Awards assessment. Along with this accolade, the Agri Division bagged the Best Sales Performance Trophy, New Product/Eco System and Performance Trophy, Long Association Award and 1st Runner-up Trophy for Service Excellence. The organisation is well known as a pioneer in agricultural mechanisation in Sri Lanka, changing the face of the agriculture industry and enriching the lives of farming communities. Browns has extended their support by working with the Government to provide farmer education programs that help them maximise their efficiency and yields.

Covering the entire length and breadth of agro areas providing the best quality farming solutions to its customers and empowering them to work towards increased farm productivity, prosperity and profits, today Browns Agriculture Division leads the agriculture market with an undisputed market share of 55% plus and with the highest dealer network in the industry, and also provides the best after sales services in the agriculture sector, in the Sri Lankan market.