From left: Asst General Manager Naqeeb Isthiark, Factory Manager Ranjith Siriwardhena, Managing Director Isthiark Farook, Executive Director Ifthikar Farook, Director Ilyas Farook, Manager Corporate Development M.N.M. Nafaiz, Chief Operating Officer Fazly Faleel, Manager Customer Relations and Logistics Aadil Nuwman
Asiabike Industrial Ltd., Sri Lanka's number one bicycle exporter from 1994, recently added two more prestigious awards to their proud collection of numerous awards and accolades. The achievements namely; Presidential Award for the Highest Value Added Exporter – 2015 and National Chamber of Exporters (NCE) Silver Award for Light Engineering Sector – 2016 can be introduced as further recognition of Asiabike's remarkable contribution to boost the national economy.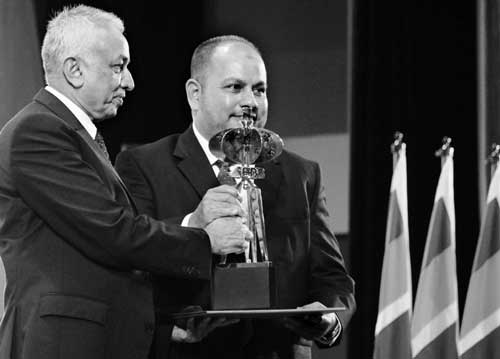 Backed by more than five decades of expertise in bicycle manufacturing, Asiabike started exporting internationally to reputed brands from 1994. Asiabike Industrial Ltd. has garnered trust and recognition among prestigious customers in UK, Germany, Netherlands, Greece, France, Italy, Poland, India and etc.

With leadership from Managing Director Isthiark Farook, under the guidance of A.W.M. Farook, Chairman and the Board of Directors, Asiabike Industrial Ltd. saw a tremendous success in European and Indian markets. Teamwork and commitment of Asiabikes' staff including professionals specialised in bicycle manufacturing, focused on quality and customer satisfaction was also behind the success story. Asiabike Industrial Ltd. is a BOI approved company founded in 1994 as a fully-locally owned enterprise to manufacture high end performance focused mountain and racing bikes.

Asiabike also caters with city bikes, children's, trekking and all terrain bicycles for the European Union and other countries. The company's main factory, strategically located at Panadura employs around 400 with a technologically advanced production system in terms of frame building, complete wheel building, eco friendly painting process and a modern bicycle assembly operation abiding to international manufacturing practices and quality standards.