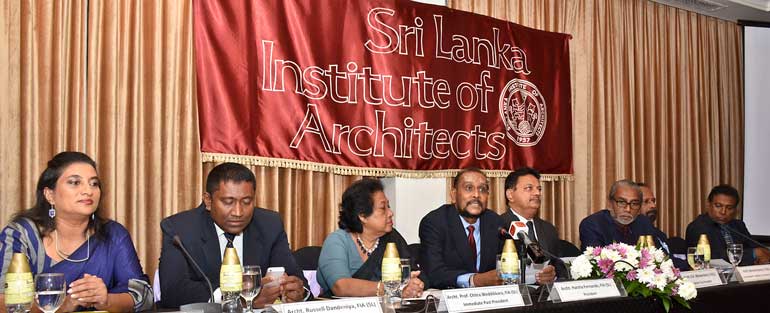 With the Sponsors From left: Media Committee Chairperson Dilummini De Mel, Hony. Secretary Russell Dandeniya, Immediate Past President Prof. Chitra Weddikkara, President Harsha Fernando, Senior Vice President D. H. Wijewardene, Vice President/Exhibition Committee Chairman Bernard Gomez, Hony. Treasurer Veranjan Kurukulasuriya and National Conference Chairman Ranjana Suraweera – Pic by Daminda Harsha Perera
By Himal Kotelawala

Public consensus and the professional opinion of local architects and other construction experts should be sought before going ahead with the proposed Megapolis project, President of the Sri Lanka Institute of Architects (SLIA) Architect Harsha Fernando said.

The SLIA is currently holding discussions with the Government in this regard, Fernando told Daily FT on the sidelines of a media briefing announcing its upcoming members' work and trade exhibition titled Architect 2016.

"We're pressing them to go for public consensus. [A project of such scale] has to be economically and socially accepted by the public," he said.

A team appointed by the SLIA is currently talking to the Government, said Fernando, adding that the Institute's mission is to see the see the inclusion of Sri Lankan architects in large scale development projects carried out by the State.

The Architect 2016 exhibition will be held for 34th consecutive year at the Bandaranaike Memorial International Conference Hall (BMICH) from 18 to 21 February. Over 300 trade stalls and 132 display panels will display the work of architects affiliated to the SLIA.

The inauguration ceremony will be held 16 February at 3pm with the participation of Minister of Special Tasks Sarath Amunugama, and a National Conference will take place the following day under the theme 'flows touching the void' inaugurated by Minister of Southern Development Sagala Ratnayaka.

World renowned architect Richard Murphy, who has vast experience in art, education, housing, health and community use and master planning, architect Wom Mun Summ, an expert in undertaking project types ranging from apartments, towers to luxury resorts, mass-transit stations, condominiums and hotels, and architect Edric Marco Florentino, an EAROPH (Eastern Regional Organisation for Planning and Housing) Golden Jubilee Award winner at the EAROPH Convention held in Australia in 2010, will deliver the keynote speeches. Sri Lanka's owned famed architects D. H. Wijewardene, Dr. Anusha Rajapaksha, Madura Prematilake and Rathnasiri Jayasinghe will also share their views at the conference.

The National Conference is open not just to architects but to anyone who has an interest in architecture, design and the way one's physical surroundings are made which has a direct impact on his or her lifestyle.

The conference will be immediately followed by the Members' Work and Trade Exhibition, to be declared open by Deputy Minister of Foreign Affairs Harsha De Silva.

The exhibition, initiated by the SLIA in 1982, saw the attendance of over 100,000 last year, with a bigger turnout expected this year.

Architect 2016 will showcase the work of architectural firms, creations and course work of architecture students from the University of Moratuwa and the City School of Architecture. The trade exhibition will consist of trade stalls displaying a variety of products imported and locally manufactured, ranging from construction related products to sanitary ware, interior decor and landscaping. Several new technologies available in the local market will also be displayed. There will also be an awards scheme aimed to recognise the stall that best reflects this year's theme.