Small and medium scale entrepreneurs are the main shareholders of the national economy. As such they should be armed with new business knowledge to give off their best to strengthen the national economy. For this they should abandon traditional methods and get accustomed to the use of new digital business technologies.

"The Federation of Chambers of Commerce and Industry of Sri Lanka (FCCISL) under my stewardship will take steps to direct entrepreneurs towards more business education opportunities," said Sarath Kahapolaarachchi when he assumed duties as the new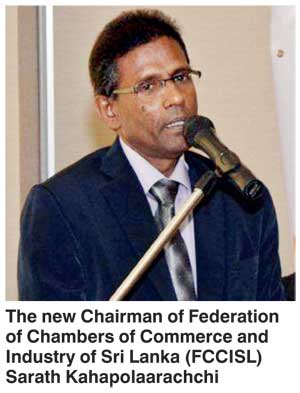 Chairman of the Sri Lanka Chamber of Commerce and Industry recently.

Kahapolaarachchi who earlier held the post of Vice Chancellor of the Chamber of Commerce and Industry said compared to the international business sector the Sri Lanka business sector lagged behind by more than 20 years. There are several reasons for it. The country had a large amount of raw materials to facilitate new inventors and productions locally. But we export raw materials at a low price and import finished products at a heavy price. Taxes levied on these imports were used to nurture the national economy.

This is only a temporary future. It was therefore mandatory for us to access a production economy urgently. We have two main factors required for this namely raw materials and human resources. The only requirements were knowledge. Therefore, there should be full state intervention to empower the small and medium scale business sector with knowledge.

For this planning of business education opportunities was very essential. They should be based on new technology usage, market access, low cost production strategies and new inventions etc. This needed the formulation of a clear policy on small and medium scale entrepreneurship. The FCCISL and Industry should pay more attention towards this whole matter.

Kahapolaarachchi said the chamber possessed a large pool of regional chambers and members belonging to chambers belonging to various sectors. Steps would be taken to implement a new program towards introducing them as systematic entrepreneurs to society.

The FCCISL is the only Lankan institution holding membership in the SAARC Region Congress of Chambers of Commerce and Industry. Sarath Kahapolaarachchi who is the 19th Chairman of the Sri Lanka Chamber of Commerce and Industry entered the Chamber of Commerce sector representing the Kalutara FCCISL. He has 19 years experience in the Chamber of Commerce sector.