Past President of the Federation of Chambers of Commerce and Industry of Sri Lanka Ajith Wattuhewa who was elected Senior Vice President of the SAARC Region Chamber of Commerce said he considered his election as a victory for the dedicated and united efforts made by the entire Sri Lankan entrepreneur community rather than a personal victory. He was addressing a press conference held in Kathmandu, Nepal following his election at the AGM of the SAARC Region Chamber of Commerce held at the Crown Plaza hotel in Kathmandu recently.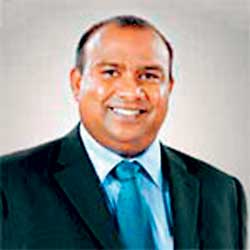 Wattuhewa said that during his tenure as President of the Federation of Chambers of Commerce and Industry of Sri Lanka, he had the opportunity to study in detail the economic crises prevalent in the region and exchange views and ideas with his counterparts in the region.

This enabled him to get a firsthand knowledge about problems facing the region. Inter regional trade was a major for building economic stability in a country specially a developing country. In this instance products of one country in the region should have a stable place in the markets of the other countries in the region, he said.

He went on to say, "This would enable all to strengthen their economies. Countries in the region may have political and other differences but they should not have any differences economically. If countries in the region had differences in the economic field, outside forces would try to make them more acute and invade our region economically. This has already happened and this is a very dangerous situation which should be overcome with collective action."

He said economic in stability in one country in the region would affect other countries in the region in one way or the other. We should all try to understand this situation. That was why there should be trade agreements on operation between all countries in the region.

Although there were trade agreements between countries in the region most of these agreements were dormant. What we ought to do is to activate the clauses of these agreements post haste and maintain them by updating them. If this was done no one could prevent the SAARC region from becoming an economic giant, Wattuhewa said.

A past pupil of the Badulla Central College, Wattuhewa holds a National Diploma in Technology from the Moratuwa University. After entering the chambers of commerce and industry sector in 1988 he became the first President of the Chamber of Commerce and Industry in Uva set up in 1996.

In 1996 itself Wattuhewa became a member of the Board of Directors of the FCCISL and later went on to be the Vice President and the senior Vice President. During those days he was instrumental in setting up regional chambers of commerce and industry in Gampaha and Kalutara. After becoming the President of FCCISL in 2014, Wattuhewa did yeomen service to uplift the chambers of commerce and industry sector during his tenure in office.

As a pioneer in the sector Wattuhewa has contributed in many ways to help young entrepreneurs to uplift their businesses and shine in both national and international stages. As a highly successful businessman, Wattuhewa has interests in diverse fields. He has set up businesses in rubber based products, fibre products, human resources, media, among others.

Wattuhewa is the eldest son of the renowned businessman from Badulla area, the late Upadasa Wattuhewa and retired school teacher, the late Leela Wattuhewa. Wattuhewa and wife Niroshani De Silva have one daughter Nimindi Wattuhewa.