The Association of Chartered Certified Accountants (ACCA) Sri Lanka partnered with the Sri Lanka Association of Software and Service Companies (SLASSCOM) recently to hold a forum addressing the important subject of finance transformation in the current business context, at Park Street Mews Colombo.

The event partners included Orion City as the Platinum Sponsor, Millennium IT as the Strategic Partner, SAKS Global as the Gold Sponsor and IFS as the Technology Partner. HNB PLC was the official bank for the event while Daily FT and LMD were official newspaper and official business magazine partner respectively. Learn TV joined the initiative as official TV station.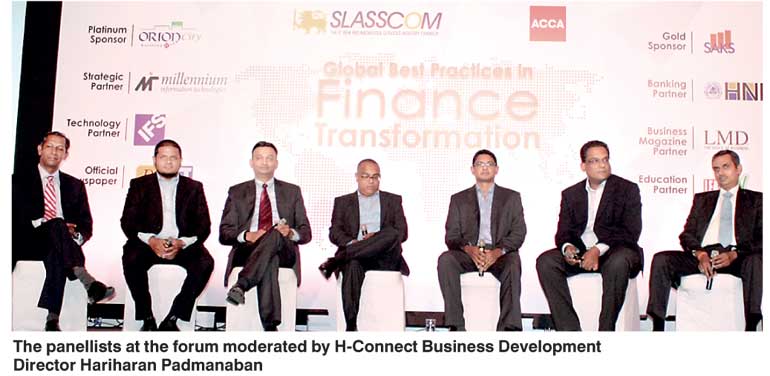 The forum was conducted by a panel of industry experts on the subject ranging from Rio Tinto GBS Finance Services Managing Director Sanjay Patel, Group IT Director and Tesco HSC Chief Information Officer Vinod Bidarkoppa and Concentrix India Healthcare Global Delivery Lead Rajaram Natarajan, who shared their insight on finance and business model transformation and their importance. They outlined strategies and case studies and gave guidelines to the Sri Lankan business leaders participating in the forum on how to optimise their approach and focus on value optimisation through finance transformation.

Points outlined included how the rapid technology transformation and value optimisation in business have forced organisations to frequently assess and redeploy business strategy. The need for companies to regularly re-evaluate and change course was discussed along with how the finance function in an organisation has evolved into a competitive differentiator – one that provides critical decision support and analytic capabilities to business stakeholders. It was pointed out that lengthy, expensive transformation efforts are a thing of the past, as management is pressed to strengthen controls, realise efficiencies, and improve analytic capabilities in real time.

The importance of turning this change into opportunity was emphasised and how businesses should adopt a targeted view of 'finance refinement' focused on incremental improvements that support the long-term vision. It was explained that every organisation needs to map their own paths on this journey, such as designing new processes and controls whilst implementing standardised financial systems.

It was affirmed that in order to manage the strain on assets, an increasing number of private and public sector organisations are delivering their back office functions using a shared services model designed to streamline business processes, create operational efficiencies and deliver a superior customer experience. Also discussed was the fact of shared services having today become a mainstream business strategy that repeatedly creates value for organisations beyond cost reduction.

The presentations were followed by an interesting panel discussion that included local experts from the Shared Services and Outsourcing sector such as Hayleys Industrial Solutions Managing Director and HBSI Director Dr. Arul Sivagananathan, Hemas Holdings PLC Chief Process Officer Chandima Cooray and MillenniumIT Chief Financial Officer Fadhil Jiffry. The session was moderated by H-Connect Business Development Director Hariharan Padmanaban.

The panellists shared their insights on how finance transformation and business model innovation will drive sustainable competitiveness for local industries. Strategies and best practices were discussed on a range of subjects that comprised of the reasons behind the increase and success of the shared services model in finance, how world-class global business services organisations are now using shared services to support critical and strategic finance functions, key benefits world-class global business services organisations are getting from shared services over time and the key role of technology in driving shared services efficiency and effectiveness.

Through the presentations and the panel discussion, attendees learned about specific processes handled, evaluating costs, staff level optimisation, and productivity measures. They were also provided qualitative information about delivery models in finance and business process outsourcing, and insights on leading global practices. The forum was participated and enthusiastically endorsed by many leading organisations.