---
The Wood Based Industrialists Association (WBIA) held its Annual General Meeting (AGM) for the year 2017-2018 on 1 December at Grand Monarch Hotel, Thalawathugoda.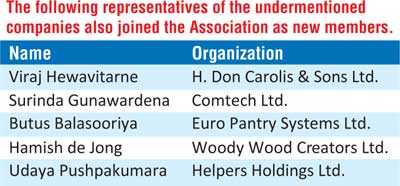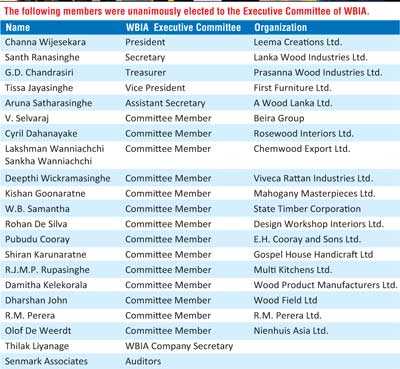 WBIA was formed in 2007 by a visionary group of seven entrepreneurs connected to the wood based industry as a Company Limited by Guarantee as there was a need for such an organisation to represent the wood based industry which was neglected to some extent.

The main objectives of the Association were to support and promote the manufacture, marketing and sale of wood based products and to build up a relationship with Government institutions, statutory bodies and other related organisations for the advancement of wood based industry.

With passage of time, the WBIA was able to make representation to these authorities and obtain many concessions on matters relating to the wood sector. The membership of the Association has now expanded rapidly, representing prestigious companies related to the wood sector.

With the object of assisting small-scale individuals associated with the wood sector and broaden the scope of the Association, provisional membership was granted to WBIA President Moratuwa Waduge Somasiri Fernando.

Presentations were made by Chief Delegate Andreas Hergenröther and Delegation of German Industry and Commerce in Sri Lanka (AHK) Head of Corporate Affairs / Export Promotions Malintha Gajanayake, Export Development Board (EDB) IT Director Indu Alahapperuma and the main sponsor of the event BIESSE Manufacturing Co Ltd., India, regarding the benefits these organisations could offer the Association to further advance the WBIA objectives.

The co-sponsor of the event was Sinwa Adhesives Ltd.