Panel discussion featuring Unilever Sri Lanka Chairperson and Managing Director Hajar Alafifi, Prof. Neelika Malawige from the Department of Immunology and Molecular Medicine, University of Jayewardenepura and Jetwing Symphony Chairman Hiran Cooray, moderated by WCIC Board Member Gayani de Alwis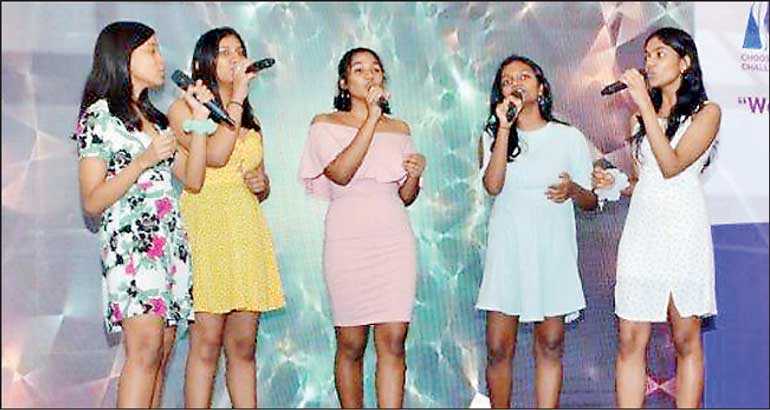 Entertainment act - Voiced Out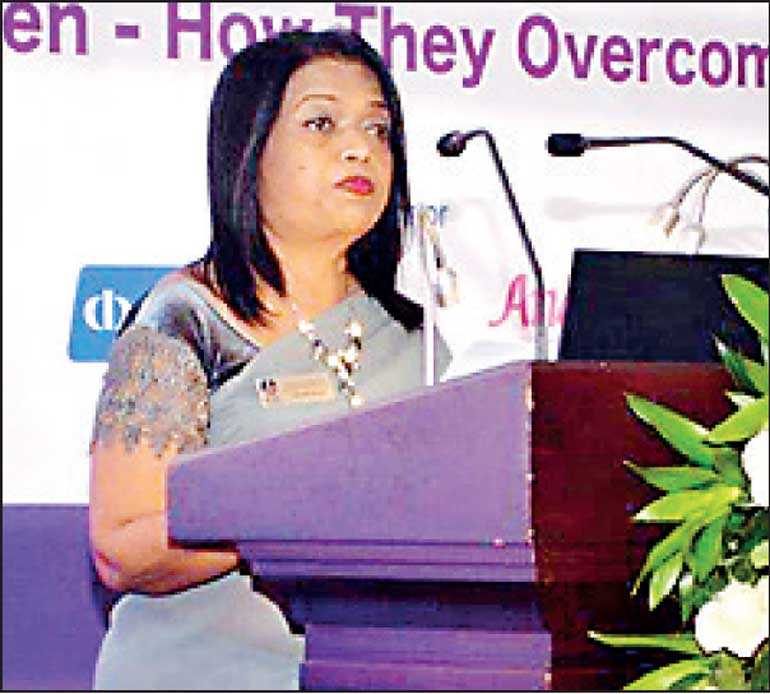 Welcome address by WCIC Chairperson Indrani Fernando

A section of the audience
---
The Women's Chamber of Industry and Commerce (WCIC) celebrated International Women's Day (IWD) on 23 March at the Winchester, The Kingsbury with a limited gathering due to the prevailing COVID health guidelines. The theme for this year's IWD was 'Choose to Challenge'.

Unilever Sri Lanka Chairperson and Managing Director Hajar Alafifi attended the occasion as the keynote speaker sharing her views with the attentive audience. The keynote address was followed by a panel discussion, with Prof. Neelika Malawige from the Department of Immunology and Molecular Medicine, University of Jayewardenepura, Jetwing Symphony PLC Chairman Hiran Cooray and the keynote speaker as panelists. WCIC Board Member Gayani de Alwis moderated the panel discussion.

In her welcome address, WCIC Chairperson Indrani Fernando said: "The past year has been an eventful year, not so much with progress and positivity as we would normally expect, but a year of unexpected challenges. We have 'Chosen to Challenge'. As the premier organszation working on harnessing the power of the women, to gain recognition and to improve their lives, whilst stimulating socio economic growth by conducting several virtual sessions, addressing burning needs of the entrepreneurs and professionals, and connecting them with possible solutions. Two key areas where majority required support was on access to market and access to finance. An extensive research done among a significantly representative sample has confirmed this."

She also said that the well-aligned structure at the WCIC made it possible to continue to build capacity among the target audience.

Alafifi, in her keynote address, stressed on the IWD theme 'Choose to Challenge' and how women cope and face challenges by sharing her views from a corporate perspective. With global statistics indicating the women representation at 50%, the need to increase the participation in the work force was highlighted as female labour force participation in Sri Lanka being at 34.3% which not at all satisfactory.

She highlighted that women should be integrated into the work environment, simply because it increases the ability to bring different views into the decision-making process resulting in greater performance. Therefore working towards gender balance should be a key agenda item for any organisation.

She elaborated how Unilever as an organisation is focusing on achieving gender balance, with policies that include 50/50 representation of gender at the final interview and inclusion of merit based pay for all. The evolving policies also included, equity in promotions, creating a strong internal pipeline of female talent, balanced slate for women at leadership positions, entry level, undergraduate pool, along with a strong RDFT culture (respect, dignity and fair treatment).

She opined that to encourage women to achieve a work life balance without having to give up work, the organisation is working on several initiatives that could add value, i.e. flexible work, childcare support, women safety, fertility support policy, eldercare support, parental coaching etc.

She further stated that when every child is born so is a mother, and Unilever is committed to ensure that a woman becomes a mother; if inclusion and diversity is a prominent agenda item the need for everyone to work towards achieving it was established.

The panel discussion was focussed in understanding challenges that women face and how to create an enabling eco system to grow women entrepreneurs and professionals, discussing ways women are challenged and succeed in building their careers and growing their businesses.

In responding to a question, on the women in the frontline and how they face many challenges in her call of duty to protect the nation, Prof. Malawige shared her experience in the health sector and mentioned that it is a place where long working hours, working away from home etc. is the norm and most adapt to the situation well without thinking much about the gender to perform their tasks. So other sectors could take learnings from the health sector.

Cooray during the panel discussion mentioned that the situation was changing now and he was hopeful that the gender gap we see in the work place would be bridged with more women joining unconventional roles such as in the hospitality trade. He also highlighted how Jetwing group treats women without any biases and they had women in high positions as general managers and directors.

Project Chairperson Sonali de Silva in her vote of thanks acknowledged the main Sponsor Commercial Bank and the Print Media Partner Daily FT for supporting WCIC and stressed that embarking on events such as this during this pandemic period was only possible with collaboration.

The Women's Chamber of Industry and Commerce (WCIC) is a premier non-profit organiSation supporting women in entrepreneurs, professional businesswomen focused on developing, improving and strengthening the skills of women entrepreneurs.