USAID Chief of Party Rick Whitaker shakes hands with the CodeGen Group of Companies. President and CEO Dr. Harsha Subasinghe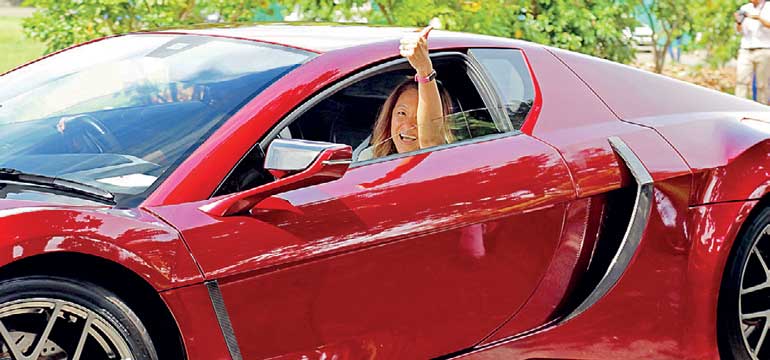 US Ambassador to Sri Lanka Julie Chung is seen gesturing while seated inside the Vega EVX, South Asia's first electric supercar designed and engineered by Vega Innovations
U.S. Ambassador to Sri Lanka Julie Chung is seen riding the Vega ETX - Electric Trishaw at the CodeGen International premises
---
Vega Innovations, a subsidiary of CodeGen International, recently partnered with the US Agency for International Development (USAID)-funded Sri Lanka Energy Programme (SLEP) to support the commercialisation of electric vehicles in Sri Lanka.

Vega Innovations is an automobile manufacturer of electric vehicles (EV). The company pioneered South Asia's first electric supercar, Vega EVX, which was unveiled online at the Geneva International Motor Show in March 2020

Further, the company also designs and manufactures components such as high-performance inverters and battery packs while providing EV research and development (R&D) services to clients worldwide.

The company also pioneered the first end-to-end EV charging network launched in Sri Lanka with a scalable EV charging solution for car users across the country.

Vega Innovations was founded in 2013 as part of CodeGen International, spearheaded by visionary Dr. Harsha Subasinghe, alongside Kusal Subasinghe and Bharat Patel.

Attended the signing Dr. Subasinghe said: "We are delighted with this opportunity to collaborate with the USAID Sri Lanka Energy Program, especially when alternative energy sources are being sought in the country. At VEGA Innovations, our multi-disciplinary teams have been able to transform many industries through the years while taking our homegrown brands to the world. Now, through this shared vision, we look forward to supporting our motherland's journey towards development while paving the way for a sustainable future for the generations to come."

The recent USAID partnership will support VEGA Innovations' efforts to promote the adoption of electric vehicles, including electric tuks and the manufacturing of locally designed batteries and inverters.

US Ambassador to Sri Lanka Julie Chung, who attended the signing ceremony alongside a USAID delegation, said: "The U.S. supports innovators and researchers around the world to test new ideas, take strategic risks, build evidence of what works, and advance the best solutions to some of the world's most intractable development challenges. In Sri Lanka, we are excited to partner with VEGA and other key private sector firms to support innovation and growth in the renewable energy sector."

USAID Chief of Party Rick Whitaker and Dr. Harsha Subasinghe signed and witnessed the agreement on behalf of the USAID Sri Lanka Energy Program and VEGA Innovations, respectively. US Embassy Deputy Chief of Mission Martin Kelly, Acting USAID Mission Director Kevin Dean, and Co-Founder, Director of Vega Innovations and Director Strategic Investments of CodeGen International Beshan Kulapala were also present.

The USAID Sri Lanka Energy Program is one component of the longstanding partnership between the American and Sri Lankan people to support Sri Lanka's development journey and promote economic development. USAID's program in Sri Lanka, totalling more than Rs. 350 billion ($ 2 billion) since 1961, promotes a healthy, educated, and employed population.