By Darshana Abayasingha

Following the Russian tea crisis, the Government's decision to defer the ban on asbestos imports until further review is by no means a lasting solution but merely one to pacify the tea industry, charged the Fibre Cement Manufacturers Association of Sri Lanka.

Asbestos or chrysotilefibre have not caused a single death in Sri Lanka, asserts Anton Edema, Coordinator of the association, adding that the Government should engage the local industry to ascertain the ground realities.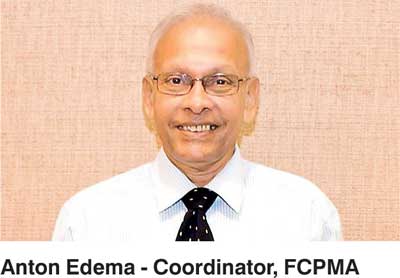 Edema charged that the ban on chrysotile was an ill-informed decision on the back of bigoted manoeuvring by international NGOs. Asbestos roofing sheets, or high-density roofing material, only contains 8% asbestos, he added, whilst the rest is made up of cement and water.

This 70-year-old industry in Sri Lanka is "workforce-oriented" and all its staff are sent for regular medical check-ups, he revealed, adding that there have been no reported cases or complications. Following the announcement of the ban in 2016, when the industry confronted officials on the scientific or other reasoning behind the decision, all they came up with "was a load of excuses" he stated, with them offering no valid data.

"There hasn't been a single local report on any impact from the industry. Therefore, the association initiated four research projects on socio-economic impacts, technical comparisons, a medical study and an air quality assessment. We do not get involved in the research conducted by the universities so there cannot be any bias. A majority of the people in the Government don't even know what asbestos is. There are certain officials who have been sponsored by the WHO and Australian agencies to go on visits and they accept what they (NGOs) say as truths. You have to first analyse if this is right or wrong. If they are right we are ready to accept it. Most of this information provided by such NGOs cannot be practised here. Government officials must learn to look at all the facts.

"The WHO says 107,000 people die a year in the world from asbestos but that's only an estimate. When calculated, only 65,000 people have died in the last 19 years from mesothelioma, which is not due to asbestos alone. For us even one death is important; show us one death in Sri Lanka due to asbestos," Edema countered.

The WHO on its website states that all types of asbestos cause lung cancer, mesothelioma, cancer of the larynx and ovary and asbestosis. It adds that over 125 million people in the world are exposed to asbestos at the workplace and that 107,000 deaths occurred in 2004 from occupational exposures. It recommends a complete stop to the use of all types of asbestos and replacing asbestos with safer substitutes and developing economic and technological mechanisms to stimulate replacement amongst other proposals.

So why not alternatives for Sri Lanka? According to the association, PVC or Poly Vinyl Chloride, plastics, cadjan, cement and other alternatives could be considered. Despite being cheap, PVC has been identified by the International Cancer Research Association as toxic when it burns. There is a requirement to plan for abnormal circumstances such as fire and PVC is deadly whereas asbestos "is a number 1 fire-rated product", it adds.

The durability of other substances was another concern the association raised, whereas other fibres similar to body armour present strength and resilience but come at five to six times the cost. Edema asserts that asbestos "is what developing countries use", they are used widely in even Thailand and Vietnam.

"Globally, 55 countries have banned asbestos. This includes the European Union, Australia and North Africa due to their connections to France and Nepal has banned it due to some problem with India. But these countries have given the authority to use chrysotile fibre in chlorine purification plants. There are many water filters that use chrysotile. For instance, with over 500 kg of asbestos as a filter, we can clean up the Beira Lake, we can make it crystal clear," Edema challenged.

Europeans, Australians and even Canada, which mined and exported chrysotile fibre, are scared of asbestos, he remarked. They manufactured more than 4,000 products that were made out of friable amphiboles or mixed asbestos, where uncontrolled use caused asbestos-related diseases in those countries and led to many deaths. In Sri Lanka it is not the same as locally chrysotile is used to produce one high-density product that is for roofing purposes only.

"Our fibre cement industry is 70-years-old and has a very clean record on health issues," he stated. The industry is well aware of chrysotile-related hazards and risks and it is because of misinformation by the anti-asbestos groups as well as the WHO that many fell for this tactic, he charged. Amphiboles which caused many deaths are banned in all countries and more than 150 countries use chrysotile mainly for high-density products and vehicle support products, he added.

The Fibre Cement Manufacturers Association of Sri Lanka also charged that despite its seven-decade-long history and adherence to good governance practices, government officials have not consulted the industry adequately in its deliberations. They called on the State to regulate industries where regulation was necessary but to give the private sector a fair hearing as the nation's engine of growth. "The industry has no hand in the Russian fiasco. We believe in ethics and the correct form of ethical business. The tea industry had problems not only with Russia. Hybrid solutions are not an option for this industry. We believe in the safe use of chrysotile for manufacturing high-density roofing sheets. Government dialogue with the main stakeholder is very vital. There has to be a mechanism to have a constructive dialogue with stakeholders, in our case the construction industry chamber would have been contacted for its views.

"Research and development of products and the industry have to be facilitated by the State. Presently, the industry carries out its own research on industry and product development. As every industry or a product has a lifecycle, the Government should make use of it rather than making a forced end to it. The construction industry is a major contributor to the development of the country where the fibre cement roofing industry contributes 3% to the GDP. Why do you want to kill an industry which contributes immensely to the lower income groups and State coffers without proper facts and figures or adequate research?" Edema asked.