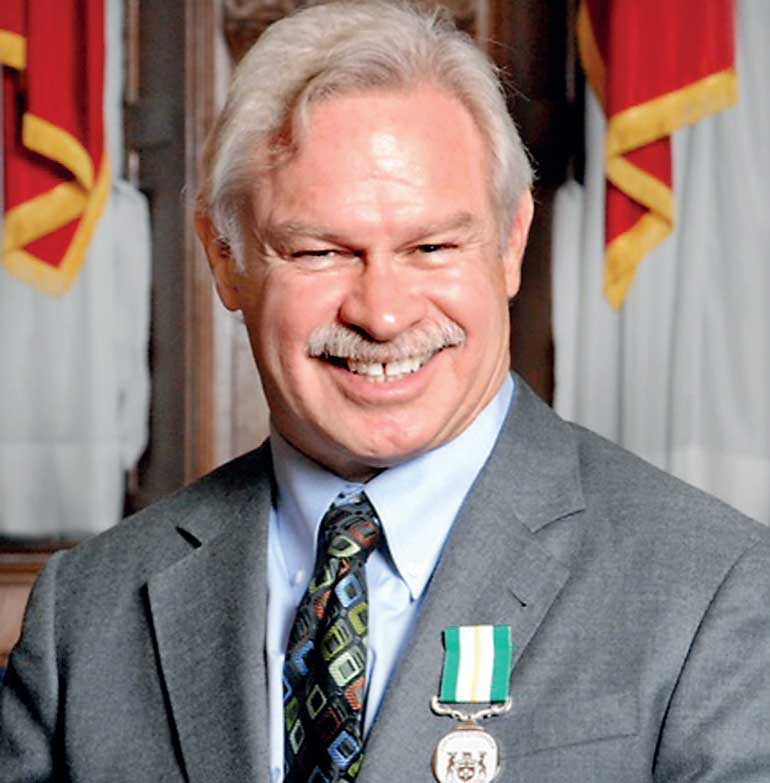 By Prof. Edward Jackson

The number one business series on Sri Lankan television today is a reality show where social entrepreneurs needing capital pitch to accomplished investors seeking social impact.

Each week, one million viewers – nearly one in every 20 Sri Lankans – tune in to AthPavura.

Heading into its second season, the show is modelled on North America's Shark Tank series, but is unique in two ways.

First, it is the first television show in the world to bring social businesses together with impact investors, attracting the enthusiastic support of its core commercial sponsors: Sampath Bank, Sri Lankan Insurance Corporation and Horizon Campus, a private college.

Second, although it's a competition, the show's unique ethos is embedded in its title. AthPavura literally means 'elephant wall' – the formation used by these great animals to protect their young and allow them to flourish.

Indeed, the impact investors on the show, who have become national celebrities, are known as Tuskers.

Accomplished and smart, the Tuskers pose hard questions to the social entrepreneurs. How viable is the business model? What kind and quantum of capital are really needed? What social or environmental results will be realised?

Sometimes they are convinced, and agree to finance the deals offers to them. But they also reject the proposals they don't think will succeed.

Once the deals are executed, the investors often take a personal interest in their investees, following their progress and advising on strategy, markets and operations. These projects become personal.

However, as successful as AthPavura is, the investors and the organisations around them—the Lanka Impact Investing Network (LIIN), Social Enterprise Lanka and Lanka Social Ventures are three key groups – know they are reaching the limits of their current model.

As committed and creative as they are, individual investors, ultimately, can finance only a finite number of deals. They believe that what is needed in addition to AthPavura is a bigger, more robust ecosystem capable of raising capital for a larger number of growing social businesses.

To that end, the Tuskers and their allies recently organised a two-day residential training program to learn more about impact investing products and tools and how to grow a larger number of social businesses across the country. This learning event was co-sponsored with the United Nations Development Program (UNDP), World University Service of Canada (WUSC), a Canadian NGO, and WUSC's volunteer-sending arm, Uniterra.

The 35 participants in the training program discussed two concrete projects being co-developed by LIIN and UNDP's Asia-based unit for innovative financing of the UN's Sustainable Development Goals.

One is establishing a new, $5-million Social Enterprise Fund to increase the pool of capital and number of deals in the social enterprise space.

The second project involves setting up a new, $20-million Social Impact Fund to mobilise and place capital in larger, responsible businesses working for social and environmental change.

Participants also heard new research findings from Lanka Social Ventures, which estimates that there are some 10,000 social enterprises throughout Sri Lanka. Looking ahead, therefore, the need for a stronger ecosystem and new and bigger capital pools for the social enterprise sector is significant – and irrefutable.

To meet this need, as LIIN's Chair Chandula Abeywickrema said: "We need to work together on this common agenda. We cannot go on our little journeys. We must travel with each other on a common journey."

A former banker and a recognised microfinance expert, he urged participants "to become not merely agents of change, but agents of transformation. Our purpose is no less than a silent revolution to build our nation."

To be sure, the road ahead will not be smooth or simple. Some investee businesses will fail because of inadequate management, notwithstanding the efforts of entrepreneurs and investors. Some products and services will be constrained by small local markets and unprepared to access international markets.

The Tuskers are generally sceptical about the bureaucracy and transaction costs of working with government, but UNDP's mission obliges it to work through states, and government's support is important for the two new funds. Inside Sri Lanka, there continues to be widespread pockets of poverty and unemployment in the North and the East of the country, both areas struggling to reconstruct their local economies after decades of war. How the new funds will distribute their capital regionally is thus a key question.

There is also the issue of gender. Women constitute only a small fraction of all business owners in the country and also a very small percentage of social-enterprise leaders. However, there was strong endorsement at the training session of the two funds applying a gender lens to their investments.

Gender lens investing seeks to place capital in promising women-owned and women-led businesses, in businesses that provide safe workplaces and decent work and living wages for women, and in businesses that make products or provide services that enhance the well-being of women and girls.

The future holds these and other challenges. But it also holds immense promise and opportunity.

For the Sri Lankan champions of social enterprise and impact investing, the television studio has become the launch-pad to the fuller ecosystem they need to expand their silent revolution.

With one million citizens already behind them, let's see what they make happen next.

Links

AthPavurahttp://athpavura.com/about-ath-pavura-reality-tv-show-social-business/

Lanka Impact Investing Networkhttps://www.liin.lk/

Social Enterprise Lankahttp://socialenterprise.lk/

Lanka Social Ventureshttp://lankasocialventures.com/#our-work

UNDP SDG Impact Financehttp://undp.socialimpact.fund/

Gender lens investing https://criterioninstitute.org/resources/state-of-the-field-of-gender-lens-investing-in-asia

Edward Jackson, a university professor, management consultant, and an advisor to WUSC, taught in the LIIN Residential Program on Impact Investing in Colombo in July 2018. A consultant to foundations, development agencies and universities, he is a former tenured public-policy professor and associate dean in the Faculty of Public Affairs at Carleton University in Ottawa, Canada and currently honorary associate with the Institute of Development Studies in the United Kingdom.