Members of the Global Future Council on Innovation Ecosystems at the Annual Summit in Dubai, UAE in November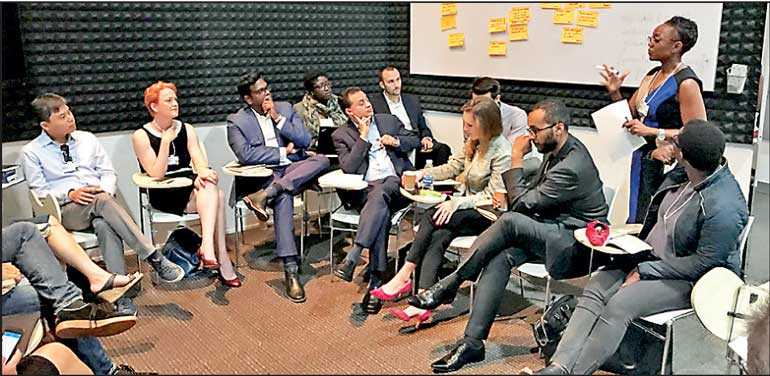 Discussions in the Council working sessions at the GFC Annual Summit in Dubai, UAE in November
---
Sri Lankan Economist Anushka Wijesinha has been appointed to a Global Future Council of the World Economic Forum at its recent Summit in Dubai.

Wijesinha will serve on the 'Global Future Council on Innovation Ecosystems' for the term 2018/19, which is part of the latest cohort of GFCs appointed by the Geneva-based international organisation.

The GFC on Innovation Ecosystems is chaired by Soumitra Dutta Professor at Cornell University and founder of the renowned 'Global Innovation Index' (published by INSEAD Business School and the World Intellectual Property Organisation), and Kanini Mutooni, Member of the Board of the Global Innovation Fund, and USAID East Africa Trade and Investment Hub.

Other Council members include the CEO of the Dubai Future Foundation, Founder of the Shenzen Open Innovation Lab, CEO of NESTA UK, Global Chief Innovation Officer of Ernst and Young, CEO of the Global Innovation Fund, Head of the Raleigh Innovation Hub of Infosys, Managing Director of Munich-based accelerator UnternehmerTUM, and Founder/MD of Namibia-based conglomerate Leap Holdings.

The work of the Council will focus on how to strengthen and make more inclusive the innovation ecosystems of today and map out critical success factors for new innovation ecosystems to emerge. According to the WEF, the GFC on Innovation Ecosystems has recognised that "accelerating innovation and shared prosperity requires effective collaboration between startups, corporations, owners of private capital, governments, and academia. The Global Future Council on Innovation Ecosystems aims to understand how to enable successful interplay between these actors and assess what policy-makers can do to ensure that innovators engage in solving the world's biggest challenges."

Members of other GFCs appointed by WEF for 2018/19 include Arancha Gonzalez Laya, head of the International Trade Centre, Geneva; Dr. Mariana Mazzucato, head of the UCL Institute for Innovation and Public Purpose, UK; and Rueben Abraham, head of the IDFC Institute in India.

Other GFCs appointed are on issues ranging from 'Cities and Urbanisation', to 'Cybersecurity', 'International Trade and Investment', 'Nature and the Economy', 'Agile Governance', and 'Advanced Energy Technologies'.