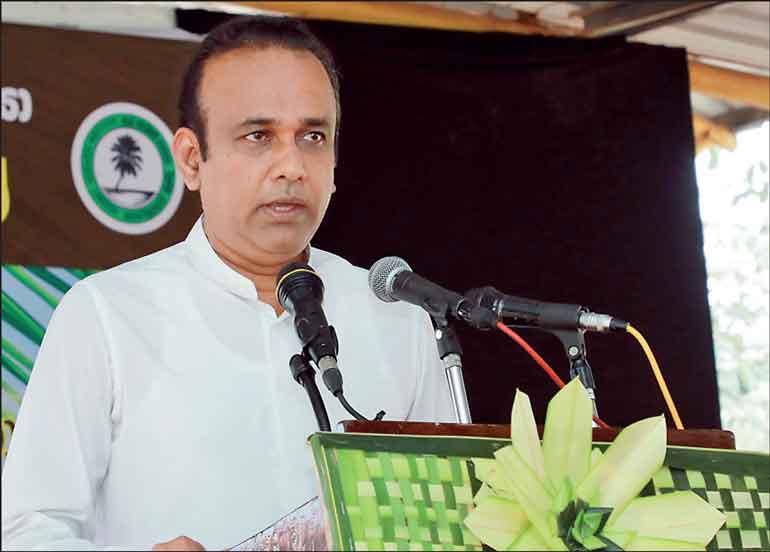 Industry and Plantation Minister Dr. Ramesh Pathirana
Industry and Plantation Minister Dr. Ramesh Pathirana set an ambitious goal of achieving $ 2 billion in export income from coconut-related products over the next 5 to 10 years.

He made these remarks during the 'King coconut plant cultivation' ceremony held at the Lunuwila Coconut Research Institute on Tuesday.

Minister Pathirana expressed his gratitude to the Coconut Research Institute (CRI), the Coconut Cultivation Board and the Coconut Development Authority (CDA) for their efforts in promoting the export of king coconut.

Minister Pathirana acknowledged the need for further promotion of king coconut cultivation to meet the industry's demands.

He also emphasised the vast potential for export income from coconut-related products, noting that the last two years saw the highest recorded values at $ 836 million and $ 817 million, respectively. This indicates a remarkable 20% increase in export income within the sector.

Sri Lanka is projected to yield an impressive harvest of around 3 billion coconuts this year, marking a significant milestone in recent history. This follows last year's record of 3.2 billion nuts and the previous year's high of around 3 billion. The Minister projected that the revenue from coconut-related products could soon surpass the $ 1 billion mark, with an ultimate target of $ 2 billion in the next 5 to 10 years.

To facilitate this growth, Sri Lanka produced a historic high of 5.5 million coconut plants last year, with a focus on hybrid varieties.

The creation of the second coconut triangle, coupled with the country's existing coconut cultivation potential, is anticipated to further boost production.

The CRI has also launched initiatives to minimise waste in local consumption, ensuring more coconuts are available for export.

He highlighted the successful initiatives carried out in conjunction with International Coconut Day on 2 September, including the establishment of a new coconut triangle representing the Northern Province.

Plantation Industry Ministry Secretary Janaka Dharmakirthi, CRI Chairman Malraj Peiris, CDA Chairman Prof. Roshan Perera and the Coconut Cultivation Board Chairman Madhavi Herath participated in the event with their presence.