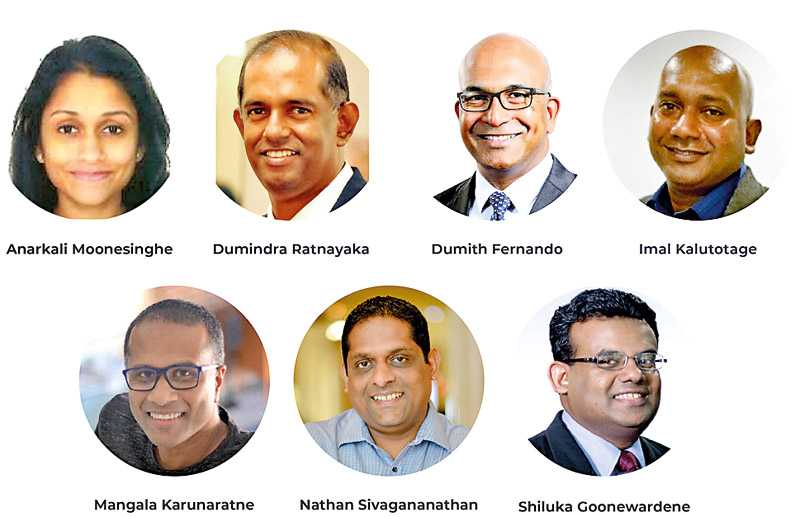 The Angel Fund Investment Committee members who unanimously select the startups for investment
---
The Angel Fund, the first of its kind in Sri Lanka, has shortlisted its five early-stage startups for potential investment; Niftron, Traccular, Medica, Soulboner Clothing, and Ophir.

This follows an intense application and selection process, spanning September, October, and November 2020, which initially attracted 80 applications.

The Angel Fund, launched earlier this year by the Lankan Angel Network (LAN), was established with the support of ecosystem development partner Ford Foundation to catalyse the growth of Sri Lanka's startup ecosystem.

Comprising 100 angel investors, including many high-profile entrepreneurs and corporate leaders, who represent more than a dozen sectors with proven competencies in over 20 functional domains, the Angel Fund is also distinct in that it features 20% of its investment from members based out of Canada, Dubai, Hong Kong, Qatar, UK, and the USA.

The process was guided by the Fund's high-profile Investment Committee (IC) consisting of Angel Fund members Dumith Fernando, Chairman of Colombo Stock Exchange/Chairman of Asia Securities, Dumindra Ratnayaka, Chairman/Senior Consultant at Martin & George.

The IC also comprises Nathan Sivagananathan, Co-Founder of Hatch Works; Anarkali Moonesinghe, former CEO of CIMB Sri Lanka; Mangala Karunaratne, Founder/CEO of Calcey Technologies; and Imal Kalutotage, Founder/CEO of NCINGA. Joining them as Independent IC Member is Shiluka Goonewardene, Principal – Deal Advisory – KPMG.

Angel Fund IC member Dumith Fernando stated, "The investment approval process for the Angel Fund was quite robust with seasoned experts from varied backgrounds participating in the Investment Committee. We were encouraged by the quality of the shortlisted startups that presented to us. We set a high bar for investment selection this time. And even among those founders who did not gain funding this quarter, we found several who would be investable with some tweaks to their business models and plan."

The top five shortlisted startups were:

Niftron – A Blockchain-as-a-Service platform that allows for easy and efficient integration of blockchain with products or projects, enhancing ownership, transparency, and security.

Traccular – A cloud-based IoT-enabled visitor management system that provides a scalable solution for companies looking for an efficient check-in and verification process to improve efficiency and security.

Medica - A cloud-based patient and prescription management platform for doctors. From when a patient registers, to when they walk out with their medicines from the pharmacy, the entire process is managed within Medica, which aims to build a digital ecosystem for primary health care for Sri Lanka.

Soulboner Clothing – A fun, casual Sri-Lankan streetwear line made for GenZ and the young Millennial. The brand focuses on creating a lifestyle and a community and boasts a customer base in many countries.

Ophir – A brand focusing on a range of chemical and synthetic-free, all-natural body care and spa products, which deliver the rich benefits of Camellia Sinensis, Ceylon Tea. Ophir taps into the skyrocketing global demand for natural skincare products, with the added advantage of Sri Lanka's millennia-old fame resulting from its cornucopia of botanicals, spices, and herbs, as well as Ayurveda.

Independent IC Member Shiluka Goonewardene said, "The finalists for evaluation by the committee were all startups with good ideas and opportunities. The varied experience of the IC members enabled us to evaluate and shortlist the best participants for the funding stage. Overall, it was a great learning experience for me as well, listening to the presentations of the finalists and the follow-up discussions among the IC members."

These startups will be featured at the LAN hosted Angel Roundup, an exclusive virtual event to be held in mid-December for the network's angel investors. The event is partnered with Sri Lanka's largest private-sector retail bank Hatton National Bank PLC, a long-term strategic partner for LAN

Commenting on behalf of the top five shortlisted startups, Ophir Founder Rohini Nordmann said, "The Angel Fund has been both rigorous and supportive of its participants. A winning combination for the investment seekers as well as the investors."

Angel Fund IC member Anarkali Moonesinghe added, "The Angel Fund was created to bridge the gaps that exist within the startup ecosystem in terms of opening this alternative asset class to a wider audience as well as connecting these investors with incredible entrepreneurs. It serves as not only an avenue to secure funding at an early stage, but also affords startups access to an amazing group of individuals who can be true mentors while, also, opening doors to international markets and networks."

The Rs. 100 million Angel Fund has plans to eventually invest in six to 10 high potential startups in total, gearing them up to scale domestically, and even internationally. It is managed by LAN's fund management team, which continues to identify and evaluate opportunities for investment across the island, including in traditionally underserved regions. The fund is dedicated to investing in, and mentoring and supporting, early-stage startups across multiple sectors; from making investments at the early stages, to even helping startups identify sources for future funding.

The Angel Fund also periodically evaluates early-stage startups. Held every three months, these evaluation cycles are announced by the Fund via the Lankan Angel Network pages on Facebook and LinkedIn.