By Safna Malik

The Ceylon Chamber of Commerce (CCC) last week organised a Sri Lanka-Saudi Arabia Business Forum to further promote bilateral trade, investment and tourism.

Some of the main objectives of this forum were to take persistent efforts to market both nations together as 'partners in progress' and enable trade, investment and tourism between the two countries.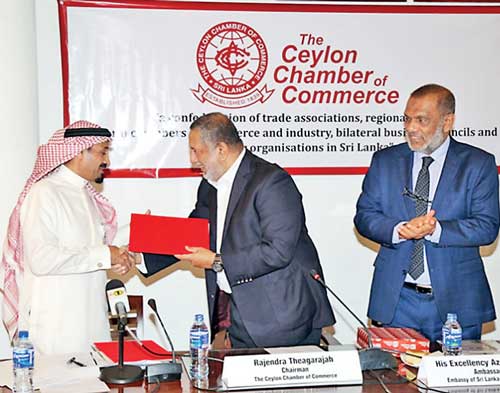 Trade, investment and tourism have grown rapidly during the last couple of years and this forum was aimed at bringing about a leap forward in terms of economic integration with the rest of the world.

The event was attended by Ambassador for Sri Lanka in Saudi Arabia Azmi Thassim (Leader of the Mission), Council of Saudi Chambers (CSC) Regional Director Khalil Alafra, and Ceylon Chamber of Commerce Chairman Rajendra Theagarajah

Speaking at the event, Thassim stressed Saudi Arabia would be an important partner in this endeavour. "With the implementation of projects such as the Western Region Megapolis and the Colombo Port City Project, the Government is likely to adopt policies to encourage large-scale foreign investment and ensure that international financial firms can operate on an equal footing with domestic firms."

He added: "Sri Lanka has vast potential and many investment opportunities which can be availed of by Saudi Arabia. The main centrepiece of the new opportunities is the Western Region Megapolis Project, with a massive infrastructure project that is planned, plenty of openness to Public-Private Partnerships, private investment into industrial zones and commercial real estate. Other sectors that are set to thrive are logistics and hub services, ICT, and tourism. International logistics, linked to the port and airport, is a no-brainer, given the country's geostrategic location. The Information Technology sector has been a clear growth champion and we are an ideal location for overseas SMES looking to operate in lucrative niches."

Thassim said tourism had obvious potential given the diversity of the product on offer, and there's much more capacity needed in terms of rooms as well as trained workers.

Sri Lanka will also become an attractive location for other related businesses looking to set up a branch offices or subsidiary companies from which to distribute products and services to clients across the region.

"Sri Lanka is increasingly becoming a great place to locate a global enterprise interested in entering regional markets. We are strategically located along East-West crossroads; we have an FTA with the two largest regional markets – India and Pakistan – and these are likely to be expanded to cover services and investment very soon," Thassim added.

Theagarajah said one of the lesser known facts was that what is probably the largest Sharia-compliant Islamic bank in Sri Lanka, one of its key investors, was from Saudi – the Islamic Development Bank (IDB).

Saudi is also a big shareholder in Sri Lanka, not only in monetary terms but also in technical terms.

He further asserted: "SABIC and Almarai, two of the world's largest dairy businesses, have 47,000 cattle. They are growing further and importing grass from Argentina to Saudi. This is something we could also try and we can give our resources; it can be a business opportunity which would benefit from our heritage of being an agricultural country."

Furthermore he said that new FTAs with Singapore, China and Japan were also in the offing. "Very soon Sri Lanka will have access to a market of 2.7 billion, two of the largest and growing markets – a unique proposition for a country in this region. Unlike locating in India, investors from around the world would find Sri Lanka a more manageable market to navigate and locate in. Our competitive geographic location is a definite advantage for investors looking to gain a foothold in the region."

He also noted that Sri Lanka was gaining ground as a country known for sustainable services and products. "We know that in your countries businesses and customers are concerned about these important issues – ethical manufacturing, green and clean production, good labour and environmental standards."

Noting that Colombo was located midway between the major financial markets, London, Frankfurt, Dubai to the West and Tokyo, Hong Kong, Singapore and Sydney to the East, Theagarajah said Colombo had the potential to serve as a subsidiary market for Eastern and Western giants. Theagarajah also expressed his appreciation to Thassim for the support and cooperation extended in numerous ways to organise the Sri Lanka-Saudi Arabia Business Forum.