Ambassador Dr. Palitha Kohona delivering his speech
---
The Embassy of Sri Lanka in Beijing hosted an investment and tourism event, on 14 April, to coincide with the National New Year. It was designed as an evening to celebrate Sri Lanka's Sinhala and Tamil New Year and also as an opportunity to promote trade, investment and tourism. The event was a rich mix of the culture, heritage and cuisine.

Spearheaded by the Embassy of Sri Lanka, well supported by the Department of Commerce of Sri Lanka, this event attracted a distinguished gathering of over 175 guests.

The Chinese Government was represented at this event by Deputy Director General of Asian Affairs Department of the Ministry of Foreign Affairs of China Chen Song and Special Advisor Ambassador Sha Zukang. Other representatives of the Ministry of Foreign Affairs, the Ministry of Commerce, Presidents and representatives of State-owned enterprises, private companies, tour operators and agents, members of Chambers of Commerce and media personnel were among the attendees.

Ambassador Dr. Palitha Kohona delivered an inspiring speech detailing opportunities available in Sri Lanka, for trade, for potential investors and for educational and cultural exchanges. He highlighted the tourism potential in detail. With the expected relaxation of travel curbs in China, more Chinese tourists would be encouraged to visit Sri Lanka, which is now a highly desired travel destination. The Ambassador further said that he is in discussions with travel operators with a view to promoting Sri Lanka as a preferred destination for Chinese tourists.

Dr. Kohona, recalling the history of trade via the Maritime Silk Road, which began several millennia ago, said that with the state-of-the-art technology today and the advancements in transport, trade between the two countries could be developed much further. Specifically, Sri Lanka should be able to export much more now and, with a view to narrowing the existing trade gap, Sri Lanka should be focusing on a wider range of goods. The Embassy is in discussions with some prominent e-commerce platforms to place Sri Lankan exports.

Furthermore, the Government of Henan had offered to create a Sri Lankan National Pavilion at the giant Bairong Wholesale Market. The Ambassador explained that the Mission was pushing to remove non-tariff barriers currently affecting certain Sri Lankan products. He asked the Chinese Chambers to support him in his efforts towards this end. He also opined that a free trade agreement will be another way to facilitate the entry of more Sri Lankan products into the lucrative Chinese market. He expected that negotiations on the FTA would recommence soon.

Sri Lanka proposes to attract more investors into the Colombo Port City, Hambantota Industrial Zone and the Eravoor Fabric Park from around the globe. Dr. Kohona invited Chinese investors to grab the openings available in Sri Lanka in these locations with the attractive concessions, especially tax concessions.

He further said that with the new President and the Government assuming office, political stability has been re-established in Sri Lanka. Dynamic policies have been introduced with pragmatic approaches and will remain unchanged at least for the next five years. Sri Lanka will produce 70% of its energy requirements from renewables by 2030 opening up further investment opportunities. Sri Lanka is also placed in the middle of the Southern Silk Route and is a vital hub for the BRI with its aspirations of a region of shared prosperity. Its geographical location gives it easy access to some of the most dynamic economies of the Indian Ocean region. He invited Chinese investors to consider these possibilities. Furthermore, Ambassador Dr. Kohona spoke of opportunities in the education sector in Sri Lanka. Sri Lanka is encouraging globally recognised educational institutions to locate their regional facilities in Sri Lanka. He thanked China for its continuous political support at multilateral and regional fora and for Sri Lanka's efforts develop economically. Deputy Director General of the Asian Affairs Department of the Ministry of Foreign Affairs of China Chen Song, endorsing the Ambassador's sentiments, stated that China has been, is and will be a true friend of Sri Lanka and be ready to support it in its development efforts and at regional and international fora. While congratulating the Ambassador on the presentation of credentials to the Chinese President, he expressed his good wishes for the National New Year of Sri Lanka. He asked Chinese companies to consider Sri Lanka as a preferred destination for investments. Ambassador Sha Zukang in a forceful speech recalled the Rubber and Rice Pact and said that Sri Lanka had supported China when China was in difficulty. He stated that now it was China's turn to support Sri Lanka to overcome its COVID-19 and its economic challenges. The Embassy was decorated brightly on the theme of promoting Sri Lanka as a key economic partner of China and simultaneously focusing on her strengths as a destination for trade and investment. Then trade booths showcased Sri Lanka's main export items to China such as Ceylon Tea in different flavours, handicrafts, gems and jewellery, confectionary and spices.

A major highlight was the introduction of kitul products to China. The 'Made in Sri Lanka' booth was a major attraction at the event. The gemstones, rubies and sapphires showcased at the event drew considerable attention of the guests.

In addition to creating a positive atmosphere to enhance mutual understanding and goodwill between the peoples of both countries, the evening was also an opportunity to infuse positive momentum to the bilateral friendly ties between Sri Lanka and China.

All the guests were treated to a delicious Sri Lankan dinner and to the fabulous vocal renditions of three young opera singers accompanied by a world-class string orchestra.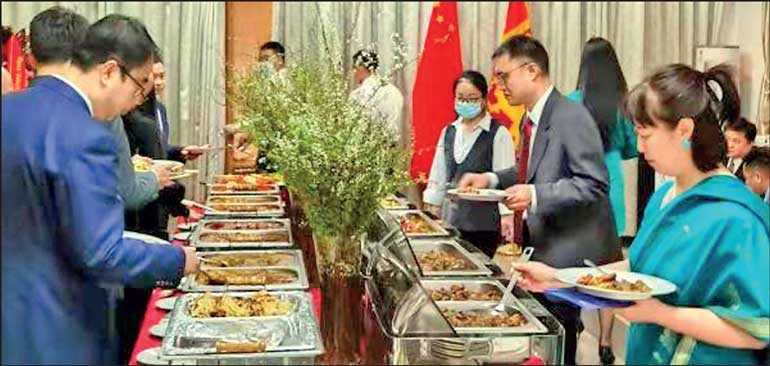 Dinner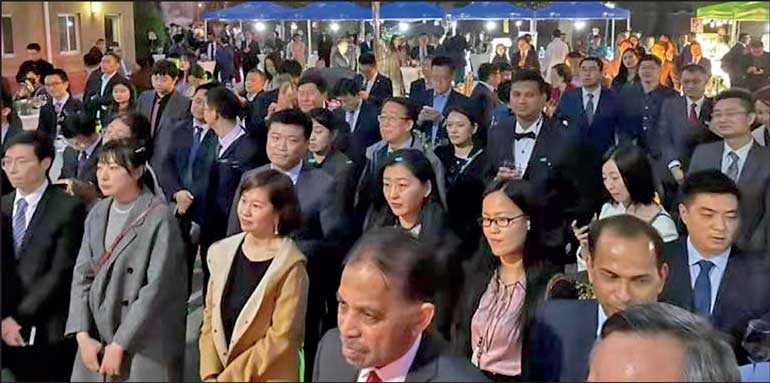 Participants at the event
---