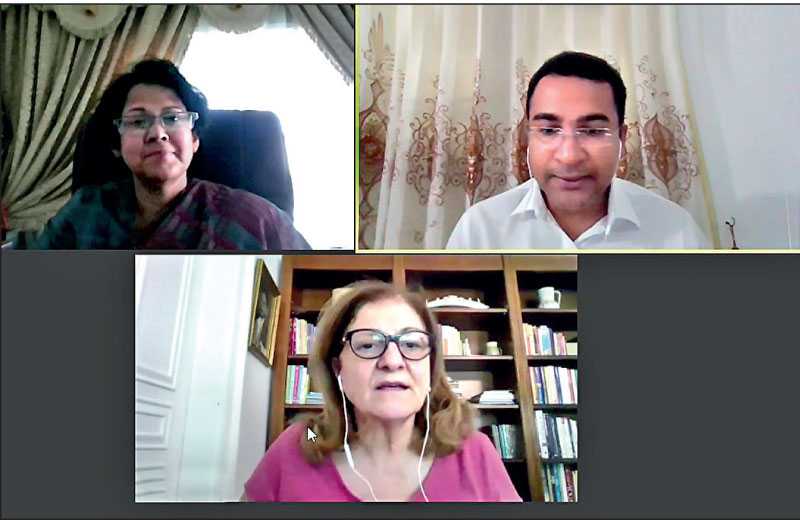 In furtherance of the Embassy's commercial engagements to obtain export orders to Jordan for Sri Lankan companies, Ambassador Shanika Dissanayake introduced the fitness products of Textrip Ltd. and Elasto Group of Companies to a well-known Jordanian fitness and wellness studio entrepreneur to secure a foothold for value-added sports products made out of 100% Sri Lankan natural latex rubber. The Zoom meeting on 1 October was organised and conducted by the Embassy and Manager for International sales of Textrip of Elasto Group Thakshila Gamage.

The Textrip representative who introduced the products via Zoom showcased how a total mobile workout could be done in the safety of one's home, navigating a post-COVID scenario without having to visit a physical gym. The products were very well-received by the Jordanian side, which expressed interest in using the fitness products and resistance bands for their pilates, barre dance, and aqua fitness activities.

The Embassy will be conducting Zoom meetings with Sri Lankan exporters to support them to connect and build productive relationships with reputed Jordanian importers. On 30 September, the Embassy also conducted a virtual B2B meeting with a reputed Jordanian health and wellness beverage company for Ranfers Ltd. in order to introduce their organic branded range of Ceylon Ayurveda teas into the Jordanian market.

As part of the Embassy's commercial and economic diplomacy initiatives, the Embassy will be conducting further virtual B2B meetings to give market insights and to ensure and facilitate the entry of Sri Lankan products into the Jordanian market.