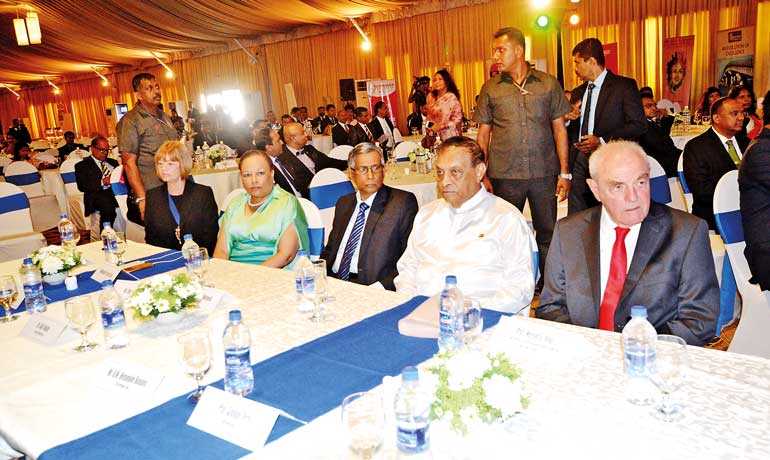 By Ruwandi Gamage
Speaker Karu Jayasuriya yesterday said that it is essential to implement the submission of integrated reporting in State enterprises to report value created using public funds and returns to promote good governance.

The Speaker stated these remarks at the 'Inauguration and the Certified Management Accountants (CMA) excellence in integrated reporting awards' of the 'Certified Management Accountants (CMA) National Management Accounting Conference and Commonwealth Accountant Conference 2019' held under the theme 'Sustainable Development Goals Agenda 2030, the role of the professional accountant'.

Jayasuriya remarked the importance of creating a habit to submit integrated reports to make public enterprises and Ministries accountable in the application of the good governance principle.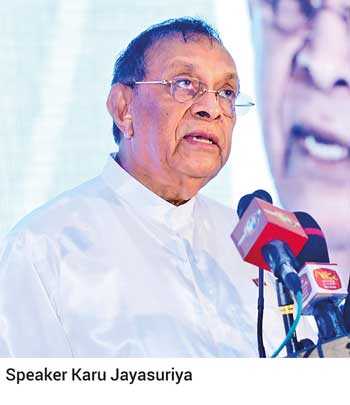 "It is very important that state enterprises follow global practices and implement integrated reporting to promote good management and to report value created by these organisations using public funds and returns. The respective ministries commissioned public enterprises, the public account committee, the Government Ministers and respective departments should make it a habit to submit integrated reports in a timely basis, making them accountable in the application of the good governance principle," he said. Jayasuriya explained how an integrated report will show an organisation's strategy, governance, performance, and prospects in the context of the external environment leading to the creation of value in the short, medium and long term. He detailed in on how it is also designed to benefit all stakeholders, employees, customers, suppliers, business partners, local communities, regulators, and policy makers in practice in the organisational ability to create value overtime.

"The key objective of integrated reporting is to enhance accountability, with respect to the broad ways of tangible and intangible capitals and to promote the understanding of their interdependence. IR will also promote the United Nation's (UN) Sustainable Development Goals for fighting poverty, promoting sustainable development and improving global and local wellbeing.

"The regulation of the top performance at the CMA excellence in integrated reporting awards 2019 are commendable and will be a boost to the shareholders and other stakeholders, who will be able to derive the value created by these organisations."

The 17 Sustainability Development Goals with 169 targets in 244 categories, as explained the UN, are the blueprint to achieving better and more sustainable future goals. The Speaker stated how it is imperative to achieve each goal by 2030, in order to leave no one behind. He stated that the Government must vigorously undertake the implementation of these goals, as Sri Lanka has also signed the UN declaration.

"All political parties need to work in the direction if we're to achieve no poverty, good health and a disciplined society. Hard work and perseverance are two great qualities that are resulted in these successes. Law abiding citizens and implementation of laws, not restricted to pieces of paper, applicable to all citizens with no exceptions, will enable good governance and anti-corruption. I'm confident that these experiences, if adopted by the government and society, will enable Sri Lanka to reach economic development, prosperity, peace and harmony before long," the Speaker added.

-Pix by Shehan Gunasekara