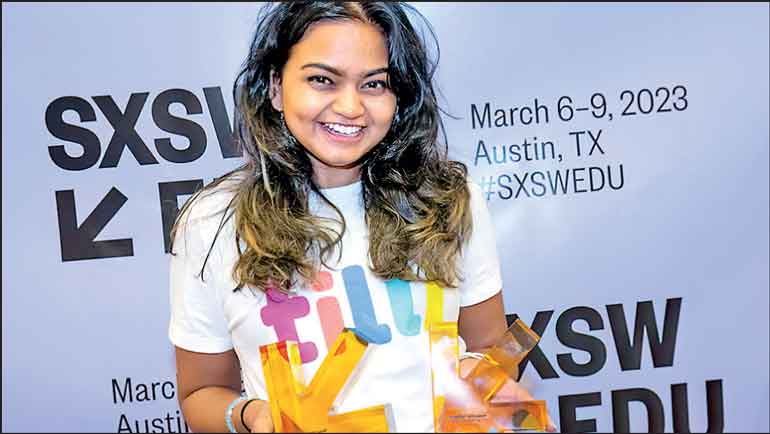 Kavindya Thennakoon
Her company becomes first outside North America to receive prestigious SXSW award
Modern day school curriculums in developed countries use integrative teaching methods which ensure that children develop digital literacy, critical thinking and social-emotive skills. However, this is not the case with the Sri Lankan curriculum and this leaves millions of Sri Lankan children (especially those less fluent in English) behind. While a technological solution could easily resolve this problem, Sri Lankan tech entrepreneurs are yet to see the potential of such an endeavour.

Enter Tilli. Developed by social entrepreneur Kavindya Thennekoon, Tilli (meaning strength in German) guides children aged 5-10 through interactive games which teach them critical skills such as self-awareness, social awareness, relationship skills, self-management and responsible decision-making – all while playing a fun game. Through a passcode-protected portal, this groundbreaking app has a parent's corner where they can see the progress of their child, how they are feeling, and what learning tools and approaches work best for them.

Designing Tilli was not child's play. The app is the culmination of Kavindya's work throughout her time at Stanford University reading for her Master's and is available on a global platform although Kavindya has made it accessible to Sri Lankans due to her local roots. First globally recognised when awarded the Queen's Young Leader's Award by Late Queen Elizabeth II herself, Kavindya has continued to break barriers and position herself on the global stage.

Valedictorian when awarded her Bachelor's degree in Anthropology and Cinema & Media

Studies at Wellesley College, she went on to Stanford where she completed her Master's in

Learning, Design and Technology, and this is where the idea for Tilli was born. Tilli has proven over and over again that it has gone beyond being just a Master's project. The company has won many awards from well recognised organisations such as sesame workshop, UNICEF, IDEO, and SXSW. As one of the most sought after ed-tech awards in the industry, the SXSW award in particular is even more noteworthy as most companies that have won the award go into valuations over $ 1 billion plus this is the first company outside of North America to win.

In developing this app, Kavindya says she used her own experiences growing up in Sri Lanka to inspire her. "I wish I had someone like Tilli when I was young," she says, explaining that the prevalence of sexual harassment towards girls even before they are adults, for instance, is something that she wished she had understood how to navigate. Kavindya also feels that all children deserve a safe and happy environment emphasising the importance of identifying their own emotions and developing safe boundaries.

Along with cutting edge technology like machine learning and natural language processing, Tilli is based on a lot of research as well. Initially targeted towards children aged around 15,

Kavindya soon realised that too much cognitive development has taken place by then for an app like Tilli to have its full impact. "When you're young the brain is like a sponge and around 70-80% of a human's brain development happens by the time they reach the age of 10," Kavindya explains, adding that this is why Tilli is targeted towards younger children.

The app was tested on thousands of children and adults and finetuned to ensure that it was both an effective teaching tool and a pathway for parents to have serious conversations with their children. "I have parents who have told me that this is the first time that they have had a deep and meaningful conversation with their child because usually it's just about logistics, etc. and that is really something incredible," she says.

Tilli has an accompanying physical toolkit as well. While both can be used independently, Kavindya recommends that they are used together. "Parents can get meaningful and actionable data about their child's learning progress, gaps and emotional health so that they can intervene proactively and make the right choices for their little one," she explains.

For Kavindya, being a social entrepreneur who developed a groundbreaking app isn't enough. She monitors the metadata and metrics collected by the app to see how it is progressing to see what methods work best and what doesn't and is constantly fine-tuning the app to ensure that it achieves better results. For her, the ultimate goal is to ensure that every 10-year-old builds the skills and mindsets they need to stay safe and happy both online and offline by developing their metacognition.

The Tilli app can be downloaded and used free of charge from the Apple App store and Google Play store. The Sinhala and Tamil version of Tilli can be accessed free of charge on the Nenasa website. Tilli toolkits are available at kbooks.lk for Rs. 3,700.00 as well as Panther bookstores and the Milk and Honey Cafe bookstore.