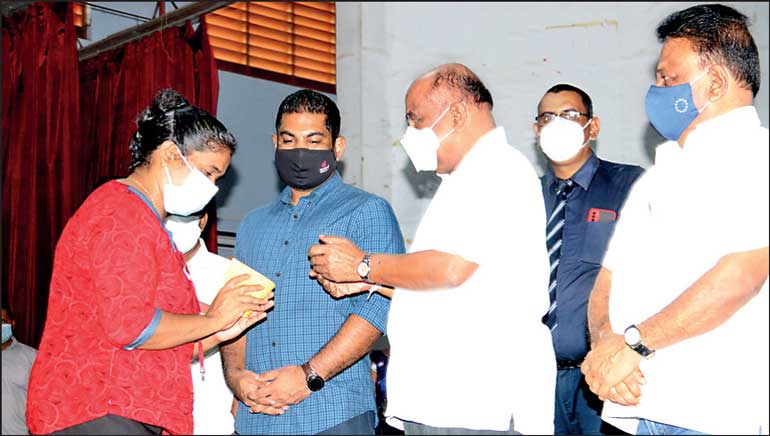 Speaker of Parliament Mahinda Yapa Abeywardena handing over the cash grant to a micro-entrepreneur. State Minister of Ornamental Fish, Inland Fish and Prawn Farming, Fishery Harbour Development, Multi-day Fishing Activities, and Fish Exports Kanchana Wijesekera, and Media Minister Dullas Alahapperuma look on
---
By P.D. De Silva

State Minister of Ornamental Fish, Inland Fish and Prawn Farming, Fishery Harbour Development, Multi-day Fishing Activities and Fish Exports Kanchana Wijesekera said that in the first seven months of 2021, the income from seafood exports exceeded the cost of seafood imports by over $ 110 million.

He speculated that this year the surplus of income from exports over imports would surpass the $ 122 million achieved in 2014 and added that it could be increased further if Sri Lankans consumed more local varieties of seafood.

The Minister said that 99% of the annual requirement of dried sprats was imported and added that in 2020 over Rs. 31 million was spent to import dried sprats alone.

Wijesekera made this disclosure addressing the 261 entrepreneurs in the Matara district engaged in 11 related industries to ornamental fish breeding, inland fish breeding and the fish food manufacturing industry who were provided with financial grants at a ceremony held at Kamburupitiya on Sunday.

New entrants to the industry received a grant of Rs. 100,000 while those already engaged in the enterprise received grants of Rs. 250,000 each. The Minister said that the Government has allocated Rs. 565 million which would be disbursed to over 3,000 entrepreneurs in the country.

Wijesekera said that a person who had the basic infrastructure such as land and water resources could earn Rs. 17,500 per month on an initial investment of Rs. 100,000. He said that State banks had been instructed to provide loans on concessional terms and interest rates to those who desired to expand their enterprises.

Speaker of Parliament Mahinda Yapa Abeywardena, Media Minister Dullas Alahapperuma, representatives of local government institutions, and ministry officials attended the ceremony.