---
Founder, Chairman and Managing Director of the Rodesha Group of Companies, which comprises Rodesha Enterprises Ltd, Rodesha International, Rodesha Marketing, Ranmal-Ramadia Holiday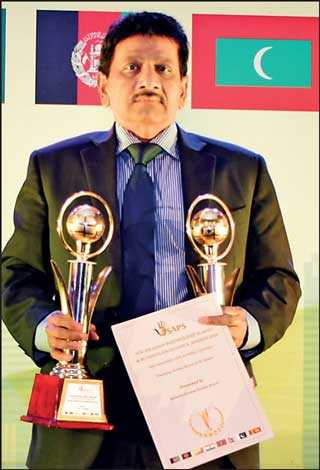 Rodesha Group Chairman

Rohan Fernando
Resorts and Rodesha Agro Lanka, Rohan Fernando, was honoured with Lifetime Achievement and Emerging Holiday Resort in Sri Lanka awards at the recently concluded South Asian Partnership Business Excellence (SAPS) Awards.

Fernando said that he had won many awards during his career, which spanned over two decades, but these two accolades were special to him.

"The section criteria were very tough and I was selected from over 200 nominees. My close supervision, dedication and most importantly, calculated risks at the right time, enabled Rodesha Enterprises to be among the top food and agriculture suppliers in Sri Lanka. I have also linked up with several global food suppliers," he said.

When questioned about exports, he said that the company was still unable to cope with local demand and did not consider it a priority. Fernando recently ventured into the agricultural business by setting up his new venture - Rodesha Agro Lanka Ltd. in Anuradhapura.

"Through this new venture, I managed to set up a large agricultural facility, focusing on growing various vegetables, fruits, paddy and many other crops. We are now looking at acquiring more land to expand our agro plantations and also hope to provide job opportunities to over 150 youths," he explained.

During 2012, he diversified into the leisure sector by acquiring Ranmal Holiday Resorts in Moratuwa, which was refurbished and rebranded as Ramadia-Ranmal Holiday Resorts, giving it a new outlook.

Today, Ramadia-Ranmal Holiday Resorts is considered one of the best hotels in Moratuwa and a much sought-after venue for banquets and corporate outgoings. It is also a preferred hotel to host family functions due to its vast space and six different banquet halls. The Dragon Boat on the Bolgoda Lake is also used for mini-outings and as a floating karaoke bar. The hotel next to Bolgoda Lake will also introduce a new water sports venture and hydro therapy spa. Fernando said that entering the leisure sector was a challenge as it was an entirely new business sector for him. However, his entrepreneurial spirit and positive outlook played a pivotal role in bringing the business up to its present standard.

"Presently I am in the process of building a second hotel with a 1,500 cover modern banquet hall, 50 rooms and 10 suites which will be ready early next year. The main attraction of the hotel will be the rooftop swimming pool and its unique entertainment offering," Fernando revealed.