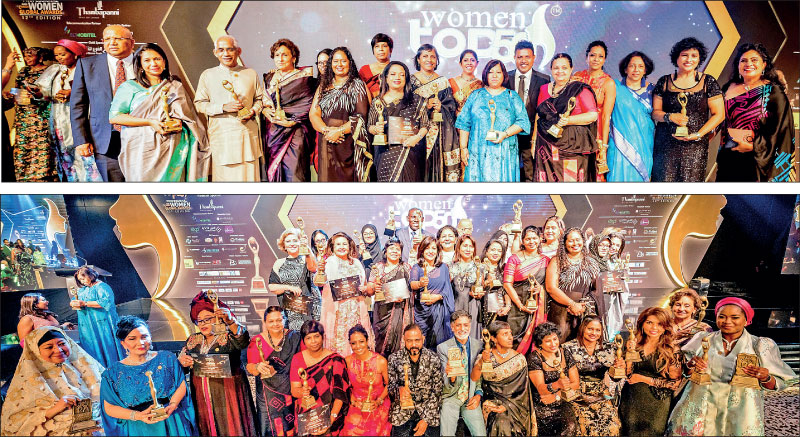 More than 200 regional and global business leaders and inspirational women from all walks of life attended the 12th edition of Women in Management Top 50 Global Conference and Awards in Dubai on 18 June.

Being held in the UAE for the first time, this year's event theme Resilience and Reinvention, was tackled by several globally renowned entrepreneurs, corporate leaders, celebrities, sport personalities and political influencers. This edition of the high-profile event was held under the auspices of the Sri Lanka Business Council in the UAE and Equality Alliance UK.

Indian Member of Parliament Kanimozhi Karunanidhi, the former deputy prime minister of Kosovo Dr. Edita Tahiri and Honorary Consul of Belgium in Maldives Dr. Mariyam Shakeeka were just some of the high-level speakers at the conference who shared their experiences and expertise as they delved into a diverse set of topics including Women in Politics and Diversity in the Workplace.

The event was live streamed and watched across the globe. WIM had 13 judges from nine countries, nominations from 26 countries and winners from 16 countries.

Sri Lanka was also well represented with Ambassador to Sri Lanka in the UAE Malraj De Silva, Member of Parliament Sri Lanka Dr. Sudarshani Fernandopulle and Member of Parliament Eran Wickramaratne gracing the event with their presence.

The conference raised the question of gender disparity and sent a clear message that the world is losing out on a vast percentage of human resource by undermining women in all strata of life. It was made clear that the progress in this direction is too slow to give us results in our lifetime and this needs to change. It is time to accelerate the process so that it gains a sustainable momentum. Women are the bedrock of our society.

This is a special year for WIM – it is our first step towards creating a global movement and is a pivotal moment in our history, as we continue to invest in the future of women.

The latter shared his thoughts on Diversity, Inclusion and Gender Fluidity whilst Sri Lanka Business Council Dubai and North Emirates Chairman Riza Muhammed discussed Bilateral Trade Between Sri Lanka and UAE.

The event culminated in an awards ceremony. Winners were identified across numerous categories like Law, Banking and Finance, Leadership, Education and Social Impact to name but a few.

Egypt: Outstanding Legal Professional of the Year - Tahoun & Associates Founder and Managing Partner Dr. Nermine Tahoun; Nepal: Women Development - Pramila Acharya Rijal, Founder President of South Asian Women Development Forum, with a SAARC recognised Forum; Maldives: Legal Category, Mariyam Shunana - Managing Partner of the most top-rated law firm in the Maldives, Shunana & Co. LLP. Her award will be accepted by a Maldivian representative; UAE: Strategic Leadership Award - Road and Transport Authority in Dubai Head of Data Management Latifa AlShehhi; Sri Lanka: Banking and Finance profession of the Year - International Development Consultant Samantha de Silva; Zimbabwe: Career Role Model of the Year - Ambassado Public Service Rudo Mabel Chitiga; Nigeria/UK: Business Woman Award - Noxie Ltd., Managing Director Ngozi Oyewole; Sri Lanka/UAE: Upcoming Women Entrepreneur - Global Health Coach, Pharmacologist, Certified in integrative Nutrition and International Speaker Kiru Kishokumar; Maldives: Women in Diplomacy - Honorary Consul of Belgium in Maldives Dr. Mariyam Shakeela; Malaysia: Social Impact Award - Amogha Group of Companies; Sri Lanka: Outstanding NGO/NPO - SOS Children's Villages Director Dr. Lalitha Kutti Krishnan Nair; Maldives: Outstanding Women Entrepreneur of the year Medium - Juway's Café and Restaurants Juwairiyya Wajdy; UAE: The Excellence in -Education - MS Education Consultants United Arab Emirates Founder and CEO Dr. Mariam Shaikh; Maldives: Women in Politics - Parliament of Maldives Zifleena Hassan; India/UAE: Businesswoman of the year - BeingShe Founder and CEO Aparna Bajpai; South Africa: Social Change Maker of the Year - FINDING US IN MUSIC Founder and Director Barbara Nussbaum; Sri Lanka: Inspirational Entrepreneur of the Year - Selyn Exporters Ltd., Founder and Chairman Sandra Wanduragala; India: Outstanding Businesswomen Entrepreneur Small - Cerebrus Consultant Founder and CEO Anita Ramachandran; UAE: Best Organisational Culture Award (Gender Equal, Inclusive, and Respectful workplace) - Royal office of Sheikh Ahmed Bin Faisal Al Qassimi; UAE: Career Role Model of the Year - The Artepreneurs Founder and CEO and LLC Project Management Services Managing Partner Sovereign Advisory Marlene Murphy; Sri Lanka: Women in Entrepreneurship – Health Sector - New Philip Hospitals Chairperson/Managing Director Deshamanya Indrani Fernando; Norway/UAE: Educator Award - Universal American School Director Janecke Aarnaes; Sri Lanka: Service Excellence in the Telco Sector –Dialog AxiataDirector - Dialog Business Services Group Chief Customer Officer and Sri Lanka Association of Software Service Companies Chairperson and Founder Member Sandra De Zoysa; India: Women Empowerment – UN Women India Office Deputy Country Representative Kanta Singh; Sri Lanka: Outstanding Women Entrepreneur of the year (Small) – Managing Director Brand Centrical Diluni Jayasekara; India: Women Entrepreneur of the Year- Haylide Chemicals Ltd., Managing Director Archana Bhatnagar; Sri Lanka: Inspirational Woman of the Year Nidro Supply Ltd., Managing Director/CEO and Nisol Diamonds Ltd Director Dawn Austin; Canada/Dubai: Trail Blazer WBAF Global Women Leaders Committee Secretary General and WBAF Angel Investment Fun Investment Committee Lead Lucy Chow; Nigeria: Outstanding achievement in Healthcare - MD and Psychiatrist in Chief Pinnacle Medical Services Dr.Maymunah Yusuf Kadiri; Sri Lanka/UAE Arts and Aesthetic - Artist Yoshita Ahamed; Kosovo: Women in Politics – Leader of the independence of Kosovo, Former Prime Minister and Minister of Foreign Affairs of Kosovo, Chief Peace Negotiator Dr. Edita Tahiri; Sri Lanka: Service Excellence in the Finance Sector - The Chartered Institute of Management Accountants Deputy President Melanie Janine Kanaka; UAE/India: Youth Leader of the Year Saima Khan; UAE: Leadership Excellence - RAK Chamber of Commerce Member of Board of Directors Aarefa Al Falahi; Sri Lanka: Leadership in Hospitality Award – Jetwing Hotels Ltd., Chairman Shiromal Cooray; UAE: Leadership Excellence in Innovation – SPAR UAE Founder and CEO Sukaina Parpia; Canada/Sri Lanka: Career Role Model of the Year – Damindra Dias, will be accepted by representative; UAE: Male Champion of the Year Dr. Tomasz Zaleski; Dubai: Outstanding NGO/NPO Al Noor Rehabilitation & Welfare Association for People of Determination; Turkey: Women in Logistics - WiLAT Vice Chair, Turkey Senior Consultant, IFC CEO, PL Food Esra kivrak; Sri Lanka: Corporate Leadership Award - Hemas Holdings PLC Group Chief Executive Officer Kasturi Chellaraja Wilson; Spain: Leadership Excellence in Human Capital Development - Doctor Honoris Causa Professor Maria Amparo Diaz Llairo; India: Women in Politics Kanimozhi Karunanidhi; UAE: Women in Media Go Dubai Nilofer Baig; Sri Lanka: Business Leadership Excellence in Supply Chain and Logistics - IAS Holdings Ltd., Group Managing Director Tania Polonnowita Wettimuny; Sri Lanka: Male Champion in Politics – Member of Parliament Eran Wickramaratne; Maldives: Sports woman of the year Fiontti Sports Club President Aisath Nazima; Sri Lanka/USA: Excellence in Medical Research – Duke University Assistant Professor of Medicine Gayani Tillekeratne; India: Male Champion of the year – M. Mahadevan, Pakistan/UAE: Women Empowerment – VERVE Marketing & Communications Founder and Managing Director Shamira Mitha; Nigeria Male Champion of the Year - African Intellectual Resource Organisation Chairman and Nigeria Presidential Candidate, 2023 Dr. O. Favour Ayodele; Sri Lanka – Women in Politics Member of Parliament Sri Lanka Dr. Sudharshini Fernandopulle; Global Sri Lankan of the Year – Suen Swaminathan.

"Staging this fantastic event in Dubai was a long time coming. With such a diverse range of nationalities calling it home, access to high-level experts not to mention several of our well-deserved winners from the region, Dubai has enabled us to take this annual event to the next level. Our gratitude for the overwhelming support from local entities like the Sri Lanka Business Council cannot be overstated," said Women in Management Founder and Chairperson Dr. Sulochana Segera.

"The success of this year's event has further strengthened our resolve to encourage inclusion, celebrate women in leadership and to provide that crucial platform to recognise and reward those who truly excel and inspire. We are already thinking about next year using Dubai as a springboard for further success."

WIM Local and international partners, sponsors and well-wishers are Platinum Sponsor: Thumbapanni – Truly Sri Lankan; Telecommunication Partner: SLT Mobitel; Hospitality Partner: Pullman Dubai Creek City Centre; Gold Sponsors: EXPO Lanka Holdings PLC, Al Ghurair Food Jenan; African and Eastern Silver: Sponsor North Port Logistics.

Gift Partners: FADNA Tea, Sri Lanka Tea Board, Next Education Group, UAE Fine Fragrances; Destination Partner: Maldives – The sunny side life; Sponsors: Al Haramain – Since 1970, SIMDI Group, Crystal Sands, The Hawks; PR Partner: The Guild; Event Partner: Team Evention, XESS – Advertising.