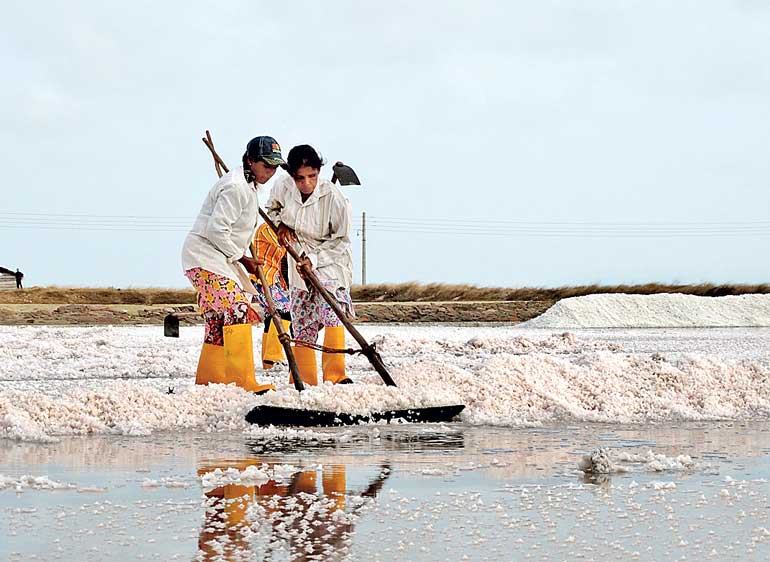 Harvesting
---
Positing itself as model for operating a business in the face of a global crisis, Raigam Wayamba Salterns (RWS) PLC posted its highest-ever financial performance for 2020/2021 financial year while the future prospects for the Group remains buoyant with its on-going product diversification plans.

According to the published financial results of the group, the group's turnover rose by a record 26.8% Year-on-Year (YoY) to Rs. 959.68 million in 2020/2021 FY. The momentum also continued to the current FY with the group posting an unprecedented 72.9% YoY growth in turnover, reaching Rs.273.6 million in the first quarter of 2021/2022 FY, as per the submitted interim financial results of the group.

As the pandemic rages across the planet debilitating economies and bringing about near total societal collapse, the company quickly responded to these external threats by enhancing efficiency, reducing fiscal risks and maximising safety of its workforce staff with an ambition to cater the salt demand of the nation.
"Despite significant economic difficulties affecting the country that saw a drastic drop in global and local productivity and a substantive shrinking of the economy, I am proud to inform you, our valuable stakeholders that we have been able to weather the storm better than most businesses and in a year where overall performance across all sectors was sluggish," RWS Chairman Dr. Ravi Liyanage remarked.

The group has earned an after-tax profit of Rs. 149.76 million on that turnover compared to Rs. 114.61 million earned in the previous year, increasing the Earning Per Share (EPS) from 41 cents to 53 cents. Continuing this trend, the group's profitability jumped to a record Rs.71.73 million in the first quarter of the current FY from Rs. 9.32 million in the corresponding period of the previous year, increasing EPS from 3 cents to 25 cents.

This remarkable growth in performance has translated in growth in net assets per share from Rs. 4.63 reported at the end of previous financial year, to Rs. 5.06 at the end of 2020/2021 FY and to Rs. 5.31 at the end of first quarter in the current FY showing a clear indication of asset growth and overall stability of the group.

While the macroeconomic vulnerabilities continued to impact much of corporate entities adversely, RWS being an exception has decided to distribute final dividend of 10 cents per share to the shareholders of the company.

Despite economic woes, investor confidence rose substantially with share prices reaching an all-time high of Rs.11.30 in the FY and it was closed at Rs.5.20, up from Rs 1.90 YoY. As of 13 October this year, the price of a share was stabilised at Rs. 8.

RWS operates with an island-wide distribution network which reaches over 90% of the retail, wholesale and modern trade outlets as well as industrial users in the country. As innovative salt manufacturer in Sri Lanka, a variety of products is marketed in order to fulfil the need of each segment in the market

With the import restrictions continuing for salt products, RWS stepped up its internal processes to enhance both the quantity and quality of its products while increasing its portfolio to cater to the market requirements. Further, as Sri Lankan household becomes more concerned on health factors, purity and convenience, RWS, being the pioneer in present developments in the industry, is continuously engaged in R&D efforts and market research in order to cater to the evolving demands of the market.

Consequently, the company has introduced a wide range of products matching needs of household and industrial customers in diversifying its product offering. The brand 'Isi' remains very popular in the market due to its purity, free flowing character and compliance with health standards. Moving forward, RWS Executive Director Ganaka Amarasinghe shared that company has developed 'Isi – Plus' further improving the product, especially targeting industries such as confectionery, front line restaurants and food processors.

Further, under its diversification strategy, RWS has ventured into breakfast cereal business with an investment Rs. 300 million by setting up Raigam Wayamba Cereals Ltd. (RWC) as a fully-owned subsidiary of RWS with plans to launch the product in the latter part of 2021/2022 FY.

"The main objective of this project is to diversify the business scope of RWS using the benefits of synergy and strengths of the group specially, investment capacity, technical know-how, and distribution network. Further, this venture will help the group to move to a multi-product platform deviating from dependency on a single product (salt)," Amarasinghe elaborated.

RWC has already setup up a warehouse complex and a processing centre in Kurunegala in a property acquired on a long-term lease, with a processing capacity of 1,200 MT per annum. Simultaneously, a grain purchasing scheme has also been setup to procure basic grains including paddy, soya and corn through a hybrid scheme of out grower system and from open market approach backed by a farmer support scheme.

The success story of Raigam Wayamba Salterns begins with its decision to open up its shares with the general public in 2009/2010 FY with a view to raise funds to expand the capacity of salterns and refineries and also to grant an opportunity to the people of this country to partner this nationally important endeavour focused to eradicate import of salt to Sri Lanka.

The total value of the Initial Public Offering was Rs. 200 million which was generated within a single day. The funds began to skyrocket after merely one-and-a-half hours once the IPO was made, and this is indeed a remarkable landmark to achieve, indicating that the public has complete faith in the endeavour.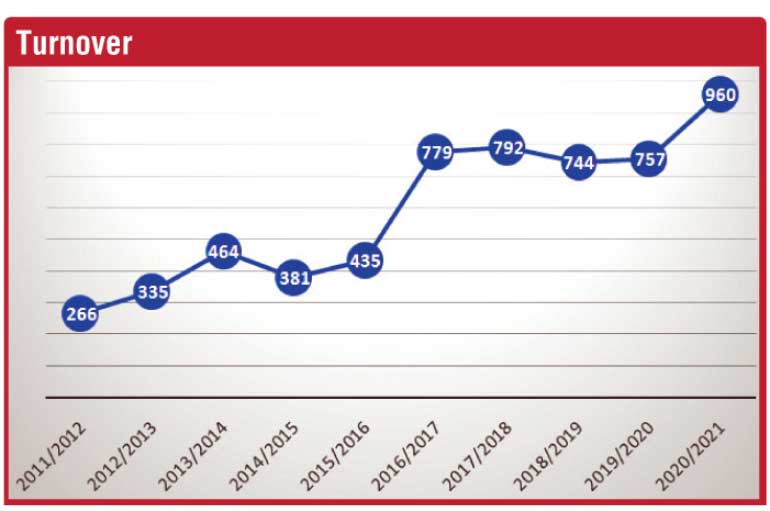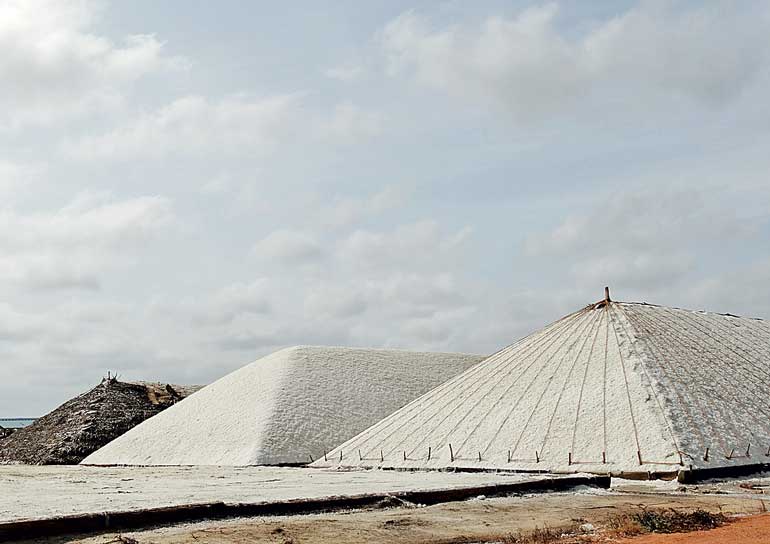 Salt heaps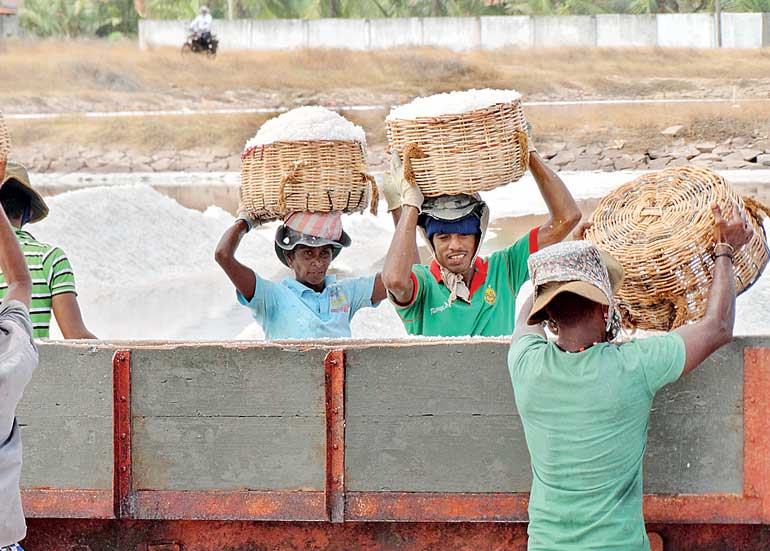 Transporting to heaps