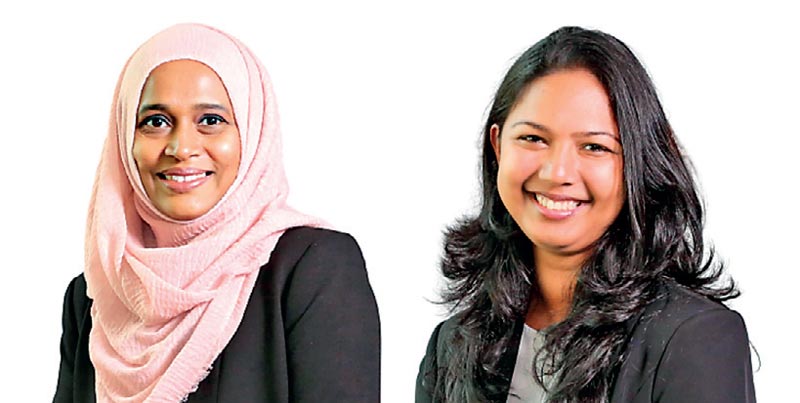 PwC International Development Practice Director - Consulting Zahra Cader and PwC Sri Lanka Senior Manager - Consulting Nivedha Balasunderam
---
PwC's International Development Practice is geared towards assisting governments, donors and NGOs across the globe to manage their development programs, funds and internal operations to help alleviate poverty and boost global economic growth.

In Sri Lanka, PwC has successfully created opportunities for strategic change, improving performance and enhancing capacity of stakeholders across multiple sectors and regions, working in collaboration with development partners, government and the private sector.

Using their expertise to help strengthen the SME sector, they have been instrumental in helping and working towards overcoming some of the key development challenges in the country, such as high levels of regional inequality and poverty, rural unemployment and low level of female economic participation in terms of generating sustainable and inclusive growth.

Focusing their attention particularly on the development and empowerment of women, they are currently engaged in a series of programs that empower Sri Lanka's women entrepreneurs on financial literacy and the development of a business-oriented mindset while also conducting surveys to better understand the challenges of business start-ups and COVID impact on women-owned businesses.

PwC International Development Practice Director - Consulting Zahra Cader stated: "Today, more than ever before, we are faced with an urgent need for economic development and the women of Sri Lanka are a key necessity for our collective growth. COVID-19 has affected supply chains and the production of goods throughout the world, while some industries such as health and groceries have high demand and supply chain issues. While we all do need to band together in our efforts to recover, we see the empowerment of women in our workforce and the removal of the barriers they face at work as entrepreneurs as a key endeavour that we must make, so that we all can rise together, with the full force of the rich talent our country possesses."

Giving an insight into the series of programs and importance of it, she further explained: "We, along with our partners, have been a proponent for the empowerment of women and the upliftment of women entrepreneurs in Sri Lanka for many years and conducted a multitude of programs to accomplish that mission. However, we still see that there is a vast amount of progress that can yet be made to empower our women and remove the artificial barriers put in front of them, in their careers. Our programs, therefore, are designed to educate the women of Sri Lanka on aspects such as financial literacy, thinking in a business perspective and navigating the waters of entrepreneurship."

As such, under one of the key donor-funded projects in Sri Lanka, PwC has conducted capacity building programs on financial literacy for over 1,000 Women Entrepreneurs across the country. In the pursuit of this initiative, PwC has developed the entire training program, from structuring to execution. Micro, small and medium scale entrepreneurs from all regions of the country gained the opportunity to participate and develop a business plan for their own expansion idea whilst sharpening their business management skills. The training, handholding support and mentoring provided through the program encouraged many participants to look holistically into their businesses and helped develop a clear vision for the future and carry out their business activities in a more systematic manner. The program was also structured in a way that supported knowledge sharing and networking amongst entrepreneurs.

Providing services in areas including, SME development, gender empowerment, public financial management, value chain development, government process re-engineering and institutional strengthening, project management as well as monitoring and evaluation, PwC's ID practice has a wide spectrum of experience cutting across diverse areas of expertise, bringing with it cross learnings in issues, resolutions and best practices.

With their successful track record and experience, PwC's International Development Practice, is well aligned to contribute to Sri Lanka's continual quest for equality, women empowerment and economic development.