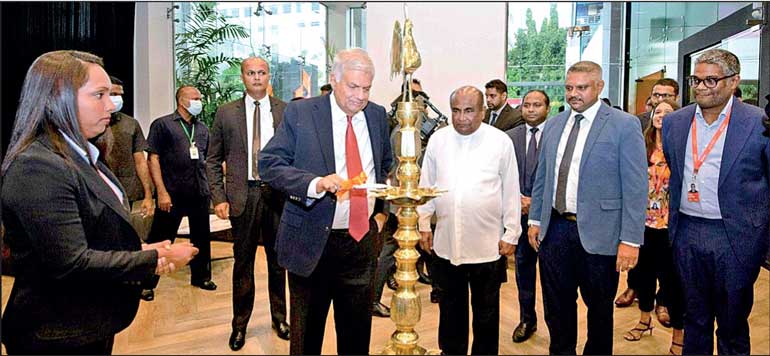 President Ranil Wickremesinghe lights the oil lamp at the opening while Speaker of Parliament Mahinda Yapa Abeywardena, State Minister of Digital Technology Kanaka Herath and Daraz Sri Lanka Managing Director Rakhil Fernando look on
The Daraz head office in Sri Lanka was officially declared open by President Ranil Wickremesinghe, in the presence of Speaker Mahinda Yapa Abeywardena, State Minister of Technology Kanaka Herath, and SLASSCOM Chairperson Ashique Ali.

Daraz's new headquarters is located at No. 100/1, Elvitigala Mawatha in Colombo. The move provides employees with a unique working environment in their own spacious business premises and marks a milestone in the company's growth in Sri Lanka.

Daraz Sri Lanka Managing Director Rakhil Fernando said: "The aim was to create a workplace that pushed the boundaries of what an office could be for both our employees and the local tech industry as a whole. We believe that the new Daraz headquarters is a long-term investment in our employees, and we look forward to it being a space that adapts to the ever-changing needs of our energetic workforce."

At the new Daraz headquarters, the focus on people and the type of work they do is reflected in carefully curated building elements, such as ergonomic furniture, vibrant colour palettes, natural light and ventilation, thermal comfort, and acoustics. Spanning eight floors and a rooftop, the headquarters also offers stunning views of Colombo city and breezy outdoor spaces, along with exciting amenities like a coffee shop, games room, vending machines, cafeteria, and gymnasium.

Daraz's innovative office design promotes a balanced and productive work environment. With a diverse array of workstations for independent tasks and collaborative spaces for team projects, employees can seamlessly transition between different work modes. Quiet zones are strategically placed to foster concentration, while meeting rooms of various capacities equipped with presentation tools facilitate effective collaboration. This thoughtfully designed space caters to diverse work needs and encourages both individual focus and dynamic teamwork.

"A lot of thought was put into the design of the new office space. The design process started with a deep dive into what drives the Daraz workforce and we prioritised developing a work experience that would motivate and excite employees," Chief Operating Officer Darshika Attanayake added.