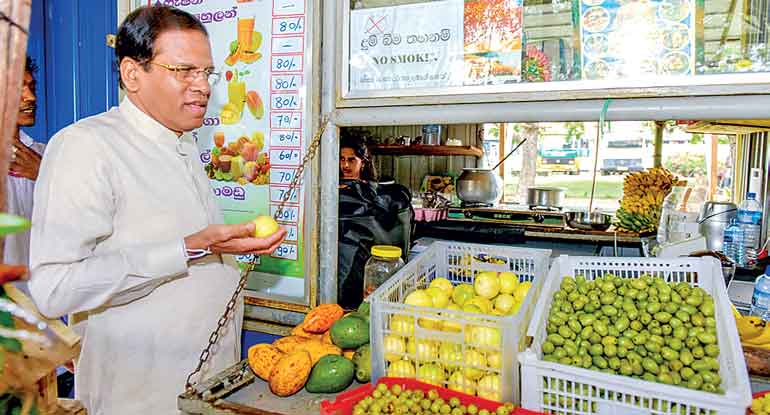 President Maithripala Sirisena this week instructed the relevant authorities to speedily complete the renovation works of 2,400 irrigation tanks in the dry zone, to facilitate agricultural activities of farmers without any hindrance during adverse weather conditions.

The President gave these instructions addressing the Special Coordination Committee Meeting of the Polonnaruwa District at the Thamankaduwa Divisional Secretariat on 26 February.

During the meeting, the progress of the projects being carried out in the Polonnaruwa District were discussed in detail along with future plans for the district.

The special attention of the President was drawn to the construction of the Kidney Disease Hospital, Economic Centre and trilingual school.

Special attention was also paid to the actiontaken towards the development of infrastructure facilities including education,health, roads and irrigation in the district. The President instructed the officials to prepare plans to identify the development needs of the people of the respective areas and emphasised that this must be done without wasting public funds.

The President highlighted the importance of re-planning programs implemented to uplift livelihoods of the people in the districtaccording to the needs of the public with a clear criteria.Special attention was paid to the problems of the farmers as well as agricultural development in the district. The President apprised the officials regarding the issues related to agricultural uses of waterand pointed out the importance of providing information to the farmers through the farmers' organisations about the remaining water levels of the reservoirs and irrigation tanksto plan their agricultural strategies according to the water levels.

Meanwhile, a programwas held to distribute Rs.29 m worth of equipment among 636 beneficiaries in the Welikanda and DimbulagalaDivisional Secretariat divisions, to uplift their livelihoods at the premises of the Welikanda Divisional Secretariat.

The equipment was provided under the provisions for 2017 and equipment worth Rs. 295 million will be provided to the people under the provisions for 2018.People's representatives, including former Provincial CouncillorN.A.Samantha, District Secretary of Polonnaruwa RanjithAriyarathna, Welikanda District Secretary Harsha C. Bandara and other officials participated in this event. The Presidentafter participating in this eventvisited a fruit juice stall in the Welikanda town, which was started under the sponsorship of the livelihood development programand engaged in a cordial discussion with the owner of the stall.