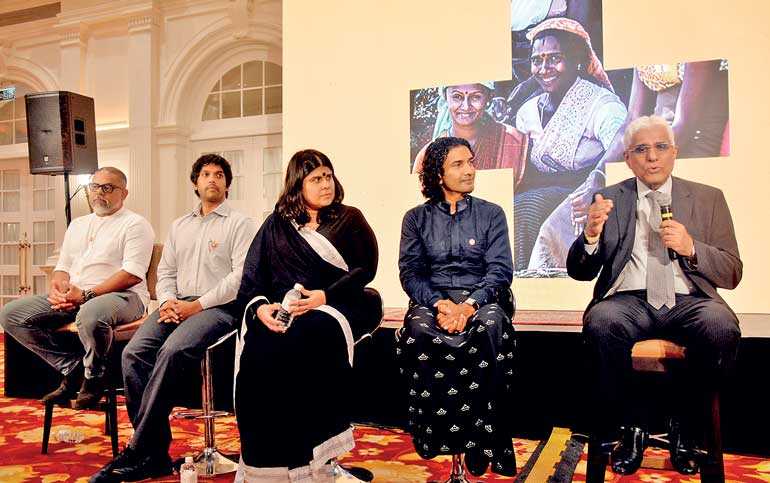 Central Bank Governor Dr. Indrajit Coomaraswamy speaks at the launch of the Positive Sri Lanka initiative. Others (from left): TRAIL Co-Founder Sarinda Unamboowe, Finance Ministry Economic Advisor Deshal de Mel, J. Walter Thompson Group, Sri Lanka CEO Alyna Haji Omar, and Lovi Ceylon CEO Asanka de Mel – Pic by Upul Abayasekara
---
Bringing together the community to collaborate in a unique initiative, the campaign, Positive Sri Lanka, is calling on businesses, big and small, to participate in generating positive momentum in the economy. Initiated by a group of like-minded private citizens coming together to address the needs of this economic crisis, the Positive Sri Lanka campaign was launched on 20 June at the Galle Face Hotel, in the presence of the Governor of the Central Bank of Sri Lanka and other prominent business leaders including CEOs, CFOs and CMOs of potential retailers, trade bodies, leisure sector, bankers, FMCGs and MNCs.
A panel discussion was held at the event by a high profile line up of personalities, namely, Dr. Indrajit Coomaraswamy – Governor Central Bank of Sri Lanka; Asanka De Mel – Lovi; Alyna Haji Omar CEO – JWT and. Deshal de Mel – Ministry of Finance. The moderator for the discussion was Aritha Wickramasinghe. The panel debated the worrisome economic consequences of the Easter Sunday attacks and their impact on livelihoods of thousands of people and the future of many businesses. The business objective of this not-for-profit campaign is to generate Rs. 90 billion worth of revenue inside the country over a short period of two months in a bold bid to jumpstart the economy once again, with proactive participation across Retail, Consumer Goods, Sports and Entertainment, Leisure, Travel and Hospitality, Education, Health, Culture and Heritage, Art, Fashion and Connectivity sectors. Many of Sri Lanka's iconic brands have already pledged allegiance to Positive Sri Lanka.

Commenting on the campaign, JWT CEO Alyna Haji Omar said, "Positive Sri Lanka is a campaign that motivates businesses to take ownership for creating change, without leaving it to others, or staying on the sidelines overcome by fear and uncertainty. We invite businesses of all kinds to shoulder this responsibility and to join in to create a reason for people to go out and spend, enjoy time with their families and friends and stimulate the economy once again. The future of the country is at stake and we, as the business community, need to join hands and make this happen in an urgent manner. We envision this project to generate positive momentum for thousands of businesses and to boost perception of Sri Lanka amongst tourists, so that it's business as usual once again. Our dream is to see Sri Lankans mobilising to reclaim their economic security and to drive normalcy. The economy needs urgent resuscitation and we are humbled to see so many businesses already coming onboard and taking the lead."

Partners in this campaign are Retail Association of Sri Lanka, Bar & Restaurant Association, SLAITO, CIMA, CSBM as the main bodies bringing their retail locations on board. The Sunday Morning Newspaper, Wijeya Newspapers and Maharaja network and their digital platforms have extended massive support. The campaign will run till end August and even beyond as the need arises.

Adding further, Asanka de Mel, LOVI, explained, "The Positive Sri Lanka campaign is leveraging the voice and the power of the business community to take charge of the narrative about Sri Lanka, turnaround the economy and generate a positive sentiment about business in quick-time- by offering deals, discounts and free products as a mega shopping festival. Every second we waste doing nothing to change the current status quo costs millions of losses to businesses. Yet another objective of this campaign is to create a fund which will be managed through Trail Sri Lanka, a well-respected charity partner, to help the victims and their families through the long recovery process.

Trail Sri Lanka has a strong track record, eminent trustees and proven fundraising capabilities and we are honoured to have them partner us. The Positive Sri Lanka project is empowering businesses to make profits while doing good – it will be a win-win for all stakeholders in the nation."

Companies who are inspired by Positive Sri Lanka and want to be part of this unique initiative need to design promotional material incorporating the Positive Sri Lanka branding by 5thJuly, the deadline to have promotional and marketing material ready, incorporating special offers, discounts, deals, etc. The Positive Sri Lanka team will support every business and information can be obtained from the website: www.srilankaispositive.com or search Sri Lanka is positive on Facebook and Instagram.