$ 1.56 b Cooperation Framework Agreement for Investment was signed in China recently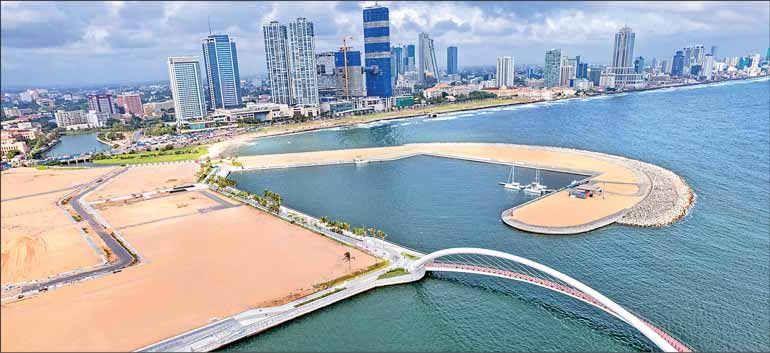 ---
The Colombo Port City Economic Commission Chairman Dinesh Weerakkody says, to remain an attractive destination for Foreign Direct Investment (FDI), Sri Lanka must cultivate a globally competitive economic landscape by expediting approvals, upholding trade policies, easing business, and bolstering online market access.

In an interview with the Daily FT, Weerakkody said digitalisation is essential for Sri Lanka's value proposition, enabling industries to pivot to e-commerce, expand into new markets, and trim costs.

The emergence of new service sectors, digitisation, and the burgeoning new economy positions Sri Lanka to attract substantial FDI in export-oriented services such as financial services, IT, maritime services, professional services, tourism, and social infrastructure. The Colombo Port City Special Economic Zone project is a crucial initiative that will reinforce Sri Lanka's status as a hub for these services. Following are excerpts of the interview:
---
Q: Could you provide an overview of the recent $ 1.56 billion cooperation agreement for the Colombo Port City project and its key components?"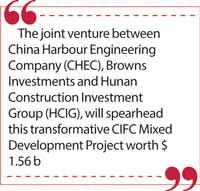 Colombo Port City, Sri Lanka, is set to witness an infusion of Foreign Direct Investment (FDI), with the recent signing of the agreement of $ 1.56 billion investment marks a significant milestone in Sri Lanka's post-crisis economic resurgence, positioning the country as a key player in the global economic landscape.

This is a colossal investment for the project and the nation, which is primarily directed towards the development of the CIFC Mixed Development Project, surrounding an impressive total gross floor area (GFA) of approximately 160,000 square meters. The joint venture between China Harbour Engineering Company (CHEC), Browns Investments and Hunan Construction Investment Group (HCIG), will spearhead this transformative project.

Key components of this multi-faceted investment include the CIFC Mixed Development Project, which will be developed to establish a vibrant financial hub within the Colombo Port City, in collaboration with CHEC, Browns and HCIG that will lead the investment and development efforts, further solidifying CPC's position as a regional financial epicentre.

The Marina Project and Marina Hotel Project plots span a total GFA of approximately 80,000 square meters, where these projects will witness a collaborative effort between CHEC, Browns, and HCIG, adding exceptional waterfront attractions to CPC's master-planned landscape.

The Luxury Villa Project, containing around 61,000 square meters of GFA, will see this luxury villa endeavour, with a total of 90 villas planned to be developed by CHEC along with potential partnerships.

CPC Phase II Infrastructure Development investment has also been committed, carrying out the development of more than 100 hectares of land, with elegant streetscapes and recreational parks, further reinforcing the CPC's commitment to world-class facilities and infrastructure. The development will be completed by CHEC and overseen by the Commission.

These key project developments in CPC, are planned to break ground by the end of June 2024. This transformative investment brings forward a new period for the project, Sri Lanka, and internationally, and it is now progressing with investor developments, as it positions itself as a regional powerhouse in trade, finance, and economic development.
Q: How significant is the commitment of this substantial investment and what does it signify for the future of the Colombo Port City project?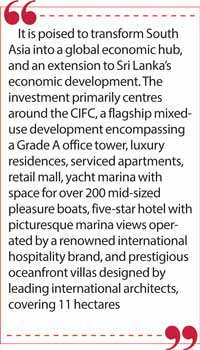 This is a substantial commitment to the project and the country, of $ 1.56 billion investment from the CHEC, that holds immense significance for the Colombo Port City (CPC) project, which is a testament to the power of collaboration between Sri Lanka and China, and it is poised to transform South Asia into a global economic hub, and an extension to Sri Lanka's economic development. This investment primarily centres around the CIFC, a flagship mixed-use development that encompasses a Grade A office tower, luxury residences, serviced apartments, a retail mall, a yacht marina with space for over 200 mid-sized pleasure boats, a 5-star hotel with picturesque marina views operated by a renowned international hospitality brand, and prestigious oceanfront villas designed by leading international architects, covering 11 hectares.

This substantial financial commitment paves the way for the project's continued growth and expansion in the coming months. It solidifies the vision of the CPC as a vibrant financial hub and city.
Q: What benefits and opportunities do you foresee for Sri Lanka and its economy as a result of this investment and collaboration?
This collaboration and project represent a significant opportunity for Sri Lanka's economy. It promises profound impacts, primarily through job creation in sectors ranging from construction to hospitality. Furthermore, it enhances the appeal of the Special Economic Zone (SEZ), benefiting both tourism and business attraction. This investment acts as a catalyst for economic growth, positioning Sri Lanka for a prosperous future.

One key aspect is the Job Opportunities and Economic Contribution. The CPC SEZ aims to generate over 140,000 direct jobs, attracting global brands and offering high-skilled employment. This counters the problem of brain drain while annually injecting $ 13.8 billion into Sri Lanka's GDP and fostering growth across various sectors.

The planned FDI of $ 5.6 billion over five years supports CPC's development and bolsters Sri Lanka's economic recovery. The SEZ status fosters a diverse ecosystem for various businesses, such as trade, logistics, banking, IT, services, headquarters, and tourism.

Fiscal Revenue Generation is also significant, with an estimated $ 1.7 billion during construction and around $ 700 million annually once operational, supporting government initiatives and public services.

CPC's strategic vision includes becoming a global business and innovation hub, attracting forward-thinking companies and startups to drive economic growth. Its strategic location in South Asia positions Colombo Port City as an appealing hub for investors and businesses seeking access to the fast-growing regional economies.
Q: What will be the expected timeline and key stages of the phase 2 development of the Colombo Port City project, and what kind of impact is expected upon its completion?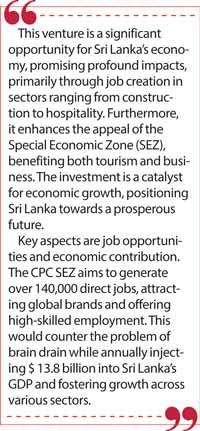 The successful completion of phase 2 will mark a significant milestone for the CPC project, elevating its stature both locally and globally. This phase introduces a structured timeline with key stages, poised to deliver substantial economic, social, and cultural impact. It provides the visibility we've been anticipating for the planned vertical development.

First in line is the launch of the Downtown Port City duty-free, which is set to open its doors in December 2023. Following this, the CIFC and the mixed-use complex will kick off their construction phases by mid-2024. Simultaneously, construction for the international school and university, integral components of the project's social infrastructure, is slated to commence in March 2024. As we move into the middle of the year, specifically June 2024, we will witness the initiation of construction for the Marina, marina hotel, retail, and entertainment areas, along with the luxurious villas.

The impact of these developments upon their completion will be multifaceted, which will significantly bolster the project's position as a thriving hub for business and leisure, attracting a diverse range of visitors and residents. The Downtown, Port City duty-free mall will enhance the retail landscape, offering a unique shopping experience. The CIFC and mixed-use complex will contribute to the city's status as a global financial destination. The international school and university will provide world-class educational opportunities, fostering human capital development. The Marina, marine hotel, retail, and entertainment areas will elevate the city's allure, catering to both residents and tourists. The luxury villas will offer upscale living spaces, further diversifying the housing market, internationally.
Q: What are your thoughts on how this collaboration reflects the increasing confidence and interest in Sri Lanka's potential as a hub for trade and investment in the region?
Sri Lanka has, as you know in recent times, undergone a transformation in its outlook and approach towards the future. This transformation is reinforced by the President's Plan, which focuses on propelling the nation forward through a holistic strategy that encompasses sustainable macroeconomic policies, the embrace of a digital economy, the commitment to a green economy, and the cultivation of a highly competitive economic environment. These pillars collectively position Sri Lanka as a more attractive destination for investors and help re-establish confidence in our capacity to compete on a global scale within the region.