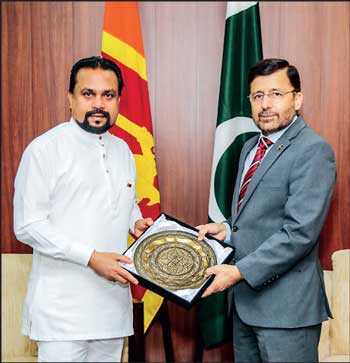 Pakistan High Commissioner Major General (Retd) Muhammad Saad Khattak met with Minister of Industries Wimal Weerawansa on Thursday.

In a detailed discussion, the importance of exploring the full potential of the Pakistan-Sri Lanka Free Trade Agreement and the removal of impeding issues on both sides was underscored.

Moreover, it was recognised that there exists a huge potential for Pakistan and Sri Lanka to develop partnerships in trade, investment and industrial development within various sectors and areas of mutual interest, including textiles, construction materials, agro processing, pharmaceuticals, tourism development and technical training of officials on both sides.

The High Commissioner assured the Minister and his team of Pakistan's full support in strengthening bilateral economic cooperation between the two friendly countries.