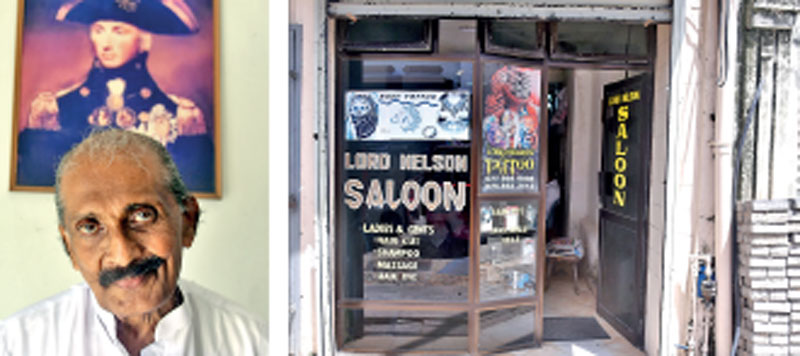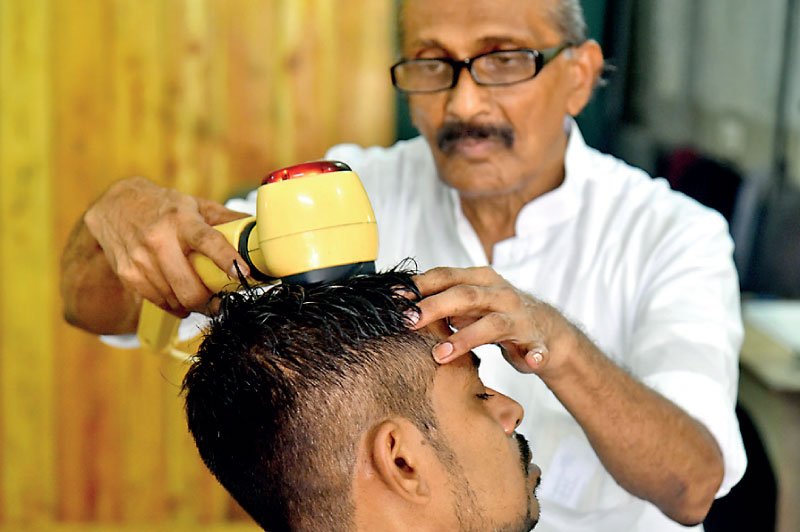 My father was inspired by the 'Lord Nelson's Bar' a few blocks away and named his business Lord Nelson Saloon. He too put up a portrait of the famous English sea captain in his shop, taking a cue from the pub owner. When I was born in 1947, he named me Nelson as well Many British naval officers who would arrive at the Colombo Port would come and get a tattoo done by my father. The initials of their girlfriends and hearts were quite popular then. Once Prince Phillip, father of King Charles now, had also got a tattoo done during his visit to the country
Barber Nelson is an example which challenges the trappings of the so-called advanced technology. He testifies that technology is superficial without the human touch
---
'Lord Nelson Saloon' on Chatham Street in Colombo Fort, now nearing a century, is more than a place for a haircut and a shave. One of the oldest professional facilities to do body tattoos in the country, Lord Nelson enables a window to a colonial past. Built and sustained on the cornerstones of quality, trust and hospitality, this queer little haunt without any flamboyance should ideally be promoted as a tourist attraction in Colombo. Its present owner Nelson Fernando's mantra that, 'the place is more than a business, but a way of life', offers inspiration to any business.
---
By Randima Attygalle
---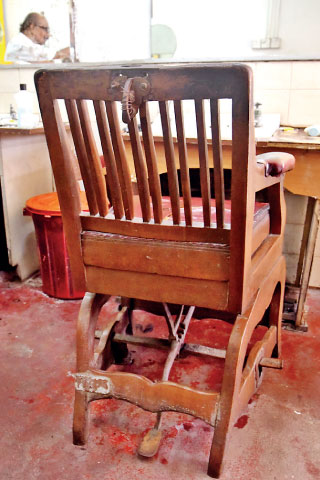 The 'salon chairs' in a modern sense are more than a century old imported from England. The solid wooden chairs with leather upholstery and 'head rests' add charm and personality of a bygone era. Some of the equipment is more than 60 years old
---
Turn into Chatham Street in Colombo Fort and walk a few yards and in the vicinity of the one-time 'Pagoda Tea Rooms', one will find an inconsequential haunt 'Lord Nelson Saloon.' This too is visible only if the place is open for business. Once its metal door is fastened, there is no clue to its doings, for Lord Nelson Saloon has no fancy name board like most modern day salons. A rustic dwelling which proclaims that it does body tattoos would pique the curiosity of a watchful commuter.


Nelsons, pubs and horse stables

A very affable gentleman clad in a crisply pressed white shirt and a white sarong who introduces himself as 'Nelson', warmly ushers us to his shop. At one glance it is apparent that the place still reflects the character of a 'barber shop', the label which is almost obsolete now. At the entrance is the portrait of Lord Nelson. For a first-time visitor and a history enthusiast, it's nothing but a web of intrigue to unravel the link between the owner of the shop – Nelson Fernando and the English sea captain hailed as one of Britain's greatest naval heroes! The plot becomes thicker when Nelson Fernando reveals 'Lord Nelson's Bar' next door, now long gone!

'Saloon' would technically translate into 'pub', although synonymously used with 'salon' here at home. If Lord Nelson Saloon derived its name from this common parlance or as means of recreating Lord Nelson's Bar is left for our imagination. C. Justin Fernando from Negombo worked at the British Garrison's salon on Hospital Street. In 1928 when a British officer he befriended there asked his Ceylonese barber how he could reciprocate his goodwill and services extended to him before sailing back to Britain, Justin asked for a suitable place to open his own barber shop. Through his acquaintances at the Brodie Co, the British military officer helped Justin realise his dream on one-time stable grounds on Chatham Street.

"My father was inspired by the 'Lord Nelson's Bar' a few blocks away and named his business Lord Nelson Saloon. He too put up a portrait of the famous English sea captain in his shop, taking a cue from the pub owner. When I was born in 1947, he named me Nelson as well," recollects Nelson Fernando with a chuckle.


Nelson Fernando debuts

Seeing his father who had bouts of asthma, working with difficulty, drove the 13-year-old Nelson who had eight more siblings, to learn the ropes of the trade. "On Saturdays I used to come and watch my father at work, but he would dare not encourage me to learn the art. He wanted me to study well and become a man of means." However, determined to learn the art of hair cutting, young Nelson became an undercover apprentice at another salon in Negombo. Fearing that his parents would oppose it, young Nelson pretended that he was staying after school for extra-curricular activities at Maris Stella College, Negombo.

One Saturday when Nelson was hanging around in his father's shop on Chatham Street, an Air Force officer who came for a trim assumed Nelson to be an assistant of the master barber Justin and asked him to do the honours. "My father was speechless when I took the scissors and went ahead," chuckles Nelson, recollecting the day his well-guarded secret was uncovered. The rest is history.


Statesmen, planters and celebrities

Nelson recollects many VIPs patronising his father's salon including politicians of the ilk of Dr. N.M. Perera and Sir John Kotelawala. "Since the old Parliament was close to the shop, they used to come here after sessions." British civil servants, planters and top brass from the tri-forces were also regular clients of Justin Fernando. Nelson fondly recollects Sri Lanka's World Cup winning Cricket Captain Arjuna Ranatunga coming for a haircut as a schoolboy accompanied by his mother. Arjuna preferred to indulge in the adjoining 'Diana Sports' and 'Sportsman' more than the salon, recollects the veteran. "He used to improvise his cricket shots inside the sports and it was no easy task for Mrs. Ranatunga to pull him out of it," says Nelson laughingly. He goes on to note that his father, Justin would often predict that Arjuna would make history. "I only wished my father lived to see him bring the World Cup home," says nostalgic Nelson.

For over 50 years, I have been travelling daily from Negombo to Fort. I'm 75 now and could easily give up, but for me this is not just a business, but a passion and a way of life


Hearts and lovers

Lord Nelson Saloon is also one of the earliest in the country to imprint tattoos. A sketch book of tattoos, some which were done by Nelson as a young man, is still among the memorabilia of this place of antiquity. "Many British naval officers who would arrive at the Colombo Port would come and get a tattoo done by my father. The initials of their girlfriends and hearts were quite popular then. Once Prince Phillip, father of King Charles now, had also got a tattoo done during his visit to the country," he smiles. Today the third generation has joined in. Nelson's son Prabashana is the tattoo artist today.

Lord Nelson Saloon is more than a place to get a haircut, an invigorating hair massage, a shave or a tattoo; it's a repository of the colonial history of the island. The 'salon chairs' in a modern sense are more than a century old imported from England. The solid wooden chairs with leather upholstery and 'head rests' add charm and personality of a bygone era. Some of the equipment is more than 60 years old. The tattoo machine, manufactured in the US which Prabashana demonstrates for us, is another special device.

After Justin Fernando's demise in 1981, the ownership of the business passed on to Nelson. He was joined by his brothers Joseph and Gratian. Several more of his cousins including Anthony Fernando who now helps around, have been with this nearly 100-year-old enterprise.


Braving storms

Lord Nelson Saloon had braved many storms just as the great sailor after whom it is named. It has also witnessed the changing skyline of Colombo and the socio-political debacles of the nation. From Igora Oil, Brylcreem (which was launched in the same year as the salon, in 1928), Morning Pride and Old Spice which were sourced by the then Cargills-Millers to modern day cosmetics, this haunt had endured, retaining its rustic charm and hospitality.

The present owner Nelson, was miraculously spared of the Easter Sunday bombing at St. Anthony's Church in Kochchikade when he was unusually late for his ritualistic Easter Sunday mass. "When I got off the bus near the Sugathadasa Stadium, there was mayhem. When I heard that a bomb had gone off at Kochchikade Church, I felt dumb and dizzy that it just could not be true," recollects the god-fearing man he is.

Waseer Mohammed has been a loyal client of Nelson's and before him, his father Justin's since 1970. "A haircut then was only 50 cents," says Waseer with a smile. More than a barber-client relationship, the friendship between Nelson and Waseer had cemented over the years. "Although the times have changed, Nelson's values have remained the same – the secret behind his success," says his long-time buddy.


A man of passion

Jayasiri Kumara who works for an NGO calls Nelson a pura wasthuwa or a relic of historical significance. For the past 40 years, Jayasiri has counted on Nelson not only for his haircut, but also for his healing touch. "Nelson is an example which challenges the trappings of the so-called advanced technology. He testifies that technology is superficial without the human touch." The head and shoulder massage of Nelson's is an antidote for Jayasiri's stiff neck, he says.

Jayasiri recollects his trusted barber's hospitality and goodwill which was even extended to the security personnel during the recent Galle Face protests. "He was generous enough to convert his humble shop as a resting place to army and police officers who were mobilised in the area for duty day and night. Such is his large heart." We couldn't have agreed with Jayasiri more as Nelson would treat me and my colleague Ruwan, with iced coffee and delicacies despite his busy day at work.

Clifford Henricus, a banker by profession, has been seeking Nelson's services for the past 30 years. "A mere chat with Nelson itself is a treat," says Henricus who goes on to say that for the good old barber, this is not just a business but a

passion.

In these hard times when all businesses – big or small, have been hit hard, Lord Nelson Saloon is not an exception. "Prices of hair products have skyrocketed, these are difficult times, but I continue to have faith that we will see good times once more," says Nelson with a smile, reverberating a timely message for all Sri Lankans to embrace. "For over 50 years, I have been travelling daily from Negombo to Fort. I'm 75 now and could easily give up, but for me this is not just a business, but a passion and a way of life," says Nelson, sharing the success formula for any enterprise to be inspired by.
Pix by Ruwan Walpola