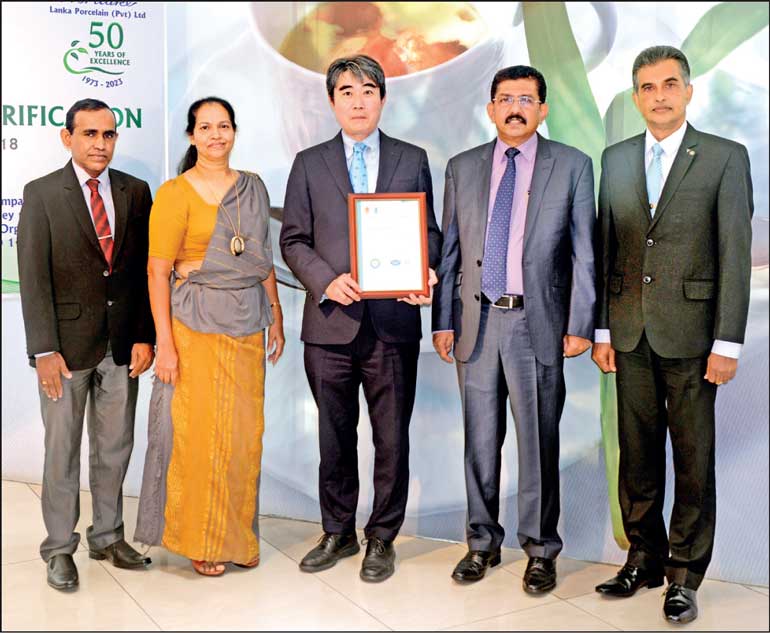 From Left: Head of Technical and QA Susil Samarasinghe, Director/General Manager Sujatha Egodagedara, Deputy Chairman/Managing Director Kenji Obara, Secretary of the Ministry of Environment Dr. Anil Jasinghe and Senior Director T.C. Tennakoon at the ceremony
---
Marking another milestone in its 50-year journey of excellence in Sri Lanka, Noritake Lanka Porcelain (NLPL) obtained ISO 14064-1:2018 accredited GHG Carbon Footprint Verification.

At an event recently held in NLPL's Colombo office, Secretary to the Ministry of Environment, Dr. Anil Jasinghe, who was also the Chief Guest gracing the occasion, presented the certificate to NLPL's Deputy Chairman/Managing Director Kenji Obara.

NLPL is the first company in the porcelain and ceramic sector as well as inorganic and non-metallic sector in Sri Lanka to receive ISO 14064-1:2018 accredited GHG Carbon Footprint Certification. The latest certification adds to NLPLs previous ISO certifications of ISO 9001:2015, ISO 14001:2015 and ISO 45001:2018 for Quality, Environment, Safety & Health respectively.

Resting on the pillars of 'Good quality', 'Export' and 'Co-prosperity,' Noritake Group regards the conservation of the environment to be critical for management and seeks to contribute to the realisation of a sustainable society through all its business activities. Since Noritake first began manufacturing western-style tableware for export in 1904, it has grown in reach with 25 subsidiaries and 7 affiliated companies in Japan and overseas as the Noritake Group. The company began its operations in Sri Lanka in 1973.

Following the awarding of the GHG Carbon Footprint Verification Certificate, Dr. Jasinghe remarked that minimising the carbon footprint is very much an integral part of Environmental Social Governance (ESG) which organisations take very seriously today. Sri Lanka Climate Fund affiliated to the Ministry of Environment which is the awarding body of Carbon Footprint Verification, is the first of its kind in South Asia to be accredited and it targets to achieve net zero CO2 by 2050.

"The move towards reducing the carbon footprint also helps businesses to be sustainable," Dr. Jasinghe pointed out further.

Implementing the GHG system at NLPL and obtaining GHG Carbon Footprint Certification is means of benchmarking itself with its mother company in Japan which aims to reduce the CO2 emissions by 50% in 2030 and zero emissions by 2050, remarked NLPL's Deputy Chairman/Managing Director Kenji Obara. "We have formulated this strategy with medium to long-term perspectives in mind," said NLPLs Deputy Chairman who also noted that it is not merely a strategy but a commitment by Noritake towards the world at large.

The quantification of carbon value by NLPL was done under the five principles of Relevance, Completeness, Consistency, Accuracy and Transparency. In a bid to translate the certificate to a system which would provide results, NLPL was provided the able guidance of Sri Lanka Standards Institution (SLSI) former Director General Dr. Lalith Senaweera, and an eminent consultant in Quality and Sustainability who trained NLPL-staff to implement the GHG system within the organisation.

The Senior Director T.C. Tennakoon remarked that in the base year of 2021, the inventory was equivalent to 10782 CO2 metric tons and that NLPC has taken strategic actions to mitigate the situation. NLPLs efforts to become a carbon-neutral company is not only in line with its mother company's commitment to reduce environmental burden, but also means of revisiting the 7Rs of 'Rethink', 'Refuse', 'Reduce', 'Reuse', 'Recycle', 'Repurpose 'and 'Rot'.

"The certificate is also going to reflect very strongly on our branding strategy," noted Tennakoon further.

As a pioneer in establishing best practices in HR, management and manufacturing, the recently obtained GHG Certification adds more value not only to NLPLs business processes but to its employees and all other stakeholders as well, noted NLPL Director/General Manager Sujatha Egodagedara.

"The 50 years of operations has given NLPL valuable experience in terms of customer perceptions. Today customers are more empowered and there is a greater demand for green industries. This certification comes our way not only as an achievement but also as a commitment towards all our stakeholders as a responsible corporate citizen, remarked Egodagedara further.