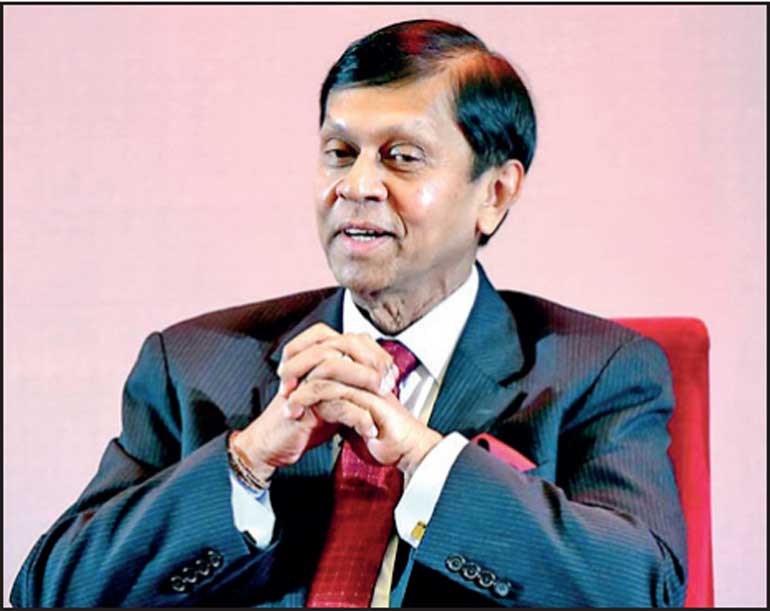 Central Bank former Governor Ajith Nivard Cabraal
---
With reference to recent press reports including in the FT (https://www.ft.lk/front-page/Patali-calls-for-probe-on-Rajapaksas-Cabraal-over-Hamilton-deal/44-752895), Nivard Cabraal issued the following statement.

I have observed that a certain MP seems to have gone to great lengths to link me to some wrong-doing by suggesting that the Hamilton Reserve Bank (HRB), which has sued Sri Lanka for the non-payment of its ISB investment, has "potential links" to me. I categorically deny that allegation. In that regard, I must state that all investors were treated with courtesy and respect by the officials of the Central Bank including me whenever they communicated with the Central Bank, and all HRB officials were treated in a likewise manner whereby no special treatment or inside information was given to them during my tenure as the Governor. Many top global investors used to meet and speak to me during my term as the Governor as would be evidenced from main-stream and social-media reports, and hence attempting to attribute sinister motives to me without a shred of evidence is despicable.

I have also observed that the MP in question has seemed to suggest that the Sri Lankan Government should not have settled its maturing International Sovereign Bond (ISB) of $ 500 million on 18 January 2022. In that connection, I must say that the public canvassing for Sri Lanka to dishonour its maturing ISBs commenced from around December 2021 onwards. In fact, several so-called professionals directly urged the Monetary Board and the Government at various times to default and re-structure the foreign debt of the country. Certain others made public requests in popular newspapers to that effect. At the same time, there were others, including the present President and Finance Minister Ranil Wickremesinghe, who warned that it would be highly damaging if Sri Lanka were to default, and he even articulated such a position unambiguously at a popular TV interview on 28 March 2022.

The ISB settlement of $ 500 million on 18 January 2022 was a routine and budgeted Public Debt repayment out of a total of approximately $ 7,100 million forex debt-servicing payments and about Rs. 3,000 billion local debt-servicing payments, maturing in 2022. All these payments had been duly approved by Parliament. As per the Law, the Central Bank manages the Public Debt as the Agent of the Government, and it is the primary responsibility of the Government, and not the Central Bank, to borrow and to repay the Public Debt. As the Agent, the Central Bank has to act on the directions of the Government in relation to Public Debt management and cannot unilaterally decide to pay or not to pay any debt of the Government. Further, it is the Government that has control of this process, since it is the body that makes its funds available for local and foreign debt-servicing from the funds which have been specifically appropriated by Parliament for that purpose.

In this specific instance of the ISB settlement, the Finance Minister Basil Rajapaksa had also specifically given a re-assurance in Parliament when winding up the Budget debate on 10 December 2021, by saying: "I must very solemnly confirm in this august assembly that we would pay every dollar that is due to be paid next year. I give that assurance with responsibility. First, we have to pay $ 500 million in January. Next, we have to pay $ 1000 million in July. In between, we have to pay other interest and capital repayments in our debt servicing. I hereby confirm to this august assembly that we will pay all that".

Settling or not settling the country's sovereign debt or a specific part of it, is not a matter where a single individual can decide unilaterally. Nevertheless, there have been absurd claims by various persons that the settlement of the maturing ISB of $ 500 million on 18 January 2022 was done at my sole discretion, as the Central Bank Governor. Some persons even alleged that such settlement was done in order to enable certain investors to make undue profits. I categorically deny such malicious and unsubstantiated innuendo. I must also state that the Auditor General has already confirmed that Sri Lankan banks held ISBs of a value of $ 108,899,000 out of $ 500,000,000 (about 21.8%), at the time of maturity of the ISB. Accordingly, if that ISB was defaulted by the Government, several Sri Lankan banks (Bank of Ceylon, Commercial, NDB, Pan Asia, Sampath, Peoples, HNB and HSBC Colombo), who were among the January 2022 ISB investors, would have suffered huge losses. But fortunately, because the ISB was duly honoured by the Government, such losses were not suffered by the Sri Lankan banks and their stakeholders.

In any event, at the time in question (January 2022), the official Government policy was to pay its sovereign debt, which policy, the Ministry of Finance and the Central Bank had followed faithfully, since independence. If, therefore, for any reason, the Government wanted to default on its debt repayments, that would have to be a decision of the Government, and not that of the Central Bank. Such a position was clearly confirmed by the fact that it was the Ministry of Finance that announced the "Debt Standstill" on 12 April 2022, whereby it was announced that forex debt payments were to be stopped immediately, and restructured eventually. Unfortunately, that default announcement led to the relegation of Sri Lanka to a state of bankruptcy, and as a consequence, as already warned by me on several occasions, many catastrophic outcomes occurred:

a) The credibility of the country has been lost.

b) It has been made impossible for the country to obtain new forex loans other than from multilateral institutions.

c) The country's banking system has had to face serious difficulties when carrying out forex transactions.

d) Almost all forex-funded infrastructure projects have been discontinued.

e) Foreign Direct Investors have shunned the country.

f) Thousands of small and medium sized businesses have collapsed or are facing imminent collapse.

g) Hundreds of thousands of jobs and livelihoods have been lost.

h) Prices of goods and services have risen to unbearable levels and are continuing to rise further.

i) Interest rates have risen to unprecedented levels leading to a massive fiscal slippage and large-scale issues of Treasury Bills to the Central Bank (money printing).

j) The Government has been compelled to sell valuable and strategic assets due to the need to fulfil the stringent conditions imposed by the IMF.

k) The country's foreign policy has been seriously compromised.

l) Certain forex creditors have filed legal action overseas to recover their dues and the Government has been incurring huge litigation costs.

m) Most forex creditors have called for the re-structure of local debt, which is now causing serious socio-economic issues, leading to severe social unrest.

n) The LKR has lost value significantly and is expected to lose value further.

It logically follows therefore that, had the Central Bank not made arrangements for the Government to honour its legal commitment to settle the ISB of $ 500 million on 18 January 2022, the above stated catastrophic outcomes would have occurred from that time onwards. If so, the same MP and others who are now claiming vociferously that the payment of the ISB should not have been made, may very well have accused me and others who were in office at that time, of causing grievous harm to the country and the economy as detailed above, by not settling the forex debt.

Ironically however, those MPs and others seem to be very reluctant to acknowledge the massive damage that has now been inflicted on the economy as a result of the default announcement on 12 April 2022, but seem to be to very keen to lay blame on those who endeavoured to somehow prevent such catastrophic consequences from taking place by making arrangements to settle the ISBs and other forex debts.

Finally I wish to state that, over a year ago, on 5 September 2022, I urged the President to initiate an inquiry into the hurried and unauthorised Sovereign Debt Default announcement of 12 April 2022. Needless to say, I will welcome and co-operate closely with any inquiry, including any inquiry surrounding ISB issues and settlement from 2007 up to 2022, as well.