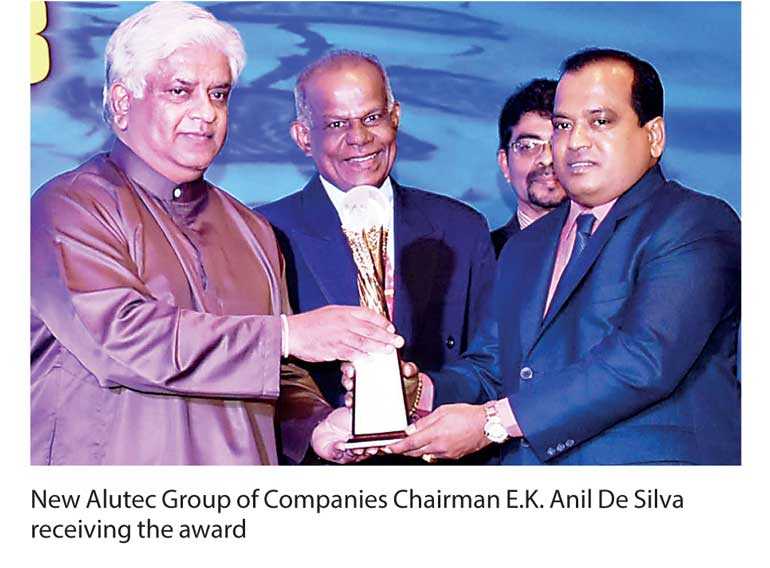 E.K. Anil De Silva, Chairman of New Alutec Group of Companies, a leading name in local aluminium products manufacturing, was awarded the MASSCO 2018 business excellence at a ceremony organised by the Mass Communicators' Associates of Sri Lanka. The award ceremony was held at the Ramada Hotel with Speaker Karu Jayasuriya as the Chief Guest.

"Our aim is to provide products of the highest quality, using the latest technology to Sri Lankan consumers while taking into account future needs and demands. Being awarded at MASSCO for the second time can be seen as sign of recognition for the work we do," De Silva said after receiving the award.

New Alutec Group of Companies which introduced pantry cupboards made from aluminium to Sri Lanka gives a 25-year guarantee for its high quality products made using the latest technology and to the highest standard. These pantry cupboards are insect proof and resists damages that can be caused by water, fire and rust and can be used for an extended period of time.

New Alutec Group of Companies produces pantry cupboards that suit the needs of private residences, offices or factories in many colours and designs. Another interesting feature is that these pantry cupboards can be repainted according to the wishes of the owners.

New Alutec Group of Companies also produces aluminium doors and window frames, doors and windows, stair cases and hand rails, cladding as well as all kinds of furniture. One can also purchase all varieties of glass necessary in construction (tempered glass, tinted glass, glass bevelling, curve glass, curtain walls) at New Alutec Group of Companies' showrooms.

The Head Office of New Alutec Group of Companies is situated in Nittambuwa and branches are located at Nugegoda, Kandana, Kandy, Kochchikade and Radawadunna. The organisation also plans to open new branches in Ratnapura, Kurunegala and Galle.