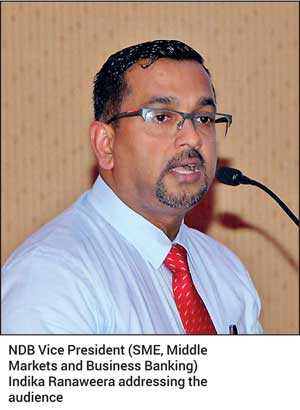 NDB Bank recently conducted a Business Banking Forum for North-Central region exporters in Kuliyapitiya. The forum which was held at Srimali Royal Dawn, Kuliyapitiya was followed by dinner and cocktails with over 100 participants.

The forum acted as a backdrop for the bank to enhance the knowledge and skills of the exporters about the economy and its impact to the current business environment, in addition to providing information and knowledge sharing.

NDB Vice President SME, Middle Markets and Business Banking Indika Ranaweera said that NDB conducts such forums and events in order to support the exporters of the country. "We have targeted areas in which the export business can expand and be brought into new heights. In the North-Central region, we focused on providing value added services such as awareness on the technical aspect of the export business, tax benefits etc. for exporters who specialise in coconut cultivation and other coconut based exports."

Ranaweera further added that NDB often holds such events in order to take every possible step in assisting the country's export business as a bank. Accordingly, the forum was conducted as a means to empower the country's North-Central region exporters and to spread awareness regarding the export business on various export products. NDB Business Banking provided the participants an evening of education regarding the offers and value added services open to them.

Taking into consideration the importance of exporters to the national economy, NDB also strengthened its strategic blueprint to ensure focused, precise and fruitful offerings to uplift the economy's backbone to greater heights. The bank's carefully structured initiatives for exporters are the epitome of the unwavering commitment to have every single individual participating in the nation's development journey in a sustainable manner for the past four decades.

NDB has played a major role in the development of the country. NDB remains to be a banking partner who is as committed to the customer business' growth as the customer themselves, and will never allow their business to slow down for want of liquidity or access to capital. Additionally, the bank has also done various similar knowledge sharing forums for spice exports, cinnamon exports and other similar exports around the island.