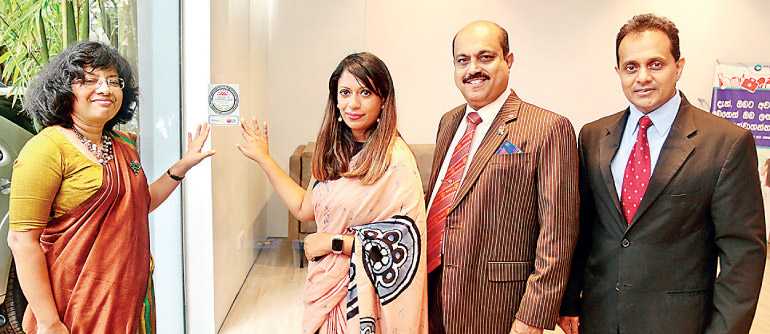 Sri Lanka Standards Institution Director General/CEO Dr. Siddhika Senaratne, MyMed Chairperson Jayomi Lokuliyana, Rotary Sri Lanka and Maldives Governor Ajith Weerasinghe and Rotary Stop the Spread Project Director Dr. Rohantha Athukorala
---
238% growth in e-commerce
Sri Lanka Standards Institution moves to global accreditation
Over 300+ companies now COVID-19 certified
---
"In the backdrop of COVID-19 virus destroying South Asia with India reeling at 3.6 million cases and 64,450 fatalities, Sri Lanka has taken the high ground with a 96% recovery rate and just 12 fatalities. We must support the Government efforts," said the Rotary Governor for Sri Lanka and Maldives Ajith Weerasinghe.

He made this statement at the certification ceremony of the first digital pharmacy globally MyMed Head Office in Colombo 2.

"Although buying medicine seems like a simple task, there are times when it can be a challenge like when COVID-19 first wave shocked the country in March this year that resulted in a two month lockdown," MyMed Chairperson Jayomi Lokuliyana.

"MyMed.lk believes in becoming a part of the customer's medicine purchase journey by offering digital connectivity for customers with an additional benefit of a COVID-19 control environment, given that recent research revealed that the virus behaves in an asymptomatic nature," she opined.

Rotary Stop the Spread Project Director Dr. Rohantha Athukorala said: "Given the strong political and policy leadership we are receiving on the management of COVID-19 lethal virus, it is mandatory that service organisations like Rotary which are supportive of project management make sure that Sri Lanka will not emulate the situation India and Maldives is experiencing."

"We already have over 300 entities having obtained this certification and we are glad that now digital online companies like MyMed has decided to take this cover," said Sri Lanka Standards Institution Director General Dr. Siddhika Senaratne who championed this certification for the country and now is expanding to global accreditation with Rotary, becoming the first in its kind to provide certification internationally to fight the deadly virus.

MyMed started with the intention to make healthcare products and services accessible to all.

Realising the gap in the healthcare industry, where absence of technological platform to connect patients or customers to authentic healthcare services, MyMed embarked on a mission to create an innovative hyper local medicine delivery platform connecting over 75 pharmacies and 6,000 pharmaceutical products.