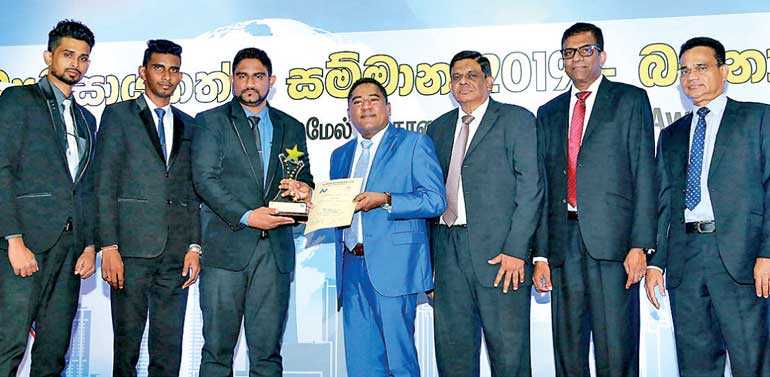 Best Entrepreneur of the year 2019 (Overall winner - Gold Award)

Presidential Environment Awards 2019
---


Leading food manufacturer and marketer, Wijaya Products Ltd. won recognition via a total of seven laurels from various prestigious award ceremonies organised by the Central Environmental Authority, the National Enterprise Development Authority, the National Chamber of Commerce of Sri Lanka and the Ceylon National Chamber of Industries.

The Presidential Environment Awards 2019 were held recently at the Nelum Pokuna Theatre and were organised by the Central Environmental Authority. Wijaya Products was awarded a Merit trophy of Commendation in the Food and Beverages Industry category for the company's significant contributions towards environmental conservation.

Organised by the National Enterprise Development Authority and the National Chamber of Commerce of Sri Lanka, the Entrepreneur Awards 2019 – Western Province saw Wijaya Products walk away with not one but four awards. These included the Gold Award as the Overall Winner of the title of 'Best Entrepreneur of the Year' and the awards for the Best Enterprise in the Manufacturing Sector (large category), the Best Environmental Friendly Enterprise and the Best Productive Enterprise.

Wijaya Products secured Gold once again as the CNCI Achiever of Industrial Excellence and was recognised among the Top 10 Achievers for the sixth consecutive year at the CNCI Achiever Awards 2019, organised by the Ceylon National Chamber of Industries, the premier industrial chamber in Sri Lanka.

The company has secured the CNCI Top 10 Award from 2014 to 2019, whilst Wijaya Products Chairman Aruna Kothalawala was the Gold award winner at the Provincial and National levels in the Extra Large category as the Sri Lankan Entrepreneur of the Year 2017. The brand's popularity amongst the people was attested by it winning the 'Peoples' Food Brand of the Year' in 2016, 2017, 2018 and 2019, as well as the 'Peoples' Youth Choice Food Brand of the Year' 2018 and 2019 at the SLIM Nielsen People's Awards.

"All these awards and accolades bring great pride and joy to the entire Wijaya Products family. We consider it a tremendous honor that our hard work has been recognized by such prestigious organisations. Our focus has always been in building a business that surpasses normal standards and provides the best quality products to our consumers, and it's encouraging to know that our efforts are not un-noticed," stated Aruna Kothalawala. Established in 1989 in Dodangoda, Kalutara with a single employee, at present Wijaya Products is a leading manufacturer and marketer of four primary food categories – flour, flour based products, spices and beverages.

Wijaya Products is a household name especially with the authentic spices, which include powders such as chili, turmeric, pepper, cumin, curry as well as meat and fish curry powders.

Tea and coffee make up the beverages, whilst the flour category consists of red and white rice flour, kurakkan, undu, table salt, atta flour and sago. The product range also includes noodles, papadam, table salt, and several seed items, which are packed and marketed under the name of Wijaya Products.