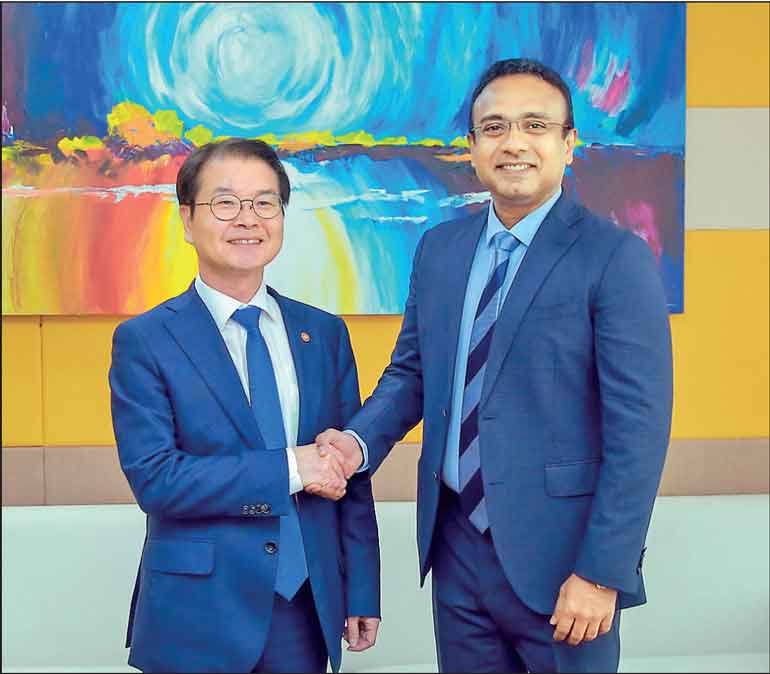 Korean Labour and Employment Minister Lee Jung-Sik meets Labour and Foreign Employment Minister Manusha Nanayakkara
Jobs in several new fields mooted
Several agreements reached between Korea and Sri Lanka
Opening up new job fields for Sri Lankan workers in Korea
Korean Labour and Employment Minister Lee Jung-Sik assured Labour and Foreign Employment Minister Manusha Nanayakkara that necessary steps will be taken to open up new employment opportunities and increase the number of jobs provided to Sri Lankans in Korea.

On the invitation of Minister Nanayakkara, Korean Minister Jung-Sik arrived in Sri Lanka on Thursday for a two-day official visit. State Minister for Foreign Employment Promotion Jagath Pushpakumara received the Korean Minister at the airport.

The official meeting between the two ministers was held at the Labour and Foreign Employment Ministry premises. They spoke at length about taking necessary measures to get more employment opportunities for Sri Lankans in Korea.

The Korean Minister told Nanayakkara that after 20 years the EPS system under which foreigners are recruited for employment in South Korea will be amended and as a result, Sri Lankan job aspirants will get more opportunities to work in Korea.

Nanayakkara requested that Korea open up new employment fields like the garment sector and caregiver sector which received a positive response from the Korean Minister.

It was also discussed that a large number of workers are needed for jobs in the Korean ship construction industry and that there are more opportunities for Sri Lankan skilled workers in that sector.

Before coming to Sri Lanka, the Korean Minister had met a large number of Sri Lankans working in Korea and appreciated their productivity and commitment.

Minister Jung-Sik further assured to provide full support to every step taken in the future to provide more employment opportunities to Sri Lankans in Korea by further strengthening the bilateral relations between the two countries.

A group of representatives including the Director General of the Korean Ministry of Labour and Employment and the Korean Ambassador in Sri Lanka attended the discussion.