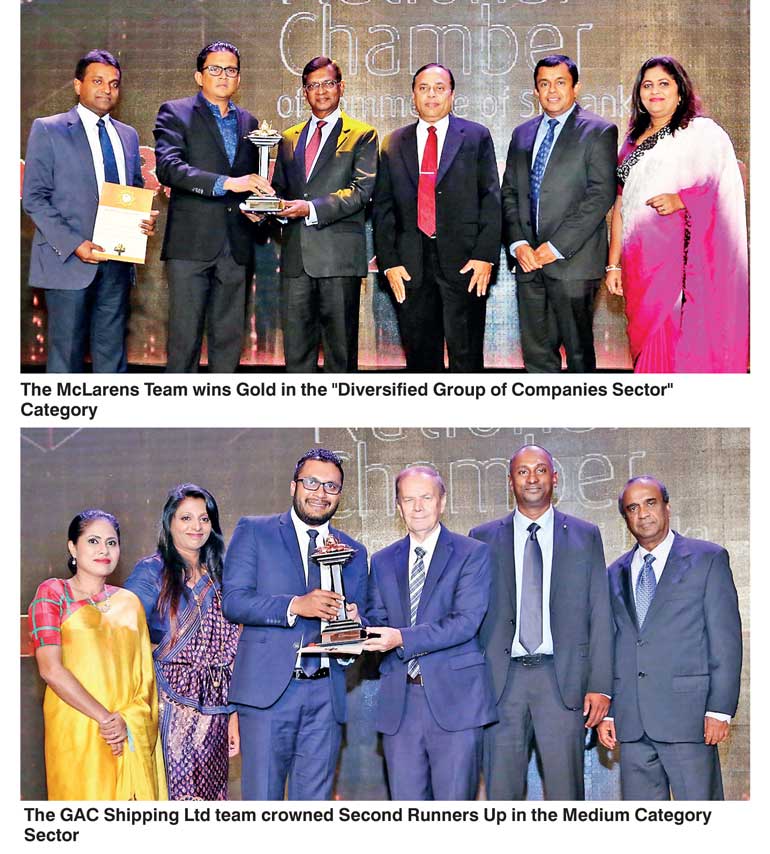 In continuous recognition of its drive towards excellence in business, the McLarens Group of Companies won multiple awards at the National Business Excellence Awards 2017 (NBEA) which was held at the Hilton Colombo on 13 December. The McLarens Group together with GAC Group Sri Lanka showcased their combined excellence by collecting four awards at conclusion of the event.

The NBEA is the flagship event of the National Chamber of Commerce which evaluates a company's overall performance and awards the crème de la crème of business in the country. The NBEA assesses companies through seven perspectives: Excellence in Leadership, Corporate Governance, Capacity Building, Performance-Management, Local and Global Market Reach, Corporate Social Responsibility and Environmental Sustainability and Business and Financial Results, which gives a well-rounded evaluation of the participating companies.

McLarens Holdings Ltd. was crowned the winner in the 'Diversified Group of Companies Sector' category and topped off as winner in the Extra Large Category for 'Excellence in Business and Financial Results' for the very first time. GAC Shipping Ltd. was awarded Runners Up in the 'Shipping and Shipping Related Services Sector' while becoming Second Runners Up in the Medium Category Sector. Since its inception in 1944, the McLarens Group has grown immensely across diverse industries. With its partnership with GAC, a world leader in providing shipping and maritime services, McLarens Group has successfully excelled over the years. A thirst for continuous development and an unwavering desire for innovation have propelled the McLarens Group ahead of its competition in the corporate community in all its sectors. Today, the McLarens Group is a diversified conglomerate with specialties in shipping and marine services, logistics, lubricants, oil and gas, bunkering services, automotive distribution, manufacturing, hotels and property development.

"Being honoured at the NBEA awards for the second consecutive year means we, as a group of companies, have been successful in maintaining and improving our performance. We are extremely honoured to be ranked amongst some of the most elite corporates and we are extremely proud of our dedicated and committed staff who have been the foundation of our company's success over the years," said McLarens Group of Companies Joint Group Managing Director Shehara Jayawardana.