The conference
---
Creates interest at Investment Opportunity Forum in China
Marina Square – Uptown Colombo, Sri Lanka's first and largest harbour front development project, attracted the attention of outstanding entrepreneurs, representatives of the real estate industry and people of all circles in China at the recently-held Sri Lanka Investment Opportunity and Real Estate Investment Forum.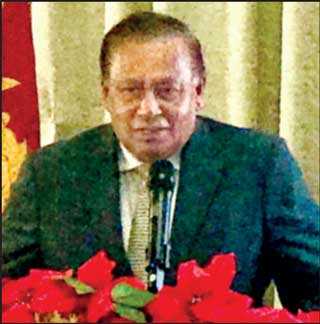 Speech by Sri Lanka 's ambassador to China, Dr. Karunasena Kodituwakku


Hosted at the Embassy of Sri Lanka in China, the Forum was attended by Sri Lankan Ambassador in China Dr. Karunasena Kodithuwakku and Minister (Commercial) to China Alexi Gunasekara.

Focusing primarily on real estate investment opportunities, Marina Square highlighted the favourable environment present in Sri Lanka at the moment. It was emphasised that the 'Belt and Road' initiative would be an added benefit in general. Introducing the Marina Square – Uptown Colombo project, the team elaborated on the investment advantages in one of the biggest development projects currently being executed.

Placed in close proximity to the Colombo International Financial City (Port City), Marina Square – Uptown Colombo carries the competitive edge while offering its investors an advantageous location. The Port City will attract mass interest both locally and globally in many avenues such as corporate, entertainment, technology and lifestyle. Marina Square will be set in place as the ideal real estate investment for the expected investors. These opportunities created much discussions and inquiries amongst the attendees. Addressing the guests, Dr. Kodithuwakku elaborated on the centuries-long relationship the two countries enjoyed and the renewed vitality at present, mainly through investment opportunities. As such, he confirmed that Sri Lanka will provide a safe business environment for all investors. Furthermore, Gunasekara presented a detailed introduction of the present investment environment of the island and future prospects.

Marina Square - Uptown Colombo is a fully integrated mixed development and Sri Lanka's first and largest harbour front development project by three internationally reputed industry giants; Access Engineering PLC, China Harbour Engineering Company and Mustafa Singapore.

Consisting of 1,068 apartments over 36 floors across five towers will be a spectacle of its own in tomorrow's Colombo. Located minutes away from the anticipated developments such as the Colombo International Financial City (Port City), International Maritime Centre, Fort Multimodal Transport Hub and leading schools, Marina Square offers intelligent living spaces at significantly affordable prices while yielding substantial capital gains and high rental values.