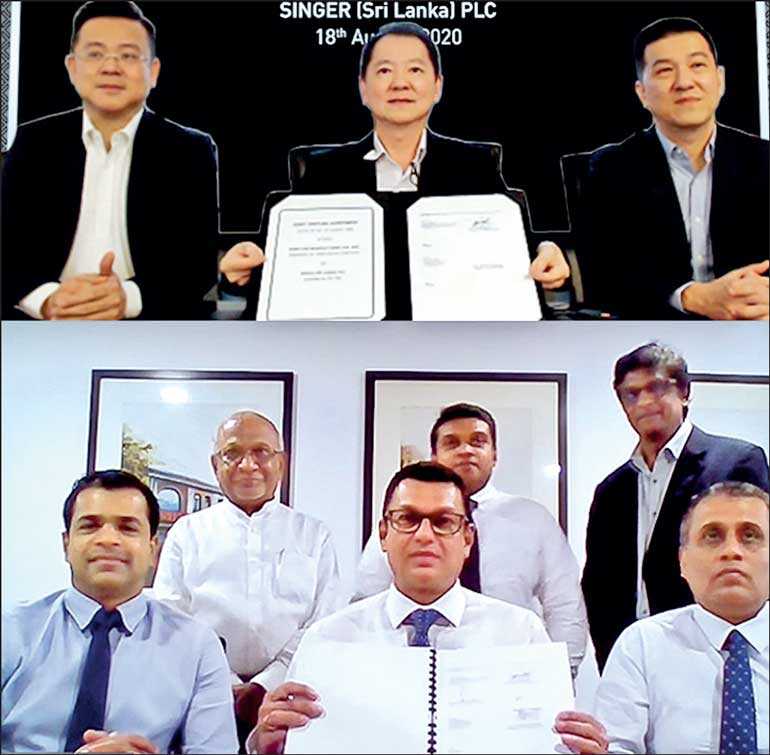 ---
The Signature Group, Malaysia's leading kitchen manufacturer has announced a new joint venture in Sri Lanka, as the company continues to boost its overseas business by focusing on building strategic partnerships with leading brands and business corporations.

Last week Signature signed a Joint Venture (JV) agreement with Singer (Sri Lanka) PLC via its wholly owned subsidiary Signature Manufacturing Sdn Bhd, leveraging the synergies, complementary strengths and brand reputations from each business force to penetrate into the kitchen cabinets market in Sri Lanka. 

The virtual JV signing ceremony was graced by Singer Sri Lanka Group CEO Mahesh Wijewardene, and Signature International Berhad Group Managing Director Tan Kee Choong, in the presence of top management officials.

"We are proud to join forces with SINGER in Sri Lanka, a market where we see significant growth opportunities for the Signature Kitchen brand," commented Tan Kee Choong. 

"In SINGER we have a partner which has extensive home furnishing product portfolio and a large and robust retail network with experience in distributing multi-brands through its 430 showrooms across the Sri Lanka market; an unmatched presence in Sri Lanka which will enable us to speed up our market penetration as we continue to advance our development of overseas markets." Under Signature Kitchen Lanka Ltd., its wholly owned new company set up in Sri Lanka to run the local production operations, Signature will bring into the venture its kitchen expertise, technical knowledge and 'know how' in relation to the distribution as well as management expertise in the retail operations and project business of its products under its core brand 'Signature Kitchen'.  "By leveraging SINGER's established household brand and large retail network, Signature will be well positioned to produce important cost synergies to capture the market as we navigate the challenging markets and uncertain environment in times of the COVID-19 pandemic," Tan added.