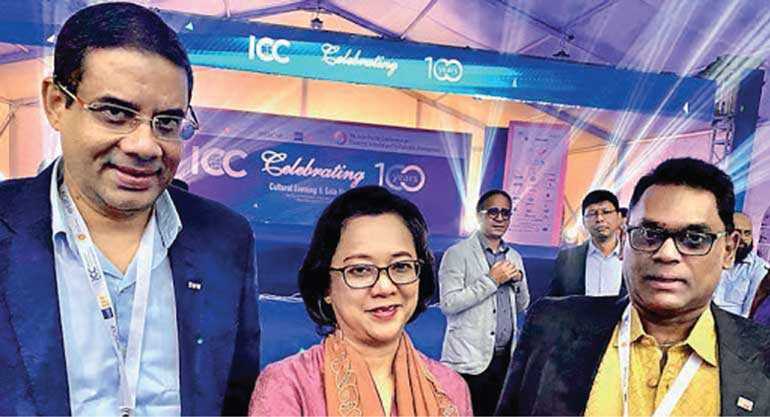 United Nations Under-Secretary General and ESCAP Chief Prof. Armida Salsiah Alisjahbana (centre) with the writer and ICC Sri Lanka President Dinesh Weerakkody and Secretary Shanil Fernando
---
By Dinesh Weerakkody

United Nations Under-Secretary General and ESCAP Chief Prof. Armida Salsiah Alisjahbana says ESCAP is currently working with several countries in the region to develop country specific FDI sustainability indicators which can be used to prioritise, identify and channel foreign direct investment into sectors key to the SDGs. The following are excerpts from her interview.
Q: There is today a need for accelerated action to achieve SDGs in South Asia, because 36% of world's people are still living in extreme poverty and hunger. What are some of your thoughts to make SDGs work for people and make climate everyone's business, there by securing peace, prosperity and opportunity for all and generations to come?

The United Nations' (UN) Sustainable Development Goals (SDGs) and the fight against climate change concerns us all. With 10 years left to deliver the SDGs, we need to make this a global decade of action for sustainable development. Home to over half the world's population and 60% of its young people, the Asia-Pacific region has decisive contributions to make.

At the UN Economic and Social Commission for Asia and the Pacific (ESCAP), we work with governments and partners across the region to give scale to solutions that reduce inequality and increase opportunity. We work to empower women and girls, support active ageing and bolster investment in social protection. Improving our region's resilience to natural disasters, facilitating the transition to cleaner energy and better protecting our ecosystems and our ocean are other areas of focus. We see facilitating trade, investment and regional connectivity as key to underpinning a greener more prosperous future. Only with an integrated response across sectors can we succeed.
Q: What is UNESCAP doing globally for the purpose of advancing the SDGs with regard to capacity building and networking?

ESCAP has a long-standing working relationships with national governments, business organisations, civil society, academia and research institutes. This engagement enables us to identify emerging issues in sustainable development and advance the 2030 Agenda for Sustainable Development. ESCAP then undertakes forward-looking analysis to identify policy implications. We bring these issues to the attention of member states for their collective decisions and provide technical assistance to support their implementation.

ESCAP also supports the sharing of best practices among countries of the region. We have a well-established set of networks and institutions, and a structured mechanism to work with civil society organisations to support the 2030 Agenda. These groups come together with national governments during ESCAP's annual Asia-Pacific Forum on Sustainable Development (APFSD), our regional forum which feeds into the UN's global High-level Forum on Sustainable Development.
Q: In the last few years UNESCAP has aggressively been working to unite government, business, and civil society and develop a shared international framework for mobilising commercial and cheap capital to help attain the UN Sustainable Development Goals. Has this initiative helped SMEs in developing countries?

ESCAP works with the private sector through: 1) the ESCAP Sustainable Business Network (ESBN), 2) annual Asia-Pacific Business Forum (APBF), and 3) by promoting good practices on responsible business conduct in the region. The objective of the ESBN is to involve business in initiatives to advance sustainable development. We are currently working to have more business representatives from Sri Lanka in the Network. The APBF focuses on supporting SMEs committed to sustainable development in the region. Last year's APBF in Port Moresby showcased 25 international and local SMEs and organised business matchmaking meetings for them. Building on these results, we are currently working to address the opportunities and challenges SMEs face when integrating and upgrading in global and regional value chains.
Q: In Sri Lanka, the lack of a clear definition of green and social projects makes it difficult for banks, institutional investors and other key stakeholders to identify eligible sustainable projects and allocate capital towards them while measuring sustainable stocks, flows and performance. How do we deal with this challenge?

Governments in Asia and the Pacific have been active in developing business innovation policies which incentivise companies to include social and environmental objectives in their business models. In the Philippines for instance, an innovative inclusive business accreditation system has been developed which provides tax incentives to businesses providing valuable goods and services at affordable prices to poor and low-income citizens. Policies such as these can provide criteria for ascertaining the social and green credentials of businesses to potential investors. Yet this challenge must also be addressed at the investment policy level. That is why ESCAP is currently working with several countries in the region to develop country-specific FDI sustainability indicators which can be used to prioritise, identify and channel foreign direct investment into sectors key to the SDGs.
Q: UN ESCAP has estimated that financing SDGs would require an additional investment of $1.5 trillion per year. For least developed countries (LDCs) in the region, the challenge is even bigger, as it requires 16% of GDP to finance the SDGs. This clearly suggests that the targets set will remain a pipe dream unless we buckle up. What are your thoughts?

The investments needed to achieve the SDGs are huge, but not beyond reach. Our estimates suggest Sri Lanka needs an annual additional investment of 4.4% of GDP through 2030 to provide a social protection floor (1.7%), poverty gap transfers (0.2%), quality education (1.6%) and to climate-proof basic infrastructure (0.8%). Some of these investment needs have already been mainstreamed into the Sri Lankan Government's budgets, including in 2019. This is an approach on which we should build. Yet to do so requires stronger domestic resources mobilisation and improved investment efficiency, especially in infrastructure. Regional cooperation in South Asia and the broader Indian Ocean economy holds great potential for Sri Lanka to accelerate SDG progress.
Q: As a global thought leader can you tell us about the potential of the Internet to democratise global trade for MSMEs to grow and expand?

The Internet is creating significant new opportunities for MSMEs to engage in international trade. It has become vital for firms to increase productivity and competitiveness by providing opportunities to access cheaper telecommunications, strategic information on overseas markets, legal and consulting services, and cloud computing. The Internet can be used by governments to make it easier for MSMEs to meet regulatory requirements. ESCAP has supported countries negotiate a Framework Agreement to accelerate trade digitalisation implementation in Asia and the Pacific: a UN treaty aimed at making it easier for SMEs to submit and exchange trade documents electronically with regulatory agencies both within and across borders. This could save a lot of time for SMEs. Sri Lanka participated in the development of the Framework and now is the time for Sri Lanka to show leadership in this area and accede to the treaty.
Q: Finally, given the potential impact of the coronavirus on the global economy and Tourism, what is UN's response to contain and manage its spread?

On 11 February, the World Health Organisation (WHO) announced the launch of a UN Crisis Management Team, which will help WHO focus on the health response, while UN agencies will bring their expertise on the wider social, economic and developmental implications of the outbreak. With the WHO in the lead, the UN is sending supplies to diagnose and treat patients, advising countries on how to prevent the spread of the disease and care for those who are sick, training thousands of health workers and keeping the public informed on how to protect their health. We fully recognise the efforts and enormous resource mobilisation that governments in the region, particularly China, are taking to respond to this crisis. There should be international solidarity and support for impacted countries, and a concerted effort to avoid the stigmatisation of innocent people that may be victims of this situation.